The AMH Service Model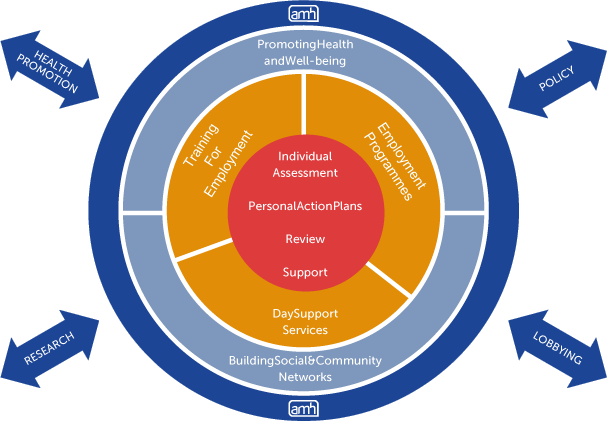 Many people living with mental health problems face isolation, stigma and discrimination. In the UK only 20% of people in contact with specialist mental health services have paid work or are in full time education.  People who experience mental health problems consistently say they want to work. Our mission at AMH is "to enhance the quality of life and employability of people with mental health needs or a learning disability by promoting social inclusion through the provision of training and support services."
Our Service Model Key:

"AMH is a people centred organisation, clients are the core of our existence, staff are the core of our success" (AMH Values)
 Individual assessment: A client's journey in AMH is a holistic one and begins with a period of induction and assessment.
Personal Action Plan: A training programme is developed which meets individual needs and preferences.  The training provided in AMH is accredited via a range of awarding bodies including NOCN, City & Guilds, OCR, CCEA, RSPH and BCS.
Review: The action plan is reviewed at least every 6 months to ensure that the service continues to meet client needs and preferences and to plan training for the incoming period.  Clients are fully involved in these reviews .
Support: Each client is allocated a keyworker.  AMH will offer support during a client's time in the service and when they move on when training is completed. 

AMH New Horizons provide a range of training and development options:
 Training for Employment programmes are designed for clients who wish to undertake vocational qualifications.  The duration of these programmes is normally 24 to 30 months following which clients may progress onto the employment programme.
Employment Programmes are for those individuals who wish to participate in employment preparation training and progress on to an employment option or further education or training.  The normal duration of these programmes is 12 to 18 months.
Day Support Services are available for clients with enduring mental health conditions who require on-going support. The programme is available to individuals for a period of 36 months.

Promoting Health & Well-being, Building Social and Community Networks - There is growing evidence that health, work and wellbeing are closely and powerfully linked and need to be addressed together.  At AMH we provide our clients with many opportunities to be as active as possible, physically, socially and mentally. We encourage them to adopt a healthier lifestyle and to access opportunities in their community and develop and maintain friends, interests and social networks

Not only are we working hard for our own clients, we are also working to raise public awareness of mental issues in the media and combat stigma.  We promote the importance of looking after you physical and mental health. We work to influence civil servants and politicians to push mental health up the political and social agenda through lobbying.  We commission research to inform our service provision and to drive policy change.