Fermanagh's Day of Celebration
T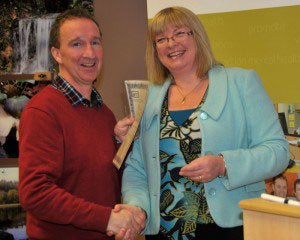 his year the special guest at the Award Ceremony for clients attending AMH New Horizons in Enniskillen was Cathy Mullan.  Cathy works for the Public Health Agency and is their Health and Wellbeing and Improvement Manager and also the Regional Lead for Drugs and Alcohol.
A total of 209 certificates certificates were presented to 58 clients, these were achieved over the six month period from October 2011 to March 2012.  Certificates ranged from OCN Level 1 and 2 in courses such as Introduction to IT and Floristry to ECDL advanced.  Clients who had recently completed the Alcohol awareness programme were also presented with certificates.
Lorna Coulters was given special recognition for having secured a permanent post in the New Acute Hospital due to open on 21st June 2012.
Warmly congratulating the clients on their achievements, Cathy encouraged them to consider how far they have come in their journey, and to recognise that this is just a small measure of the progress which they can achieve in the future.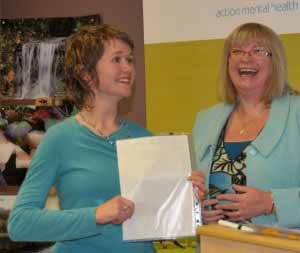 John Brasil, speaking as a client representative, reflected on his life before attending AMH, and spoke with great frankness about his personal issues with alcohol.  He paid tribute to the wonderful people attending AMH New Horizons Fermanagh, and the great support and friendship which he has enjoyed since joining the programme.
Photos – Sean Mulligan
more photos from the day are on our facebook site.
https://www.facebook.com/media/set/?set=a.422294901123297.103051.189840137702109&type=1&l=0c9fdfabba