AMH Managing the Challenge (MTC) are looking for Associate Trainers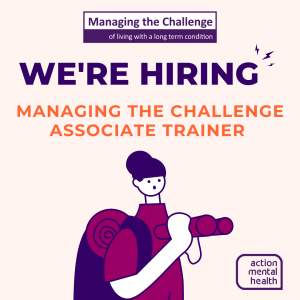 AMH are seeking to establish a bank of experienced self-employed Associate Trainers to deliver the Managing the Challenge programme in the WHSCT region. Associate Trainers will be required to deliver the Pain Management programme to groups of 6-10 participants who are experiencing long term pain / health conditions.
The Managing the Challenge (MTC) programme helps individuals with a long term pain / health condition manage their condition or pain more effectively. It enables them to deal with pain, fatigue, anxiety and stress by giving helpful techniques to move more, relax more easily, set goals, problem solve, breathe more effectively and improve their ability to talk about pain to their friends, family and healthcare professionals.
Please click below to find out more.
AMH MTC Associate Trainer Role Description