Local Author Supports "Culture Sofa"
Local author Sam Burnside and Foyle Service Manager Mickie Harkin read as they sit on the near-complete "What's Your Story?" culture sofa
Sam Burnside, the author of The Cathedral (1989) a long poem that won the Sunday Tribune Hennessy Literary Award for Poetry, visited our Foyle unit to lend support to our "What's Your Story?" project for City of Culture 2013.
Sam donated his book of poems titled " New and Selected Poems" to be included in the "Culture Sofa".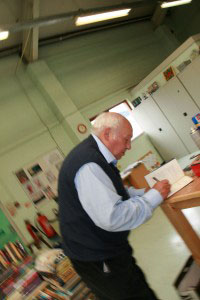 Sam Burnside was born in County Antrim and now lives in the city of Derry where he was involved in adult education before establishing and becoming first Director of the Verbal Arts Centre (1992 – 2003).
His work has attracted a number of literary prizes including an Allingham Poetry Prize, the University of Ulster's McCrea Award for Literature and a Bass Ireland Award.
His poetry has been published and broadcast widely and he received an MBE in 2012 for services to the arts.