Mind Your Business in Newry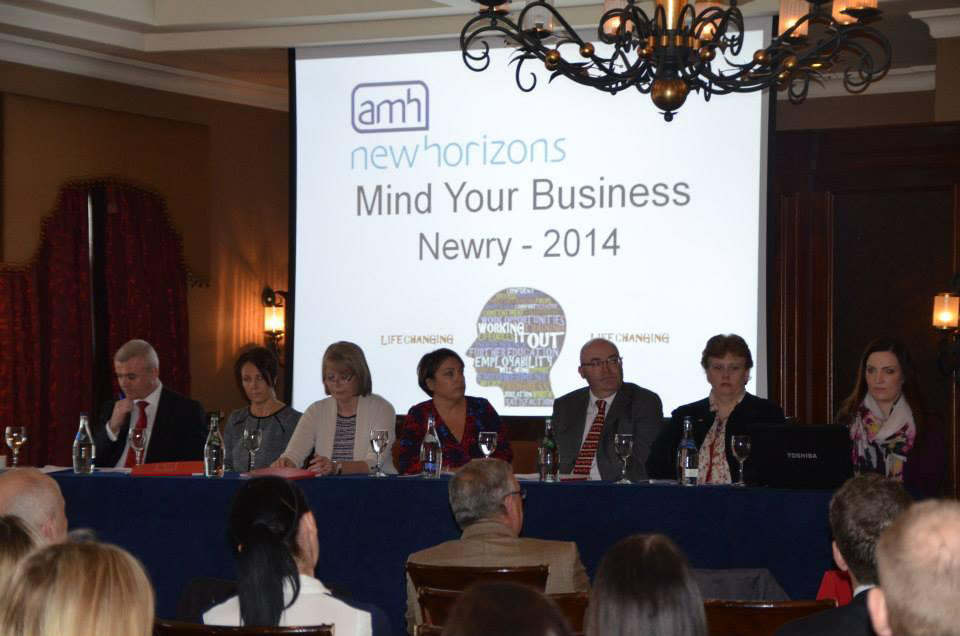 AMH New Horizons Newry hosted an employment conference as part of their week of events to mark World Mental Health Day 2014.
"Mind Your Business" in the Canal Court Hotel (8th October) provided managers and business owners with guidance on how to support their staff's mental wellbeing, as well as providing an overview of the law surrounding these issues.
Guest speakers from a range of partner and expert organisations came together to help local employers better manage mental health to improve employee welfare, corporate responsibility and productivity.
Tanya Kennedy from Business in the Community opened the conference by highlighting that corporate responsibility is good business. Employers can achieve this by creating time and space to talk to employees and show a genuine interest in them.
Dr Maggie McGurgan from the Royal College of Psychiatrists in Northern Ireland reaffirmed the fact that a healthy mind is as important as a healthy body, that there is no health without mental health. Employers were reminded of discrimination links – we don't tolerate casual racism/sexism yet derogatory terms are still used about mental health.
The Law Centre NI's Daire Murphy gave an overview of mental health and employment law while Barbara Cullen of the Labour Relations Agency explained how their organisation can assist employers with issues and questions.
The Labour Relations Agency also gave positive feedback on their work with Action Mental Health's employer training arm AMH Works, particularly around the reduction in stress-related absence rates.
Dwyer Gorman of local employer Allstate NI also talked about the benefits they had seen since engaging with AMH Works' services and shared the positive outcomes for one employee, who was able to return to work with the support of an AMG Employment Support Officer through the government funded Workable programme.
Final guest speaker, Janet Heath of the Housing Executive NI, gave guidance on managing work related stress and how to prevent "psychological hazards" in the workplace.
AMH thanks all their guest speakers for sharing advice and experiences on this important issue.
You can contact AMH Works for more information on the support available for employers here.
Conference presentations can be downloaded below.