Together For You reaches 24,000 individuals in NI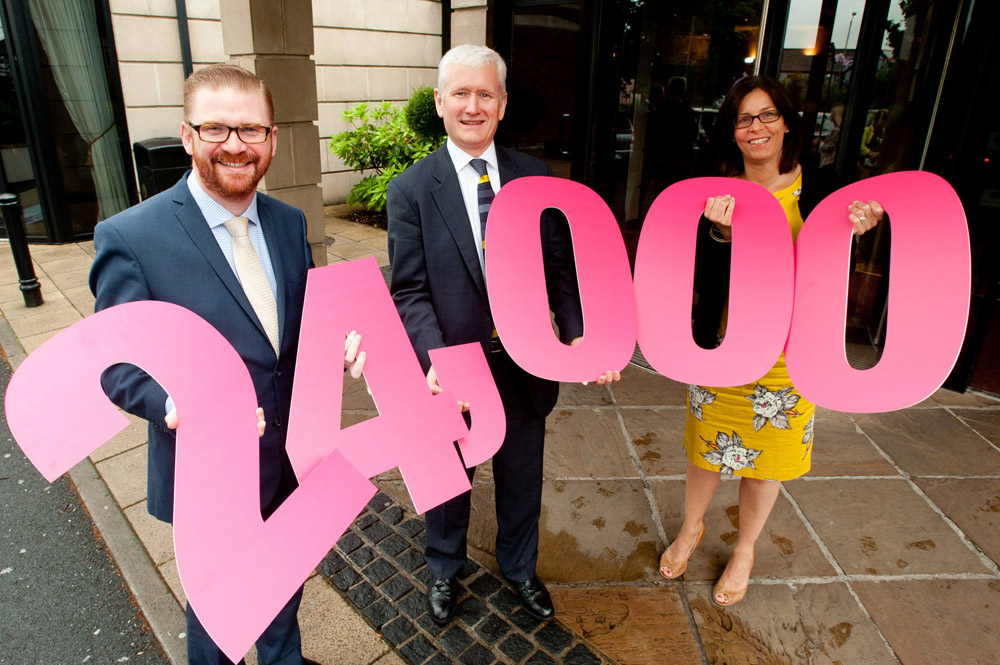 Since its launch in October 2013, Together For You, a partnership project funded by the Big Lottery Fund, has reached over 24,000 individuals in Northern Ireland with their mental health services.  Led by Action Mental Health (AMH), services are delivered in partnership with Aware Defeat Depression, CAUSE, CRUSE, MindWise, Nexus, PraxisCare, Relate NI and The Rainbow Project.
To celebrate this amazing achievement, and to share the learning gained from delivering the wide range of mental health services delivered across the Together For You partnership, a Shared Learning Event was held today (17th June) in the Park Avenue Hotel, Belfast.
The event was opened by the Minister for Health, Social Services and Public Safety, Simon Hamilton MLA and was attended by over 120 representatives from the public, private and voluntary and community sectors.
Health Minister, Simon Hamilton, has praised the voluntary sector for its contribution to improving services and support for people with mental health problems. "I have long recognised the value of our local voluntary sector. Staff and volunteers have a personal insight into the needs of those they are helping. With this unique perspective they can often devise new, innovative and more person-centred services from those traditionally provided by the statutory sector.
"The 'Together For You' services complement those delivered by the five Trusts.  Indeed, it is as a result of the voluntary and statutory sectors working together that we have been able to significantly improve the lives of those living with mental health problems and progress toward the modern and diverse mental health services envisaged by Bamford."
David Babington, Chief Executive for Action Mental Health said
"It is fantastic to see so many individuals benefiting from the mental health services available under Together For You. The success of this partnership is detriment to the hard work of all the Partners delivering services to the highest standards. It is also important to acknowledge the wider impact of services on the community, family members and carers who also indirectly benefit from the positive impact of services on their loved ones mental health and from the efforts to reduce stigma surrounding mental ill-health. The event today will allow us to share our learning and experiences so far with each other and with other voluntary, community and statutory organisations, helping to further discussion on mental health interventions and service delivery." 
It's no coincidence the event was held during Men's Health Week (15th – 21st June).
Amanda Jones, Project Manager for Together For You explains
"Our services can help young and old, men and women, but during this week we do want to use the event to encourage men to ask for help and seek support.  It's ok to NOT be ok! Services like befriending, bereavement support, specially tailored counselling, support for carers, mental health awareness programmes, peer group support and volunteering opportunities are all available through Together For You. We were delighted to welcome Dr Ian Banks to speak at the event today specifically on men's mental health issues".
Joanne McDowell, Big Lottery Fund NI Director, said:
"The Big Lottery Fund is delighted to be supporting the Together For You partnership, which is promoting mental health and wellbeing across Northern Ireland. It is encouraging to see that this contract is providing important services in collaboration, and that these are focused on the needs of users."
Services under Together For You are available to everyone in Northern Ireland.  To find out more contact the Together For You team on 028 9032 9150; email TFY@amh.org.uk or visit www.togetherforyou.org.uk for more information.