Running Towards Good Mental Health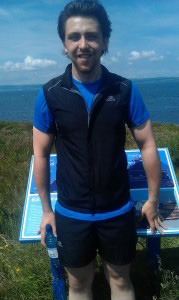 In a few months time, thousands of local people will take to the streets of Belfast to run the Marathon. One local business man is running for more than the personal challenge. He is running towards good mental health and raising awareness of the local support available for people who have tread the path of mental ill-health, like he has.
James Lewendon is a Director at local company Tailored Digital Agency. Originally from Reading in England, James now lives in Bangor and is in the third year of a BA degree in English and Linguistics at Queen's University.
"I've been running for about 2 years, and I completed a couple of 10k's and half marathons last year. However over Christmas I decided that this year I want to run the Belfast City Marathon and raise some money for a good cause. I've supported Action Mental Health through payroll donations in the past, but felt this would be a great way to increase awareness about their work."
As a Copywriter James helps companies use the right words to tell people about their products and services. As someone who understands the power of words, James knows the impact it can have when a person speaks out about their own battle with mental ill-health;
"I've suffered from Anxiety since I was a teenager and I know only too well how it, and conditions like it, can impact on people's lives."

"Some people just need a little help – whether it's advice on adopting a healthier lifestyle, help to break down personal boundaries or just a chat with someone who understands what they are going through. Sometimes, it's the little things that make the most profound impact. People shouldn't feel embarrassed to open up and it's important to remind sufferers that they are not alone."
David Babington, Chief Executive of Action Mental Health, was impressed by James' story;
"We are always inspired by the courage of people like James, not only in tackling mental ill-health, but in deciding to speak publicly about it. Poor mental health affects 1 in 5 of us at some point here in Northern Ireland and James is right, there IS help out there. We encourage people to speak to someone about how they're feeling. We are grateful to James and those like him who help us to raise awareness and much-needed funds to continue towards the finish line of good mental health for all."
Founded in 1963, Action Mental Health is a local charity working to enhance the quality of life e and the employability of people with mental health needs or a learning disability across Northern Ireland.
If you would like to run the Marathon in aid of Action Mental Health, email Callum Clark [email protected] or call 02891828494. AMH will send you a branded running vest, fundraising pack, and details of how to set up your Justgiving page.