AMH Works – Blog!
Happy New Year 2016 – Mental Health in the UK
The PM Theresa May unveiled proposals relating to mental health in the UK. Obviously, it is important for the Prime Minister to be giving such a huge issue priority but we hope this time it is more than simple lip service. We can trot out all the statistics you like about mental health but the main one and one that Theresa May herself referenced was 1 in 4. So a quarter of all people will be diagnosed with a mental health disorder at some point yet so many businesses (many of whom employ many multiples of '4') still have mental health way down their agenda.
The PM spoke about supporting employers to gain the training required to better understand and manage mental health in their staff which is definitely a hugely positive thing and AMH Works would like to tell you that we have been seeing an increase in companies coming to us for our Mindful Manager, Personal Resilience and Mental Health First Aid programmes. These are the companies that are way ahead of the game and the ones who know that healthy and happy staff are less likely to take time off ill or for other reasons and are much more likely to be engaged with their employer. In the past we have seen employers come at mental health as an absence management issue, in that too many people are absent due to mental health related issues, rather than a preventative outlook which reduces or completely removes the need for sickness absence. After all the saying is 'prevention is better than cure'
The PM pushing this further up the agenda is definitely to be welcomed and active support for employers to gain the training they so desperately need is hugely significant but there is also an onus on employers to understand their own needs both legally and morally as it relates to mental health provision. Whilst delivering Mental Health First Aid at Work to a number of businesses recently I spoke to them about the legal requirements for first aid training. I explained to them that businesses, under the Health and Safety (First Aid) regulations 1981, must provide additional training to their staff if they employ someone with a specific diagnosed condition. If you scan your eyes back up this blog or re-read Theresa May's comments you will know that statistically speaking, if you employ more than four people chances are someone will have a diagnosed mental illness and your business is not trained to support them. The regulations state;
'The Health and Safety (First-Aid) Regulations 1981 require employers to provide adequate and appropriate equipment, facilities and personnel to ensure their employees receive immediate attention if they are injured or taken ill at work'.
Taken ill at work is important here because a panic attack also falls under this and a quick call by your HR department to the Health and Safety Executive will quickly disabuse them of the notion that Mental Health First Aid is a luxury not a requirement.
Therefore it is easy to see that the stage is set for a boom in mental health training and your business most certainly does not want to be left behind; it is written into law after all. Here's the big secret, if you don't care about your employees then they won't care about you.
World Mental Health Day 2016
Gary Kane, AMH Works, presents the Heads Up Award to the AMH Works new Mental Health Champion Organisations, Allen & Overy, Lagan Construction Services, First Trust Bank and Smiley Monroe. These organisations have been selected as companies at the forefront of mental health and wellbeing for staff having undertaken the AMH Works Mindful Manager and Personal Resilience Programmes.
AMH Works would like to thank our inaugural Mental Health Champions for their help and support over the last year and we look forward to continued partnership working with these and the next group of champions who will be unveiled over the coming months.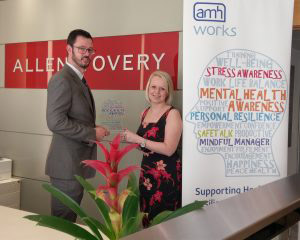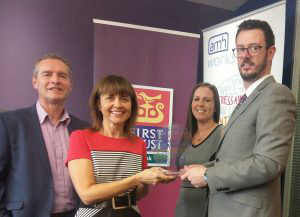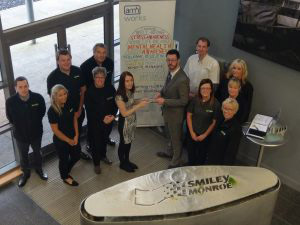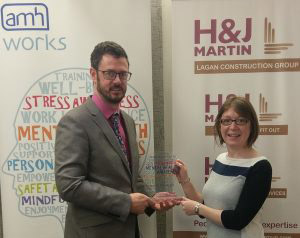 14 October 2015
World Mental Health Day – is there dignity in your workplace?
Saturday October 10th was World Mental Health day with this year's theme being 'Dignity'. Dignity is vitally important for our self-worth and our mental health. Unfortunately many people living with mental ill-health feel that they are defined by their condition and are no longer thought of 'as a person'. Ultimately, this diminishes their sense of value and is especially true within the workplace. Work is regarded as being therapeutic and is good for our mental wellbeing. It is therefore hugely important that employers are more caring and sensitive to those with mental ill-health in order to support them through, what is, a hugely difficult situation.
Did you know that stress and mental ill health are the two biggest causes of long-term sickness absence across all business sectors and industries? In fact, the ONS reports that in 2014 stress, anxiety and depression accounted for 15.2 million days lost from work. On the contrary, managers seem to have little knowledge about how to properly support and manage employees living through a period of mental ill-health. Managers are much more confident in dealing with physical health issues in the workplace because it is generally something that they can see, however, an employee who is living with a mental health problem will need to be much more involved in their own recovery process. Managers need to talk to staff about how they are feeling and what support they need to do their jobs. It is at this point that managers have difficulty, 'The Conversation!'
To support business' in Northern Ireland, Business in the Community and its Wellbeing Champions' Network, in partnership with AMH Works, created a mental health toolkit aimed at helping employers support their staff through periods of mental ill-health and to confidently deal with issues in a sensitive and dignified way. People want to be treated as people, not differently or as a result of their mental ill-health.
This toolkit helps to give consistency to support actions within the workplace and ensure the health and dignity of the employee is foremost in the employer's mind. The Mental Health Toolkit for Managers aims to equip managers, in a very easy-to-understand way, with ways to go about sensitively managing the person who is living with mental ill-health. It lays out the responsibilities of a manager and also the responsibilities of the person living with a mental health problem. The toolkit also deals with key points in holding 'The Conversation' along with a handy list of the signs and symptoms to look out for. There is a wealth of information included in this toolkit and it helps to increase the confidence of managers to deal with mental ill-health with dignity and sensitivity. To access the Mental Health Toolkit, click here.