The Journey Continues …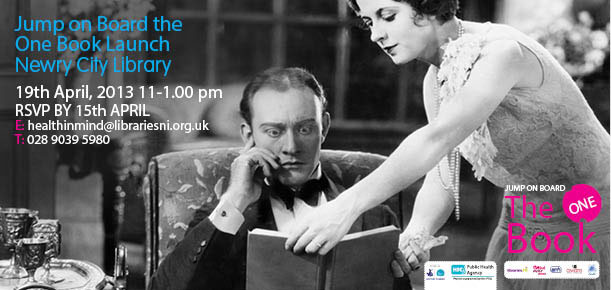 Health in Mind would like to invite you to attend the One Book Campaign Launch being held in Newry City Library on 19th April 11.00am-1.00pm. The event will introduce attendees to the amazing Health in Mind One Book, The Unlikely Pilgrimage of Harold Fry by Rachel Joyce.
Guest speaker Dawson Stelfox will comment on the book and the challenges he has faced in his life with regard to mountain climbing. A reading from the book will be provided by local producer and radio broadcaster Rowan Hand. Dawson Stelfox became the first Irish man to reach the summit of Mount Everest when he led an expedition up the North East Ridge. Rowan Hand is former Head of Current Affairs for BBC NI and a producer and presenter for RTE Nationwide. He also produces and presents for two radio networks in the Newry area.
Health in Mind's overarching aim for the campaign, in addition to encouraging people to visit the library and to read and enjoy the book, is to help reduce the stigma that still exists around mental health issues. We also aim to get people talking freely about mental health issues and to realise that this can stop them feeling isolated and unsupported.
The Health in Mind Partnership is funded under the Big Lottery Fund's Live and Learn programme to work together to reduce the stigma attached to mental illness by improving the understanding of mental health in the wider community and by providing opportunities to join in activities based on the themes of Information, Learning and Reading. The "Health in Mind" partnership is made up of Libraries NI and the leading mental health charities, Action Mental Health, Aware Defeat Depression, CAUSE and MindWise.
To book a place contact Health in Mind:
T: 028 9032 9580
please RSVP by 15th April 2013