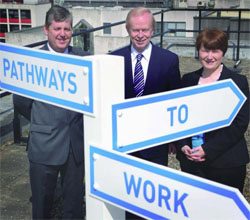 Employability can often be mistaken for employment, but the two terms have quite distinct meanings. Employment is synonymous with having a job, whereas employability is associated with possessing qualities that facilitate and enhance employment opportunities.
AMH advocates a "person centred" approach in assisting and supporting clients to return to work or further education by providing accredited vocational training and employment preparation. We also recognise that many of our clients may not be ready to pursue employment.
Consequently we have a broad range of programmes which develop "Employability Skills". Unlike occupational or technical skills, employability skills are generic in nature, rather than job specific. They are often the types of things that can be developed or learnt in one situation and then used in other contexts and situations. We explore critical aspects of personal development, like self-confidence and self-esteem. Recreational and social activities also encourage our clients to access opportunities in their community and develop and maintain friends, interests and social networks.
The following service reports and client stories, illustrate how AMH is "Enhancing Employability".