The Granite Challenge is coming soon!
The Granite Challenge, Action Mental Health's Cycling Challenge moves now to its new look and route for 2022!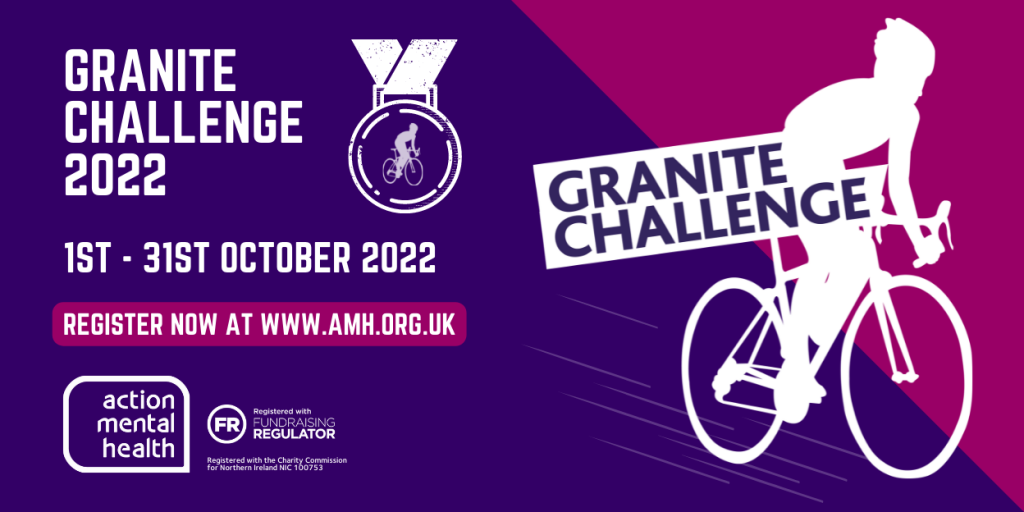 The event takes place from the 1st October to 31st October.  Challenge yourself to take part and put your pedal to the metal.  Cyclists register for £10 and are encouraged to raise sponsorship of £60 or above to support our vital work.  Upon registration, participants will receive their Action Mental Health t-shirt, and upon completion and raising £60 or more all participants will receive their bespoke Granite Challenge 2022 medal. So do not delay and sign up today to support Action Mental Health's vital services across Northern Ireland.
Fresh air and exercise is not only good for your body but great for the mind as well. If you have a road worthy bike, padded shorts, gloves, lights, helmet and some reflective gear, you are good to go, so sign up today and let pedal power not only benefit you, but also benefit Action Mental Health and the people we support.
This event is a virtual challenge. You do not need to complete the route on the map. You virtual self will be "cycling around Northern Ireland" totalling just over 360 miles during October and will follow our fully interactive, Strava linked and bespoke map, which will plot your course, your mileage and the sponsorship that you raise on our leader board.  This event is not a race, and the aim of the game is to complete the course by the 31st October 2022.
Beginning and ending at the traditional home of Granite, AMH Downpatrick you will traverse over Magic Hill Spelga Dam the highest road in Northern Ireland and by- pass all of AMH's services across the country. Cyclists will then be directed to Torr Head and the stunning North Antrim Coast and then back again cross-country to Downpatrick, where the event ends.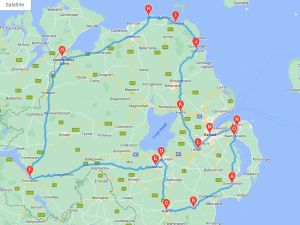 As you travel, you will see your little cycling avatar move around the map, which is a great incentive to keep going and encourage friends and family to donate to this very worthy cause.
We will be with you all of the way with updates, emails and great ideas and information to make your participation in the Granite Challenge as fun and successful as possible.
The event is open to individuals and groups of friends who wish to enter as a team. However the full distance, registration fee and sponsorship amount per person, remains the same.
So sign up today for this unique, interactive and fun challenge.
Thank you for your interest and if you have, any questions at this stage please email [email protected]
All cyclists undertake this activity at their own risk.
#TakingActionOnMentalHealth