Join team Action Mental Health on Sunday 2nd April 2023 for the London Landmark Half Marathon and make a positive difference to mental health in Northern Ireland!
Action Mental Health (AMH) actively promotes the mental health and wellbeing of people across Northern Ireland. Your support will make such a difference to the people who need our services.
Take part with over 14,500 runners at the start on Pall Mall and race past fabulous views of London's most iconic landmarks before finishing by Downing Street.
The event is not your average half marathon! Runners and spectators will get the chance to experience the buzz and culture of London, whilst also discovering some of the City's best kept secrets.
About The Event:
The London Landmarks Half Marathon is a closed road, central London run and is the only half marathon to go through both the City of London and City of Westminster. The event starts on Pall Mall, finishing by Downing Street and has fabulous views of London's most iconic landmarks including Big Ben, St Paul's Cathedral, Nelson's Column, the Gherkin, the Shard, the Tower of London and the London Eye. You can see our fantastic 2022 route below.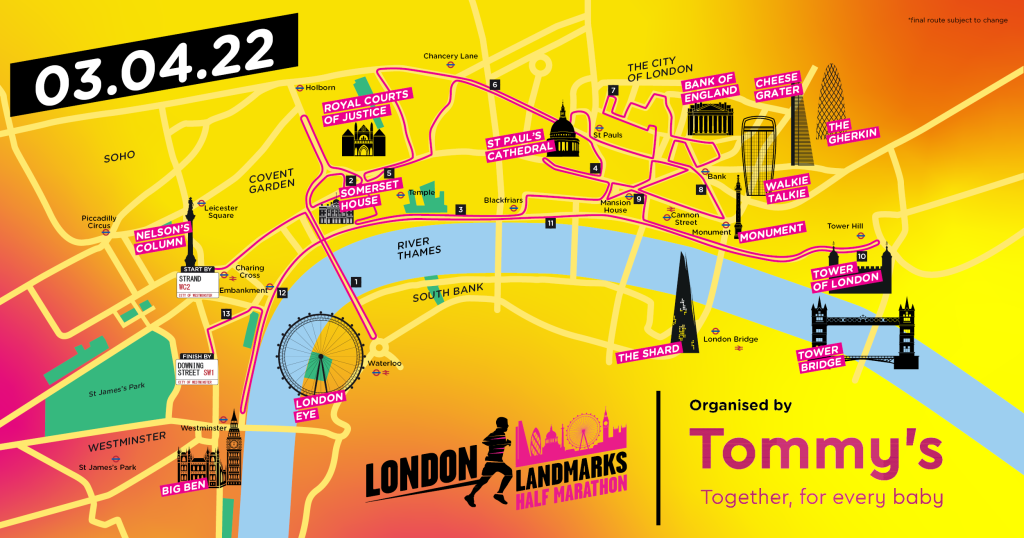 *** Register for £35.00 ***
*** Minimum Sponsorship £350 ***
Your AMH Runner Package
When you fundraise with us you'll receive:
an Action Mental Health running vest
support from our dedicated fundraising team every step of the way
a welcome pack with fundraising tips and materials to help you reach your goal
the loudest cheer squad along the route with branded cheer flags and bang bang sticks available for your family and friends
access to all our branded logos, graphics and images to help promote your fundraising page.
a thank you certificate and AMH pin badge once your fundraising journey is over.
Please see below some of our Action Mental Health runners from this years London Landmarks Half Marathon.
To register your interest please contact [email protected]