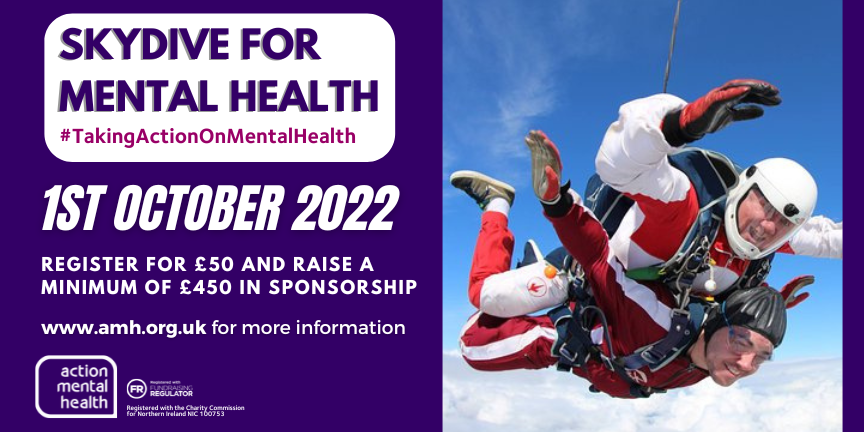 Go Purple 2022!
Ahead of World Mental Health Day on the 10th October, why not get involved in our annual Go Purple campaign by signing up to take part in a sponsored Tandem Skydive?
Experience the thrill of jumping from 15,000 feet and free-falling at over 120mph with a trained instructor who will steer you both to the ground. No experience necessary as full training will be provided!
Tick something off your bucket list and join Team AMH today!
Minimum age is 16 and there is no maximum age limit. Under 18s must have written parental/guardian consent before taking part. Maximum weight: male 95kg/female 82kg.
Date & Time: Saturday 1st October 2022, Time TBC
Location: Wild Geese Skydive Centre
Registration Fee – £50.00
Minimum sponsorship £450
When you fundraise for us, you'll receive:
a welcome pack with fundraising help and materials
a free Action Mental Health t-shirt to wear on the day
support from our dedicated fundraising team to help you smash your target
a thank you certificate and AMH pin badge once your fundraising journey is over.
Skydive Day FAQs
When is the sponsorship deadline? We need your full £450 fundraising target, to be with us by 26th September 2022 to pay your jump costs. We rely on you to hit your fundraising target by this date. However, there is an option to make up the difference on the day, if you don't hit the target.
What happens if the weather isn't good? The one aspect of your day that is out of our control is definitely the weather – if the forecast is looking bad in the days leading up to your jump, you may be contacted by a member of the fundraising team to reschedule. However, if you have not heard anything to the contrary, you must still turn up to your jump.
Will Action Mental Health Team be there on the day? Yes our fundraising team will be there to meet you at the airfield (Wild Geese Airfield, Garvagh, Coleraine) to take a few pictures and wish you good luck.
To find out more information please email [email protected]