Practicing what we preach at Action Mental Health to prick pandemic stress bubble
Today is National Workplace Wellbeing Day #WorkWell21. Ibec (Ireland's largest lobby and business representative group) have been encouraging organisations to focus on social, mental and physical well-being this April.
The team at Action Mental Health have been practicing what they preach to help support well-being in an initiative to mark #StressAwarenessMonth.
Employees have been taking part in quizzes, 80s exercise classes, undertaking self-care and stress management sessions and also walking round their local area to appreciate nature while getting active. Each of the activities have been based on the principles of the Five Ways to Well-Being.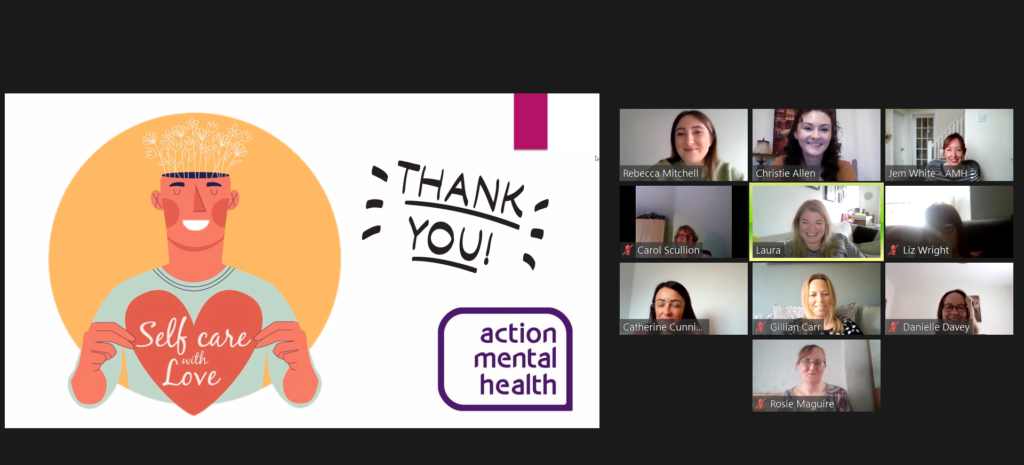 Like most global workforces, employees of the AMH network have been working in isolation from home for the majority of the pandemic, being denied the camaraderie of working alongside colleagues.
As a result, AMH's resilience and well-being teams collaborated to devise a programme to bring together the disparate teams across the charity's diverse services throughout Northern Ireland.
Action Mental Health's MensSana service joined with its sister initiative, the Our Generation project and AMH Works, to host seven well-being events based on the tenets of the Five Ways to Well-Being.
The Five Ways were established to support and promote better mental health and encourage people to learn, connect, take notice, keep active, and to give.
AMH's Amanda Jones stated: "Encouraging staff to learn, AMH Works has been teaching them how to manage stress and build resilience to help them face the personal and professional challenges which have emerged during the pandemic. The service's programme provided staff with top tips on recognising their own stress levels, advice on reducing stressors at this time and signposted them to further support if they needed it.
Staff were also prompted to give – by getting themselves a much deserved break – and to practice self-care during the continuing restrictions on our freedom of movement as a result of the lockdown. Staff who took part were led through relaxation exercises, learning the techniques to help them unwind and recharge after a busy day at work
The importance of connecting was facilitated by coffee and quiz sessions which had staff pitting their knowledge against each other as they enjoyed a bit of craic and banter. The sessions brought together staff from across Action Mental Health's services across Northern Ireland, many of whom were meeting for the very first time during the Zoom events.
Everyone was encouraged to get active as well, as part of the well-being initiative, promoting the scientifically proven benefits activity offers our mental health. And at AMH we got active by going retro, and taking part in the 80s Fit with Bruno sessions. Those who had packed away the 1980s leg warmers and leotards in the roofspace, got them out, dusted them off and donned them for the online fitness sessions led by personal trainer Bruno Machado to some iconic tunes from the era.
Finally, staff were advised to take notice by the mindful mile challenge. For the challenge, employees were encouraged to head out for a walk at lunchtime, noticing their surroundings that they might miss while rushing through the business of their hectic lives, home schooling and back-to-back Zoom meetings. Staff was asked to take photos of their locale on their brief walk and to share in a staff show and tell, while enjoying a cuppa together.
Sam, from Action Mental Health's Fundraising Department said: "The quiz was such fun and it was so good to see the faces of many colleagues I haven't seen in nearly a year. It lifted my spirits."
John from AMH New Horizons Antrim said: "Taking part in the Stress Awareness Week quiz activity provided me with an opportunity with some down time during my working day to take part in a fun activity with colleagues across the organisation. We all had a bit of fun and a laugh and still could not win even with two of us on the team. I appreciated the time away from my desk."
"Pre-covid it was easier to have a laugh and a joke with colleagues but it is more challenging now as we are primarily working online," said Gillian our Peripatetic Service Manager. "Hopefully AMH do it again and give us some notice so John and I will have plenty of time to revise. That way we might actually get a couple of questions right," she quipped.