The catering coach who cooked her way into the heart of her community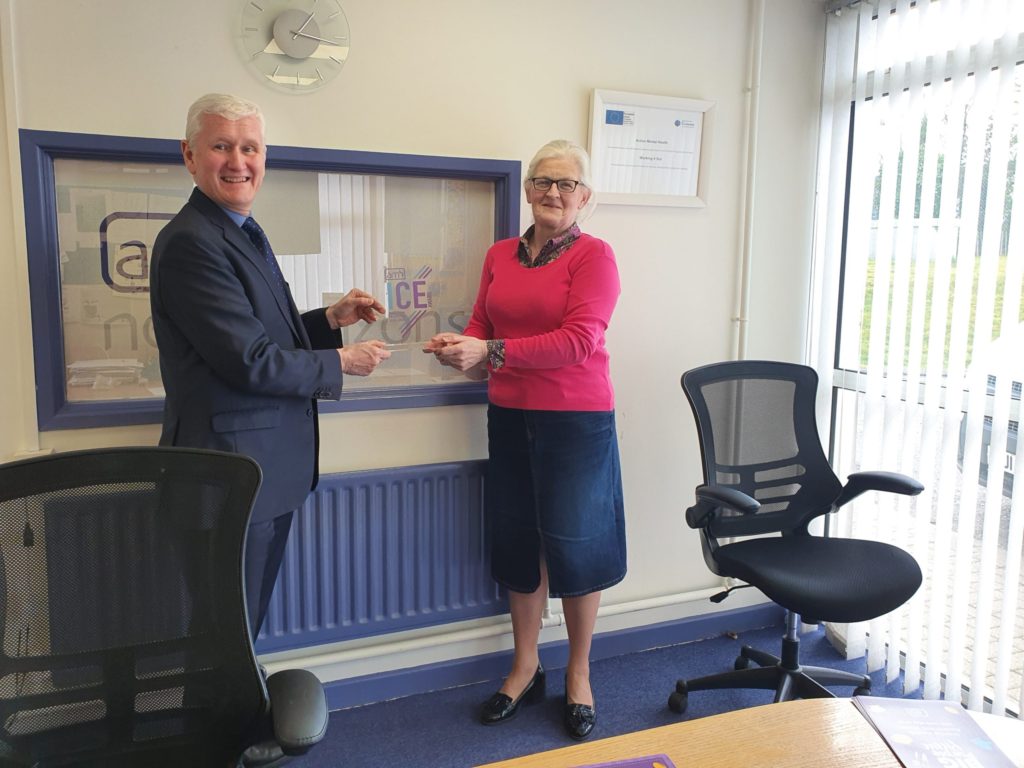 New Horizons Fermanagh Catering Skills Coach Elaine Stinson has been rewarded for her sterling service to Action Mental Health with a coveted ICE award – heralding her Innovation, Creativity and Excellence.
Conferred by AMH chief executive David Babington, Elaine was nominated by Service Manager Caroline Ferguson who found her deserving on many fronts, identifying her culinary skills, combined with astute and perceptive people skills as particularly worthy, as well as her support for Fermanagh clients on their road to recovery.
She said Elaine, who has been with AMH for 29 years, goes above and beyond her official duties to turn her hand to myriad opportunities for community engagement, especially securing fundraising for New Horizons Fermanagh.
"Elaine is an excellent cook who loves to have an event to showcase her skills, and she has demonstrated a real skill for co-ordinating and leading a diverse catering team.
"Elaine has demonstrated the role of good food and warm hospitality in building good relationships, and she has innovatively used this to secure funding for the service. Elaine is alert, on all occasions in all her dealings with people, to the potential benefit they may be to our service, and in her very unassuming way , she has maximised that potential.
"She has provided a key role in our fundraising efforts this year, providing income which will be used to improve services to our AMH clients. In addition she has forged strong external relationships with key individuals in our local community, who have the potential to support the service."
David praised Elaine for her efforts, stating: "We are delighted to confer this ICE award on Elaine who, after almost 30 years with the charity, has shown great flair in each of the requisite categories. She has led her catering team with aplomb, inspired clients to greater confidence and has encouraged the community to support us."