Pioneering New Mental Health Initiative Unveiled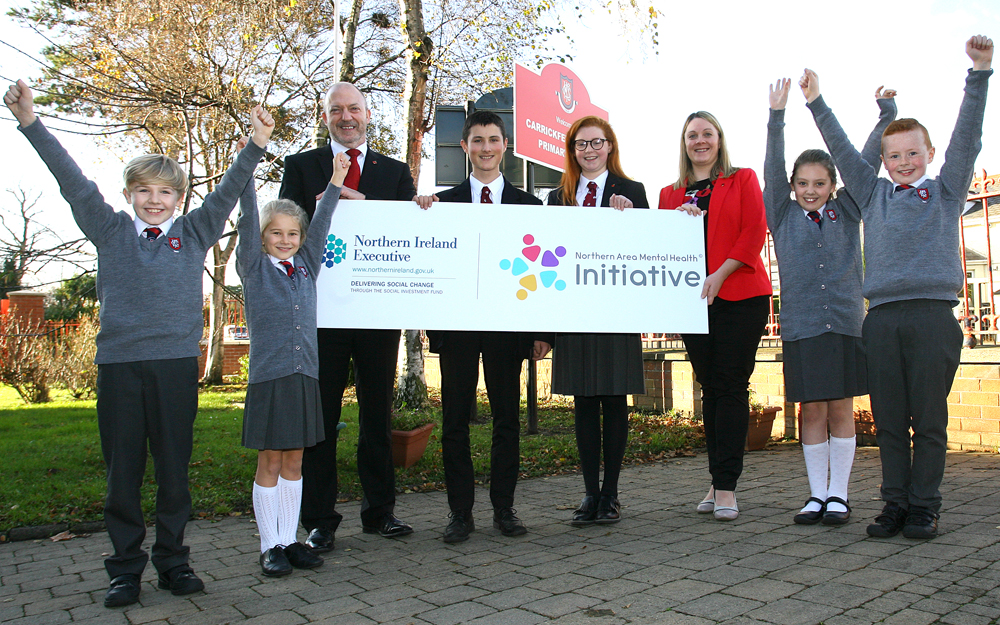 A pioneering new mental health initiative for young people and children as young as eight years of age up to 25 has been unveiled in response to the rising incidence of mental ill health issues among Northern Ireland's younger generation.
The Northern Area Mental Health Initiative, supported through funding received from the Social Investment Fund under the NI Executive's Delivering Social Change framework, was launched to equip children and young people with the resilience to handle periods of mental ill health one quarter of them are statistically likely to face.
The Northern Area Mental Health Initiative is an innovative and exciting new project led by Cookstown and Western Shores Area Network (CWSAN), in partnership with Action Mental Health and Nexus NI.
The Initiative will deliver free mental health awareness and resilience training, internet safety, sexual abuse and exploitation education for almost 6000 young people aged from 8 to 25 in schools, youth clubs and through key contacts.
The Initiative is to be funded by SIF for two years, until March 2019, and will be delivered across the Northern Social Investment Zone which broadly mirrors the Northern Health and Social Care Trust boundary.
Some 1700 Key Stage 2 children – from 8 to 11 year olds in Primary 5 to 7 will receive the ground-breaking training, while children at post primary level, approximately 2700 pupils aged 11 to 16 in years 8 to 12, will also undergo the programme. The unique training package will also be delivered to some 1380 teenagers from 16 years up to 25 through youthclub groups, parents and carers.
Elements of the training will include mental health awareness and resilience training; bespoke resilience workshops – like building resilience to cope with exam stress, self-esteem for the group; and education on sexual abuse and exploitation. This important element will be heavily targeted at the youngest group from 11 to 16, with 3940 of this age demographic participating in this programme.
The Initiative will target children and young people living in the Coleraine, Newtownabbey, Carrickfergus, Ballymena, Antrim and Larne areas.
Dr Mark Browne of The Executive Office said:
"Communities across Northern Ireland are acutely aware of the challenges of mental health.  Unfortunately, too many people feel alone in dealing with the harsh reality and impacts of poor mental health.

"This important initiative funded by the Social Investment Fund will provide a range of information, support, training and signposting for a range of mental health and wellbeing support services for 8 to 25 year olds," he added.

"The Social Investment Fund is designed to find local solutions to deliver real, long-lasting social benefits for those who need it most. I have no doubt this SIF project will make a massive difference to the local community and wish everyone involved every success in the delivery."
Kieran Mulvenna, Principal of Carrickfergus Grammar School where The Initiative has already been introduced, said:
'The current generation of young people are subject to unprecedented stresses which put their mental health, their happiness and their future life chances at greater risk than ever before.

"The inescapable pressure of social media, an examination system which is based on relentless assessment, and the resultant lack of personal space in which to process the challenges of growing up in the 21st Century have left our young people more vulnerable to mental health crises than their parents could ever have imagined.

"The most important benefit of initiatives such as this is the removal of stigma.  Mental health problems often evolve silently and we have found that educating pupils as to their causes and symptoms has allowed them to access support for themselves and, just as importantly, watch out for their friends more effectively.  Feedback from our pupils on these matters is very encouraging and they clearly welcome the emphasis that mental health now receives in schools."
For more information please follow this link.