AMH New Colin Counselling
Get Counselling
Referral / Service Update (Covid-19)
We are delighted to have delivered a full capacity service throughout the lockdown period, transferring seamlessly to telephone & online delivery.
As per government and clinical guidelines to ensure the safety of our clients and staff, we are continuing to deliver our services online and via telephone. Referrals should be currently made on this basis.
We are working towards a phased return to some face to face counselling from September 2020. This will initially be provided on a limited basis. We will be providing a blended model of delivery moving forward (encompassing face to face, online & telephone counselling services) and will regularly communicate with you on the developments around this.
Childhood counselling (5 up to and including 11 years)
Youth counselling (12 up to and including 17 years)
Adult Counselling Project (18+)
We are based in the Colin Area, providing individual counselling to enable people to manage their emotional health and wellbeing needs. Our service is available for people living in Poleglass, Twinbrook, Mounteagles, Lagmore, the greater Colin, Dunmurry and Lisburn areas.
AMH New Colin Counselling is a project of Action Mental Health.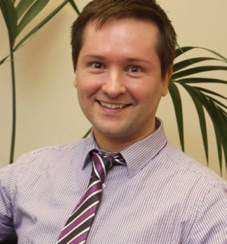 Vision
Our vision is that the people of the Colin and Lisburn areas will have access to a Counselling Service that supports their emotional health and wellbeing and contributes to enabling them to develop their full potential.
AMH New Colin Counselling offers a Counselling Service that enables clients to explore issues impacting on their lives and to discover ways of living more effectively.
The service will strive to be accessible and sensitive to the needs of the clients.
It is delivered by professionally qualified counsellors supported and managed in accordance with recognised codes of practice.
Make a referral.
To make a referral please click on the "Get Counselling" button below or telephone us on 028 9060 4347.
AMH New Colin Counselling, Colin Family Centre, Pembroke Loop Road, Dunmurry, Belfast BT17 0PH.
We offer Individual Counselling for which there is no charge and is provided by fully qualified and experienced Counsellors.
Counselling.
There are times during our lives that we may experience emotional difficulties or upheaval due to circumstances or events that have occurred recently or in the past.
Counselling is an opportunity to talk in private with a professional Counsellor about the issues affecting you in a non-judgmental, supportive relationship. The counsellor will work with you to help you find ways of managing those issues.
We provide counselling support on an individual basis for wide range of issues. During counselling you will be able to discuss these issues with your counsellor in a safe, confidential and supportive environment and how they are affecting you with the aim to explore and resolve them.
Through the support and understanding that counselling provides, individuals can gain a clearer understanding of themselves and make healthier, more positive choices in their lives. AMH New Colin Counselling respects the uniqueness of each person and helps the individual to explore a range of options in their lives, so that each person comes to resolve their difficulties in ways that are most suited to them.
We will invite you to a first meeting with a counsellor to talk about your individual needs and consider next steps.
Counselling appointments are once weekly and last for about an hour.
We offer an initial six appointments but if you require more this will be discussed with you and your counsellor.
Colin Neighbourhood Partnership and AMH New Life Counselling funding partnership:
We are delighted to announce that Colin Neighbourhood Partnership and AMH New Life Counselling have agreed a funding partnership for the next three years (September 2019-August 2022) to deliver a free one-to-one counselling service for 11-17 year olds resident in the Colin area (BT17 0xx).
All referrals can go through the online referral button above, or call the office for further assistance.
Where we work (3 main sites currently).
1. Colin Family Centre
2. Bow Lane- Lisburn
3. Laganview Enterprise Centre,
AMH New Colin Counselling, Colin Family Centre, Pembroke Loop Road, Dunmurry, Belfast BT17 0PH. Ring the doorbell on main door and someone will let you in. The waiting area is just inside the main door.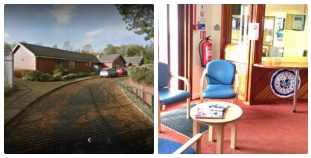 5 Bow Lane, Lisburn BT28 1AU. Come out of Bow Street mall shopping centre at Poundland, walk towards the town past Danske Bank and turn left, Bow lane is a small street with a sign above it. Therapy room is above Bella Hair, you do not need to go through the hair salon. Go up the stairs and you will find a small waiting area – your counsellor will meet you there. Locals might know this better as, down from where the Titterington shop used to be, now a vacuum shop.

Laganview Enterprise Centre, 69 Drumbeg Drive, BT28 1NY, Lisburn.
Located off the main Moira Road and within five minutes' drive from Lisburn City Centre. We use two rooms in this building:
For our "Laganview" room (1st floor) go in the main door, use the stairs or lift to get to the first floor where you will see signs directing you to the lovely blue sofas in the waiting area. Your counsellor will greet you there.
For our Resurgum, Healthly living room (Ground floor), do not go into the main building, go along the front of the building and enter the door under the Healthy Living Centre Blue/white signage. Just inside the door is a nice waiting area where your counselor will greet you.
"Laganview" room (1st floor)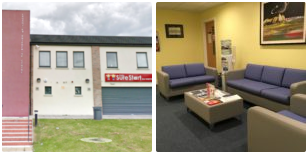 Resurgum, Healthy living room (Ground floor)