New Horizons clients hit the books as they get second chance at education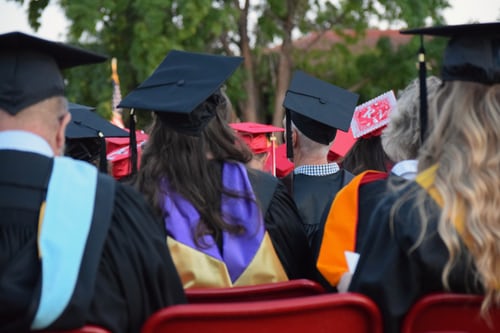 A man whose mental health plummeted following a traumatic time in his life is facing a brighter future by starting a law degree at university after receiving the support of Action Mental Health.
The new student is just one of many dozens of clients to have discovered a new lease of life after engaging in the variety of courses available at the charity's nine New Horizons services dotted around Northern Ireland.
New Horizons offers clients a comprehensive programme of specialist training, personal development, vocational skills and employability, tailoring programmes to suit individuals' personal needs. These are offered through the "Working it Out" project, which is part funded through the Northern Ireland European Social Fund Programme 2014-2020, the Department for the Economy and the five NI Health & Social Care Trusts.
The new law student is one such client who personifies the aims of the Working It Out project. And though the man, in his 40s, left school with just one A level, his subsequent studies and vast life experience including as an entrepreneur have secured him a coveted place on a law degree.
The Co Armagh man left school to train as a technician before taking those technical skills to his post as electrician. Years later he achieved a qualification that was the equivalent of a Higher National Diploma, before joining the police, serving a 20 year stint there while the Troubles were still grabbing news headlines. When he departed, the entrepreneurial spirit grabbed him and he established a number of businesses – all at the same time.
But it was too much, and his mental health suffered.
Experiencing what he described as a breakdown, he said he 'did nothing for a while' for the first time since he was a teenager. He barely knew where to turn, but then his community psychiatric nurse referred him to New Horizons.
"I was a bit apprehensive at the start and I didn't quite know what to expect. Initially I went twice a week but that progressed to three days and did the IT and ECDL course as well as photography.
"I felt the benefit straight away and it was very interesting what I was doing and it's been very, very useful. When I started passing all the exams I thought to myself, 'I could make a change in my life'," he said.
He has has come a long way. He received an unconditional offer for the Ulster University law degree, and commencing in September, he now spends ten hours a week at university, between seminars and lectures, and spends the rest of his week studying at home.
With a new future ahead of him, his negative thoughts are in his past. "Now, they're positive thoughts – and legal ones too!"
"New Horizons certainly gave me the confidence to go and meet people again, and to do things that I hadn't considered were possible for me."