A critical juncture for Mental Health, sees iconic buildings 'Go Purple' for World Mental Health Day
As part of Action Mental Health's Go Purple campaign, a number of Northern Ireland's most recognisable buildings were illuminated purple on the 10 October to recognise World Mental Health Day.
The iconic landmarks went purple after dark in order to raise awareness and help support the campaign to make mental health and wellbeing a priority for all. Buildings included Titanic Belfast, SS Nomadic and Ulster University Magee Campus (pictured).
For too long, the mental health of people in Northern Ireland has been underfunded and undervalued.
Given the impact of the COVID pandemic and the cost of living crisis, it has never been more important to prioritise the mental health of our population. Urgent action is required to address the shortfall in the mental health investment in Northern Ireland and to ensure the vision outlined in the Mental Health Strategy becomes a reality.
Issues for core mental health services are being compounded by the loss of future European funding and funding that is still required for both the Northern Ireland Mental Health Strategy and the Protect Life Suicide Prevention Strategy. In the case of European funding, the current European Social Fund (ESF) programme ends in March 2023. The situation has now reached a "critical cliff edge" as there is no clear idea how the ESF money will be replaced and it is becoming apparent that the proposed UK Shared Prosperity Fund will not sufficiently fill the funding gap.
As well as the gap in European Funding, new financial pressures due to the Cost of Living Crisis are now also placing pressures on people's mental health.
David Babington, Chief Executive of Action Mental health said, "We truly are at a critical juncture in the mental health sector in Northern Ireland and that is why urgent support and action is required now.
"We understand there are many conflicting funding challenges in Northern Ireland at present. We now more than ever need clear leadership and action. Our organisation is calling for a replacement of European Social funds, a fully funded mental health strategy, and The Executive to form to tackle the cost of living crisis. It's not too late, but time is running out."
AMH Services celebrate World Mental Health Day

Antrim Service
Antrim New Horizons opened a client art exhibition on Monday 10 October. The exhibition was officially open by Councillor Leah Smyth, the Deputy Mayor of Antrim in Clotworthy House, Antrim. The art exhibition will run to the end of October 2022.
Downpatrick Service
We were delighted to meet Patrick Brown MLA Alliance Party Member of the Northern Ireland Assembly to the Downpatrick service.
This was a great opportunity to promote the work that we do in the local area.
The New Horizons invited everyone in to sample a range of activities, including swimming at Down leisure centre, walking, creative writing, IT session and planting hanging baskets in the garden centre.
Down Leisure centre turned purple – Big thanks to Newry, Mourne and Down council for sorting this.
North Down & Ards
Clients and Staff from AMH New Horizons North Down & Ards were welcomed to Ards Blair Mayne Wellbeing & Leisure Complex to celebrate World Mental Health Day for a tour of the fabulous facilities and an overview by Ards & North Down Council staff on the benefits of exercise, how to become a member of the leisure complex and the opportunities to enjoy the outdoor spaces & coastline managed by the Council. Everyone enjoyed a Chi Me session at the end of the tour which was extremely relaxing and the first time that many of the clients had visited the leisure complex. Our thanks to the staff from Ards & North Down Borough Council for supporting AMH on World Mental Health Day.
Later on in the day, Cllr Karen Douglas, Mayor of Ards & North Down joined clients at for a session of Archery, promoting the Five Ways To Wellbeing, keeping active, learning a new skill and connecting with others.
Lisburn Service
Lisburn New Horizons had the pleasure of welcoming Clare, Mark and Joel to the service on Wednesday morning. It was inspirational listening to their stories, they were open and honest, bad days do still exist but they are now better equipped to deal with these through coping strategies developed during their time at New Horizons.
Belfast Service
Our Belfast Service held a coffee morning for staff.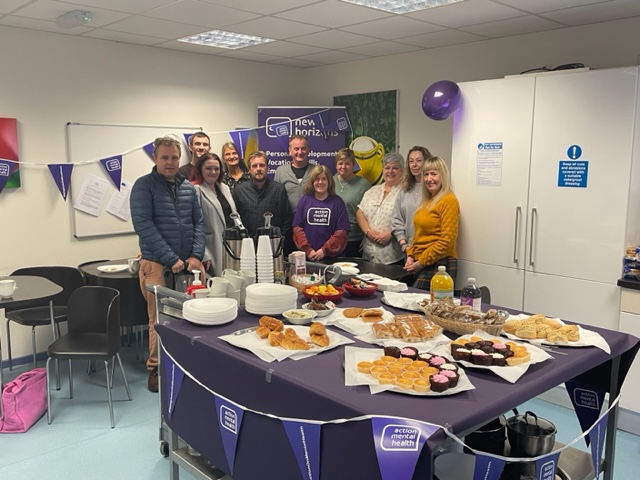 Fundraising
A huge thank you to all who joined us to take part in Go Purple. Pictured below:
Hendersons Foodservice; St Matthews Primary School, Drumsurn; Kilwaughter Lime and Ardmore Advertising.