A huge AMH thank you to all who embraced the #GoPurple spirit of WMHD!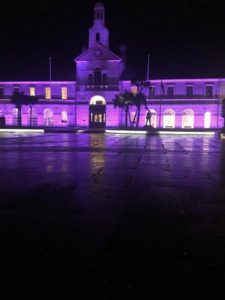 The global spotlight shone on mental health this week as a diverse series of events all over the world culminated on World Mental Health Day, on Thursday, October 10.
Close to home, Action Mental Health was delighted to see so many supporters #GoPurple to help fundraise for the charity to help secure the future of AMH's recovery and resilience services for people of all ages across Northern Ireland.
Companies, community groups and a diverse array of individuals held events and went on social media to share the #GoPurple message championed by AMH.
The night sky on WMHD was imbued with purple light illuminating some of Northern Ireland's iconic buildings and local monuments. From Derry and Strabane Council Buildings and the city's Playhouse, to Ards and Fermanagh Town Halls, Enniskillen Castle, Bangor's McKee Clock, the Strule Arts Centre in Omagh and Downpatrick Leisure Centre. Lisburn and Castlereagh City Council, at Lagan Valley Island in Lisburn also went purple, as did the Titanic Hotel Belfast and Newry Town Hall.
AMH corporate partner, Danske Bank, which has raised many thousands of pounds for the charity over the past two years, illuminated its head office at Donegall Square West and its branches at University Road, Belfast, as well as in Shipquay Street, Derry-Londonderry and in Newry. Employees also spent the day fundraising for AMH at its various offices and staff rooms.
Corporate partner MKB Law turned varying shades of purple for the day, while Grant Thornton legal firm, which shares Danske's Donegall Square West building, also tweeted its support of the #GoPurple message.
Other bodies which got behind the spirit of WMHD included the Mental Health Congress PPR, and The Consumer Council which hosted a 'Make It Fake It Bake It' sale for WMHD, raising funds for AMH.
In Newry, the annual WMHD Big Breakfast was joined by a number of local authority members and business interests, from Danske Bank, Murdock Group and PKF FPM business advisors, to Autoline, Haldane Fisher, and Saica Pack.
Patrons at Belfast's historic Sunflower Pub took a lighter view of WMHD with an hilarious comedy night in aid of AMH, while at the same time in south Belfast, members of the construction industry also went purple in the Construction Excellence Awards at Belfast's Crowne Plaza Ramada Hotel.
A variety of events were also hosted at numerous schools around Northern Ireland to mark WMHD. At Ballymacash Primary School in Lisburn, each class participated in an activity which highlighted the importance of mental health, while at Knockevin Special School, Downpatrick they were practicing the FiveWays to Well-being.
Events were also staged at St. Colum's Primary, Portstewart, Royal School, Dungannon, New Row Primary School in Castledawson, and Phoenix Integrated Primary and Nursery School in Cookstown
AMH Works took the message of WMHD to Kainos' Birmingham while closer to home Allstate also got its staff in on the WMHD act.
Edge Innovate in Tyrone and Harbinson Mulholland embraced the #GoPurple day with cake sales and similar events.
JP Corry in Enniskillen and Newry had in-store information stands for their customers (primarily men working in the construction industry), a really important initiative – knocking down barriers and enabling a meaningful conversation about mental health!
Warrenpoint FC showed its support WMHD in aid of AMH, reminding fans on its Twitter feed that #ItsOkNotToBeOk, while Girlguiding Ulster marked the day by signing up to AMH mental health awareness training.
Supported Employment Solutions used the platform of WMHD to launch a new well-being room, The Tranquility Room in Belfast's Lanyon Place.
AMH would like to say a great big thank you to everyone single one of you who took the #GoPurple message to heart, fundraising and embracing the true spirit of WMHD!
Downpatrick Leisure Centre

Enniskillen Castle

Titanic Hotel Belfast

Lisburn Island Arts Centre

Newry Town Hall

Playhouse Derry-Londonderry