Action Mental Health announces new partnership with Henderson Group, as they prioritise mental health in the workplace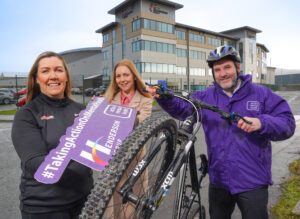 This year sees the start of a new charity partnership between one of Northern Ireland's biggest employers, retailer and wholesaler, Henderson Group and Action Mental Health (AMH) – the organisation that promotes the mental health and wellbeing of people in Northern Ireland.
The partnership will aim to not only raise funds for Action Mental Health to continue their impactful work to equip individuals here with employability training and a myriad of other services, but to work in tandem with Hendersons to ensure their staff have access to even more wellbeing resources.
January will see staff and store team members take on the Miles for Mental Health challenge, by walking, running or cycling each day to improve their own physical and mental wellbeing to kick off the year, and to raise funds.
The coming weeks will also see the launch of a number of initiatives for staff and managers across the Group, which will aim to improve mental wellbeing across the entire workforce which will build upon the Group's long-term 'WellAware' Health and Wellbeing strategy.
Bronagh Luke, Head of Corporate Marketing commented: "Keeping our teams motivated and focused has always been at the backbone of the Group's success, and by working with Action Mental Health, we will be further prioritising the wellbeing of our staff with even more incentives to enable them to connect and thrive as we continue to navigate the challenges of the past two years.
"It's hard to believe we're entering the third year of many of our office-based employees working from home, and we have had many processes in place to keep our teams as engaged as possible. Working with Action Mental Health and kicking off our year with the Miles for Mental Health challenge is giving our staff a great bonding experience with some healthy competition, as well as getting out there in the fresh air for some physical exercise which we all know boosts our mental wellbeing also."
Also founded in Northern Ireland, Action Mental Health is a multi-faceted organisation which has its AMH New Horizons services at its core, available across Northern Ireland. With AMH New Horizons, clients can benefit from a variety of personal development, vocational skills and employability training options, including accredited qualifications and work placements. The charity also offers a range of services and programmes aimed at improving mental health and developing resilience in children and young people as well as counselling for people of all ages.
Jonathan Smyth, Head of Communications and Fundraising, added; "Even before the pandemic, mental illness was one of the biggest challenges facing society here, with Northern Ireland having the highest prevalence of mental health problems in the UK.
"Action Mental Health provides a range of services to support people in Northern Ireland and we are seeing ever increasing demand. It is with that in mind that we are absolutely delighted to be appointed as Henderson Group's charity partner. As a local charity we rely on the generosity of the Northern Ireland public and the support of local companies like Henderson Group to help provide many of these services.

"We are also looking forward to working alongside Hendersons to support the mental health and wellbeing of their staff. It is wonderful to see them starting the partnership with their 'Miles for Mental Health' challenge. We hope this offers them a fun way to not only fundraise, but also get active and support their own mental health."
Henderson Group will participate in virtual and active challenges throughout 2022 and beyond, such as the Great Purple Picnic, Belfast City and London Marathons, and will mark World Mental Health Day with the charity in October.
Bronagh finished; "We have great plans that will help fund the vital services Action Mental Health brings to people in Northern Ireland, including those who need support and guidance to navigate employability and workplaces.
"We look forward to getting started and kicking off a successful and thriving partnership."