Action Mental Health rewards community efforts to promote better mental health and well-being
Schools, individuals and groups who go that extra mile to support the mental health and well-being of young people across Northern Ireland were rewarded today for their efforts by Action Mental Health.
To mark 2018's World Mental Health Day which is on the 10 Octopber each year, Action Mental Health unveiled the inaugural Head First Awards which recognise organisations and people within education and the community who avail of the pioneering mental health promotion work carried out by the charity's MensSana team.
The awards' ceremony was led by Cool FM radio presenter Paulo Ross, who has spoken publicly about his mother's mental health struggles in the past. He has said Action Mental Health's New Horizons recovery service had been life-changing.
Belfast Giants' chief coach Adam Keefe Belfast was also in attendance to hand out the specially-commissioned awards, hewn in Action Mental Health's trademark head shape.
The awards were conferred at W5 at the SSE Arena, on World Mental Health Day which this year focuses on 'Young People and Mental Health in a Changing World' – a theme very close to the heart of AMH's MensSana service.
MensSana provides tailored activities to support positive mental health and emotional well-being, directly in schools and across a variety of community-based organisations.
Encompassing age ranges from 8 to 25-year-olds and their key contacts, a variety of programmes are delivered in schools, youth clubs and community groups. The workshops are young people-friendly, positive, interactive and informative, exploring issues and facilitating discussion around issues of mental and emotional well-being.
The Head First awards celebrate exceptional commitment to mental and emotional well-being within the various education and community sectors. Nominees were selected based on their success in raising awareness of issues of mental health and well-being, tackling stigma, fundraising and championing young people's mental health during the academic year 2017 – 2018.
There was also a special award which recognises the outstanding efforts of one inspirational young person.
Winners were first shortlisted from a panel of MensSana project workers following assessment against agreed award criteria. A wide range of nominations were made by a panel of MensSana project workers, and winners were selected against agreed award criteria by a panel of judges.
The winner of each award receiced a framed certificate and personally inscribed Head First award.
The Results :-
Category 1 'Commitment to Mental Health and Well-being for the Community'
This award recognises the schools, colleges and community organisations who have supported AMH to reach a wider audience and raise the capacity of communities to support mental health and wellbeing throughout life.
This category recognises those who have gone above and beyond, taking a whole community approach to the promotion of mental health and wellbeing through engagement of teachers and parents, guardians or key contacts of young people as well as the young people themselves.
The standard of nominations received was extremely high and because of this, the panel felt it necessary to award additional Special Recognition and Highly Commended awards alongside the overall winner.
The nominations :
Andrews Memorial School – Comber
Glencraig Integrated Primary School – Holywood
St Colm's High School – Draperstown
South Eastern Regional College, Ballynahinch Campus
St Dominic's Grammar School – Belfast
Community Intercultural Program – Oasis Youth Centre, Portadown
St Columba's College – Newtownards
Special Recognition:
A nomination was received in this category for a community youth group which the panel felt showed extraordinary commitment to the mental health and well-being of young people and the wider community but it was felt that additional pressures faced by this community group made their achievements even more remarkable.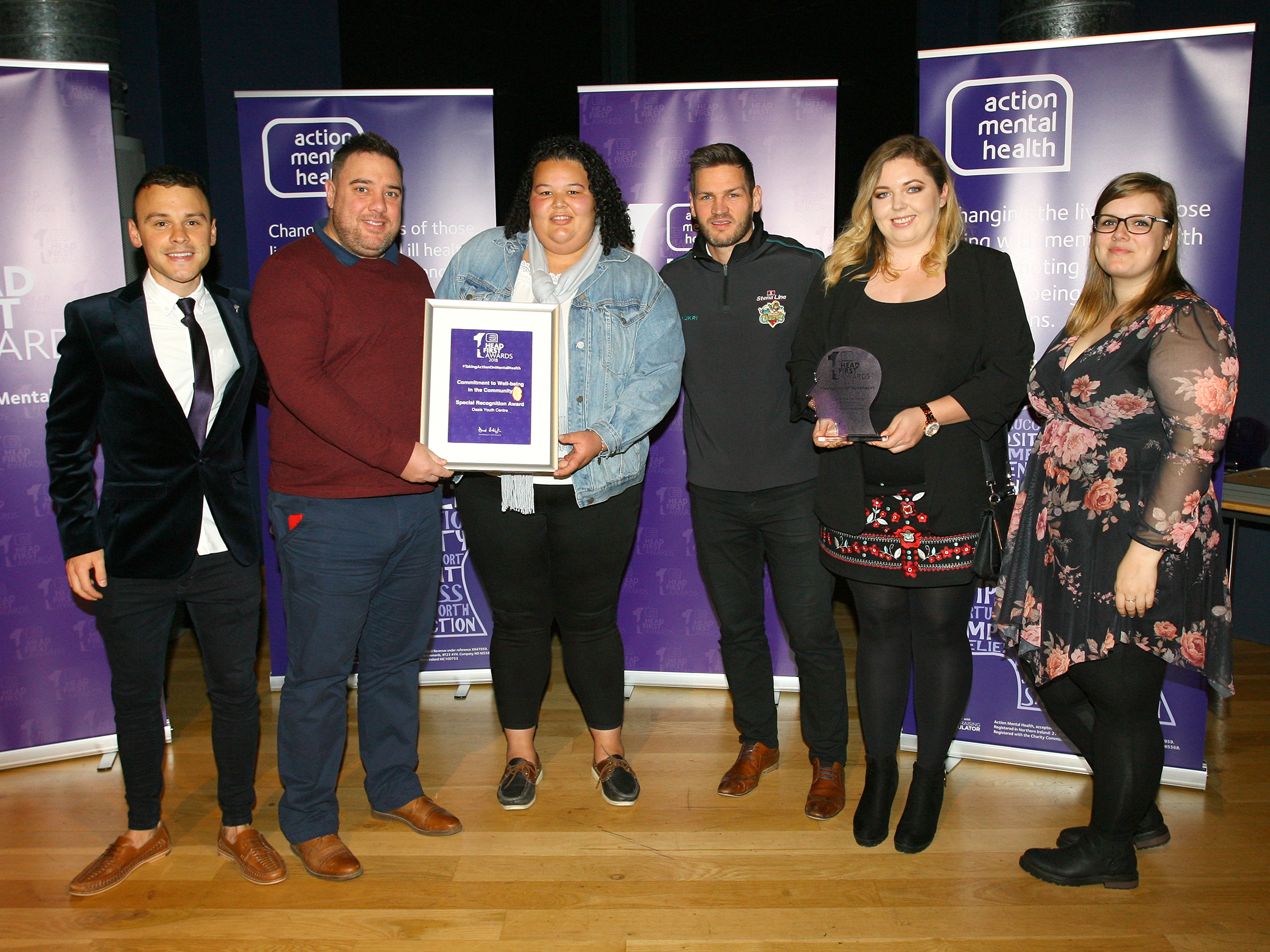 The Community Intercultural Program at Oasis Youth Centre in Portadown stood out as a grass roots group taking positive action to address social exclusion, reaching out in their community through provision of the full range of AMH Mensana programmes, and extending key messages of positive health and well-being resulting in other community organisations in the local area also accessing resilience and well-being sessions.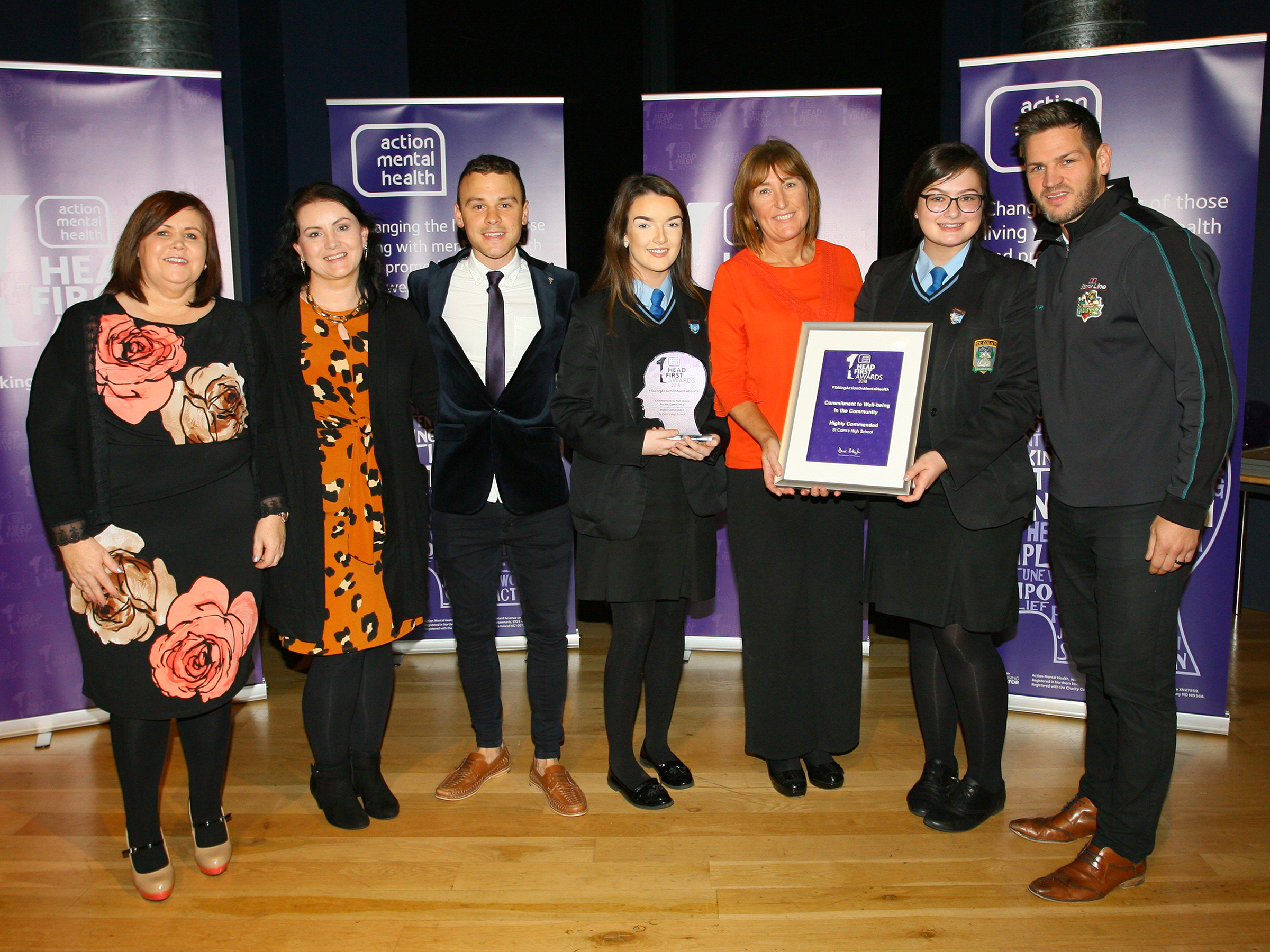 Highly Commended was awarded to St Colm's High school – Draperstown who have fundraised and partnered with their local council to create a hub and fitness trail within the school which are open to pupils, staff and the wider community.
The panel felt St Colm's nomination demonstrated the schools approach to wider engagement with the community and a holistic approach to mental and emotional well-being.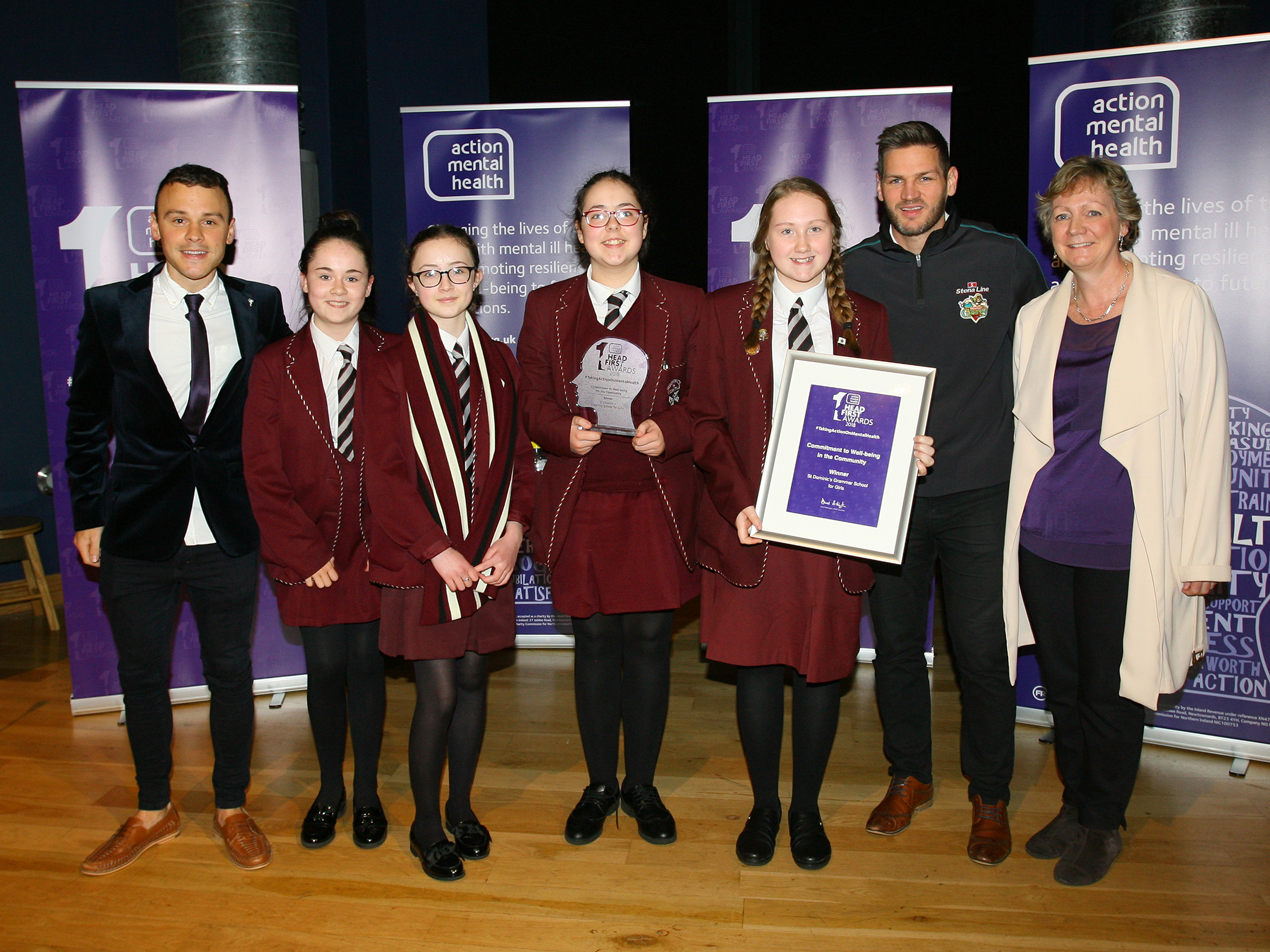 Winner of the Commitment to Well-being for the Community Award :-  St Dominic's Grammar School for Girls, Belfast
The winners of this category have accessed resilience and wellbeing sessions for students across their entire schools as well as working with AMH to offer mental health and well-being sessions for all staff and hosting health events for parents and carers over a period of four years.
The positive attitude of the school to promotion of wellbeing is evident also in the recommendations made to partner schools in West Belfast which has resulted in another 11 school's in the area partnering with AMH Mensana to extend provision of mental and emotional wellbeing interventions to young people and those who care for them. The shortlisting panel remarked on the schools commitment to reaching out and to embedding health and wellbeing within the school and wider community.
Category 2 'Fundraising Initiative'
As you will no doubt be aware, charitable donations play a hugely important role in the work Action Mental Health does to deliver vitally important work in schools and community organisations throughout Northern Ireland.
The Fundraising Initiative Award is all about those people who have gone the extra mile.
It's not just about the fundraising figures, the award recognises those that have got their whole organisation and community behind them in their fundraising efforts, groups that have used their fundraising to raise awareness of the very great need for better mental health promotion and provision for our children and young people.
The nominations :
Sandleford Special School, Coleraine
Andrews Memorial School, Comber
Royal School, Dungannon
Enniskillen Royal Grammar school
Cafre Equine College Enniskillen
Ballyvester Primary School
Donegal Road Primary School
St Joseph's Convent Grammar
Coleraine Grammar school
Again the judges where blown away by some of the initiatives and had to award a Highly Commended in this category, alongside our overall winner.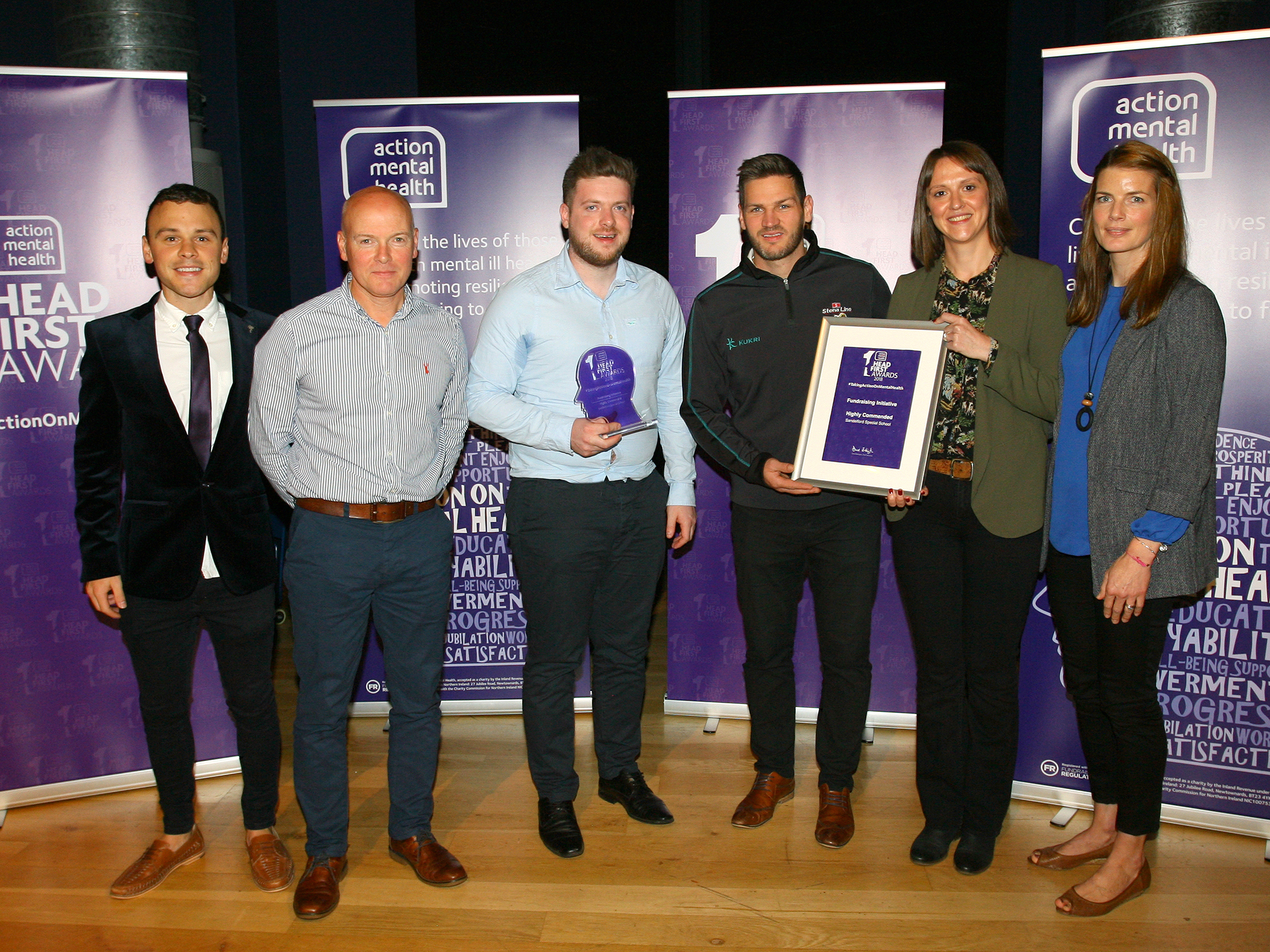 Highly Commended Award – Sandelford Special School who raised over 5 and a half thousand pounds for AMH through Belfast City Marathon and by hosting a Great Big Purple Picnic for Mental Health Awareness Week.
Aside from the very impressive achievement of raising so much money, the panel felt that the school demonstrated a commitment to a community well-being as they had involved the children, teaching staff and parents.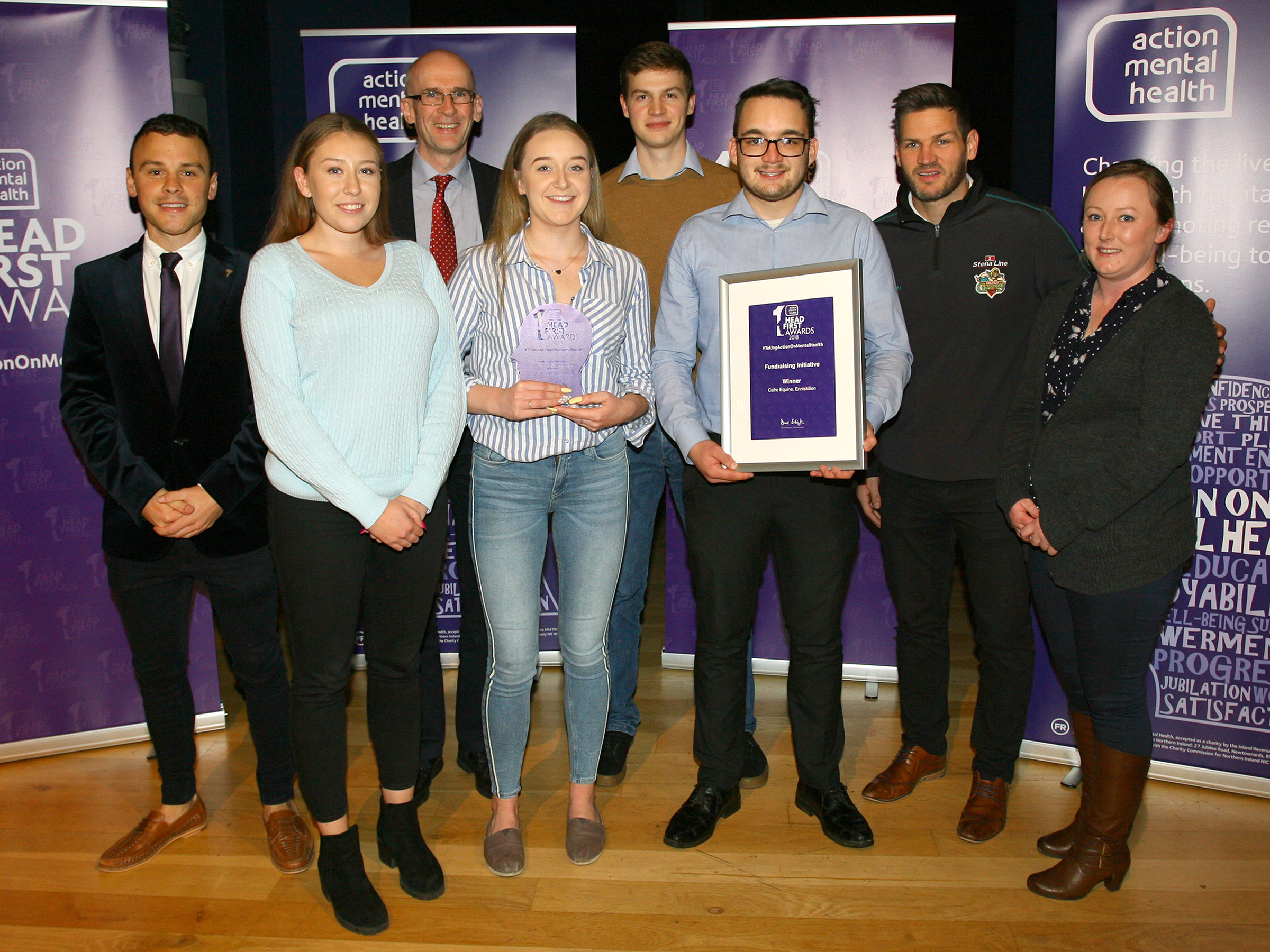 Winner:- CAFRE Equine College Enniskillen
For our winner the judges noted that an entire year had been dedicated to fundraising for AMH with a range of events hosted including a Christmas show and Quiz, a pyjamas and movie day, and a 'Hell on the Hill' Challenge Obstacle race.
Students had also visited their local AMH New Horizons Service to meet and speak with some of the service users. The panel were particularly impressed by the fact that the initiatives were all student led and had involved partnership working and communicating key messages to peers.
Category 3: Raising Awareness and Tackling Stigma
This award recognises a school, college or organisation which has taken a proactive approach to tackling the stigma of mental health and its impact on young people, providing a voice for young people's mental health through their activities.
The nominations :
St Brigid's Primary – Mayogall
St Oliver Plunkett's Primary School – Belfast
National Citizen Service Omagh
Prince's Trust Limavady
Ballysillan Primary School Belfast
Lismore Comprehensive – Craigavon
Prince's Trust Strabane
Carrickfergus Grammar School
With so many fantastic nominees, the judges found this category particularly difficult to judge.
Everyone in this category has worked especially hard to support AMH in addressing stigma and getting key messages for mental health and well-being out to those who may be struggling or who may be in a position to help.
The nominations included examples such as creation of videos and animations, use of social media, specific campaigns to raise awareness, assemblies dedicated to mental and emotional wellbeing, and even a 'wall of good vibes' at a local music festival.
Following a very long process of deliberation, the panel did reach a conclusion and agreed it was not possible to select just one winner therefore we have two joint winners.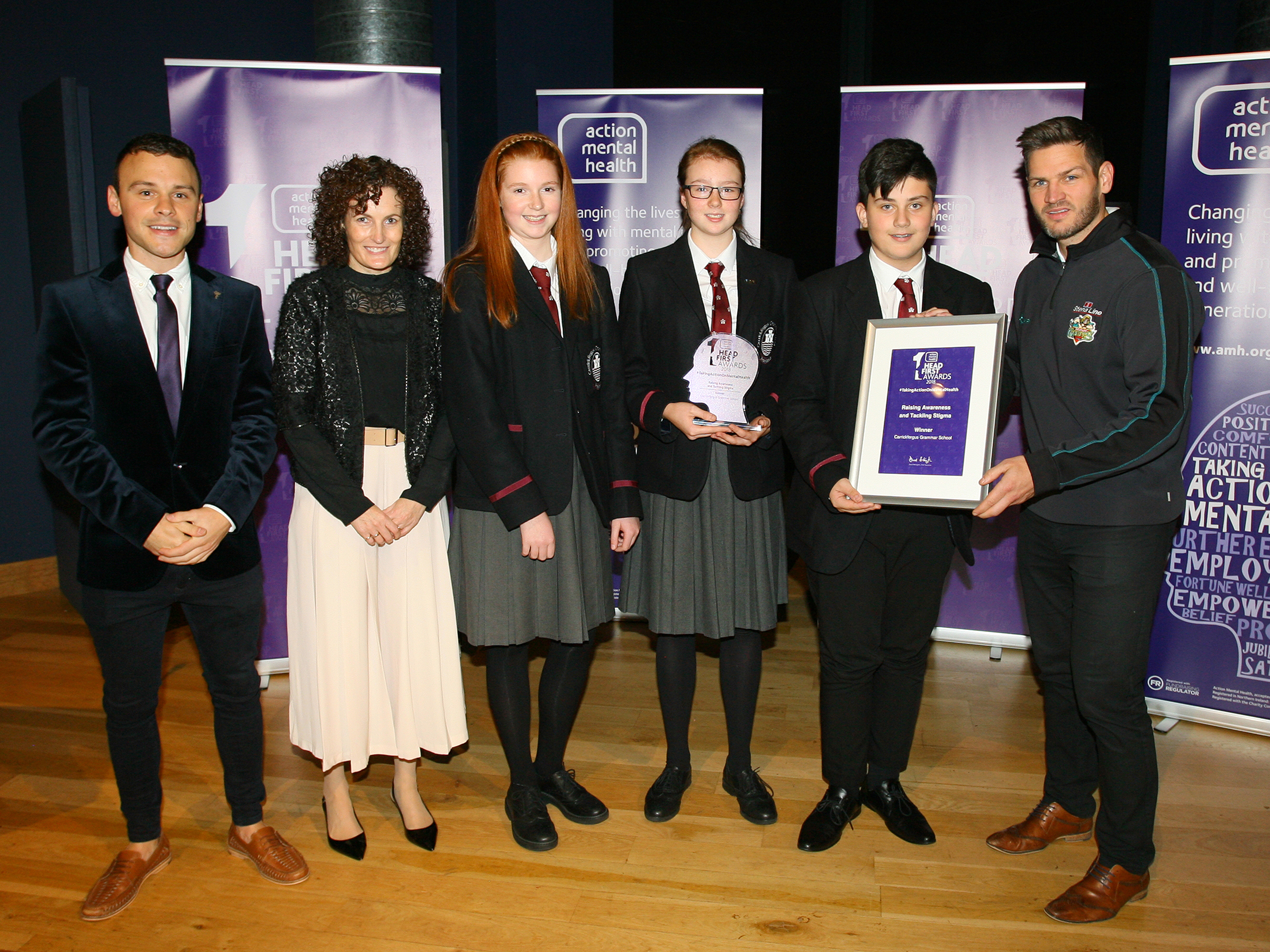 Winners:- Carrickfergus Grammar.
This school has shown an exemplary commitment to the resilience and well-being, not only of their students but of all young people in Northern Ireland.
They have worked with The Initiative project to offer mental and emotional well-being sessions to all staff and students – and they dedicated a significant amount of time and effort to a co-production project which involved their students scripting and producing a film which is now used in sessions and on the project website.
The principal, Kieran Mulvenna, has been a key enabler in all of this work, going above and beyond to support young people to address stigma and acting as a spokesperson for young people and for schools in media interviews to highlight the need for this work in schools.
The panel agreed this school showed leadership and empowered young people to take the lead by example.
Winner:  Lismore Comprehensive.
Lismore have shown incredible leadership in providing a voice for young people's mental health.
Through a very impressive programme of initiatives including development of a resource pack for promotion of positive mental and emotional well-being for young people, supporting and training a mentoring group to be mental health ambassadors and annual health fairs, this school have set out to show young people ………… that it is 'okay to not be okay' and have involved their students in doing so.
The panel were blown away by the breadth of the activities undertaken and felt this nomination showed how positive messaging around mental and emotional well-being could be embedded to consistently raise awareness and address stigma.
Category 4: Championing Young People's Mental Health
This category recognises the efforts and contributions of individuals who have shown a dedicated personal commitment to improving the emotional wellbeing and resilience of young people and individuals who have worked with AMH, while going above and beyond what could be expected of them in their role, through activities such as organising training, acting as a spokesperson for the media or promoting wellbeing information in their schools or community.
The nominations:
Paul Walsh – South Eastern Regional College
Liam McGuinness – St Malachys College, Belfast
Helen Shields – Newry High School
Caoimhe Devlin – St. Ronans College, Lurgan
Brian Treacy – Holy Trinity Primary School, Enniskillen
Michele Shaw – St Colm's Primary School Portstewart
Francis Pepin, Loreto College, Coleraine
Geraldine Keenan, Hydebank College
Jackie Stanfield, Hydebank College
Once again the calibre of those nominated was incredible and the panel were highly impressed by the dedication and sheer effort of all those shortlisted in helping to make a real difference to the wellbeing and future health outcomes of the people they work with.
In fact, the quality was so high that the judging team felt it was only right to have not one, but two highly commended awards for two very deserving individuals who stood out in the already very impressive list of achievements. Both of these nominees have shown personal commitment to improving the well-being and resilience of the young people they work with.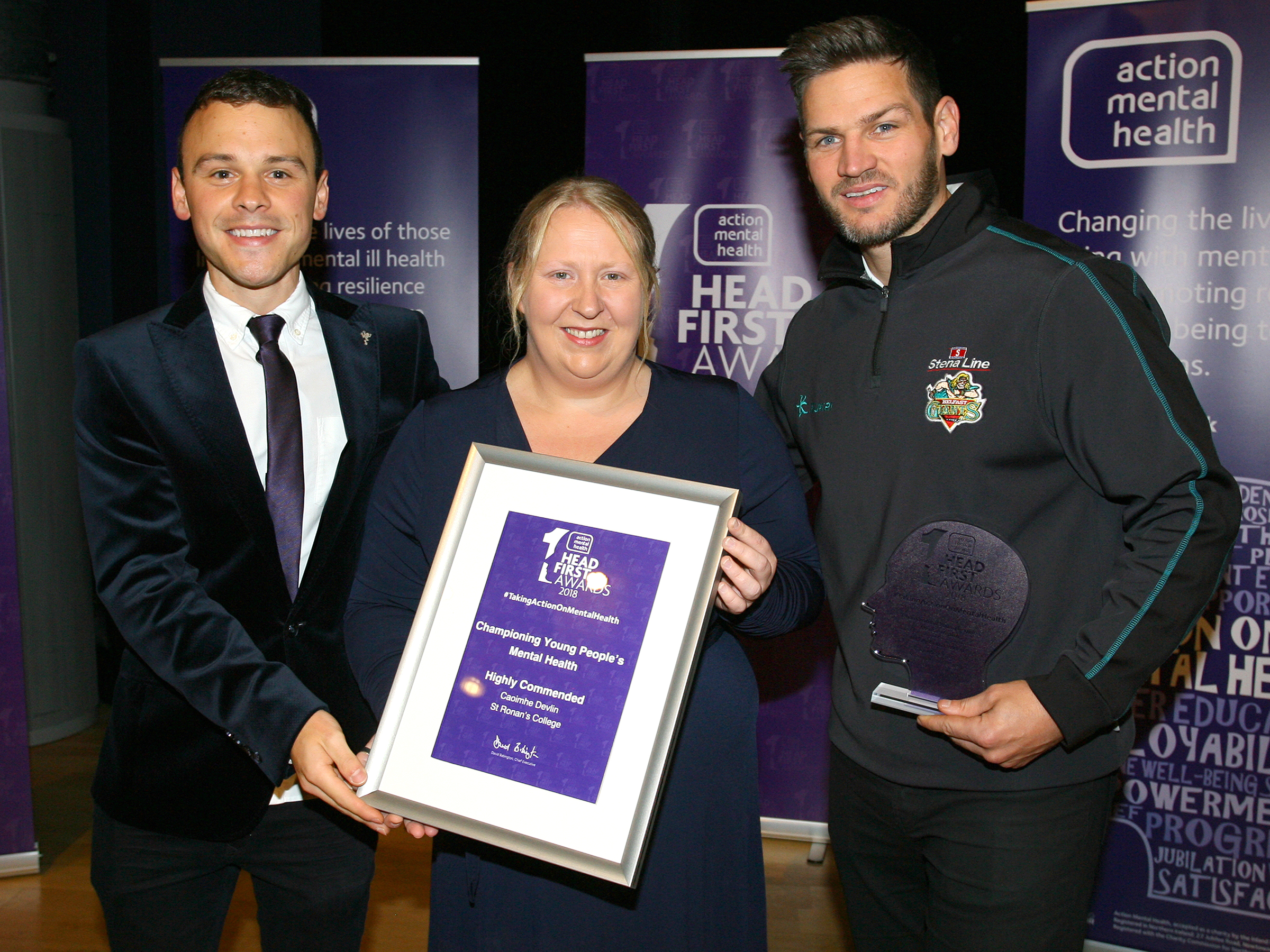 Highly Commended : Caoimhe Devlin from Saint Ronan's College Lurgan.
Caoimhe has shown leadership in supporting the young people she works with, and her colleagues during a time of significant change.
As the school was created from three schools amalgamated into one, Caoimhe identified that extra support was essential for the young people involved in this transition.
She then brought organisations who could help such as AMH Mensana together to offer Health fairs and wellbeing sessions, while also involving young people in supporting their peers through promotion of positive wellbeing messages at assemblies and through the establishment of mental health ambassadors within the school.
The panel agreed Caoimhe has shown personal commitment, dedicating her own time and taking the initiative to involve young people in improving the mental and emotional wellbeing of their peers and key contacts and deserving of a highly commended award.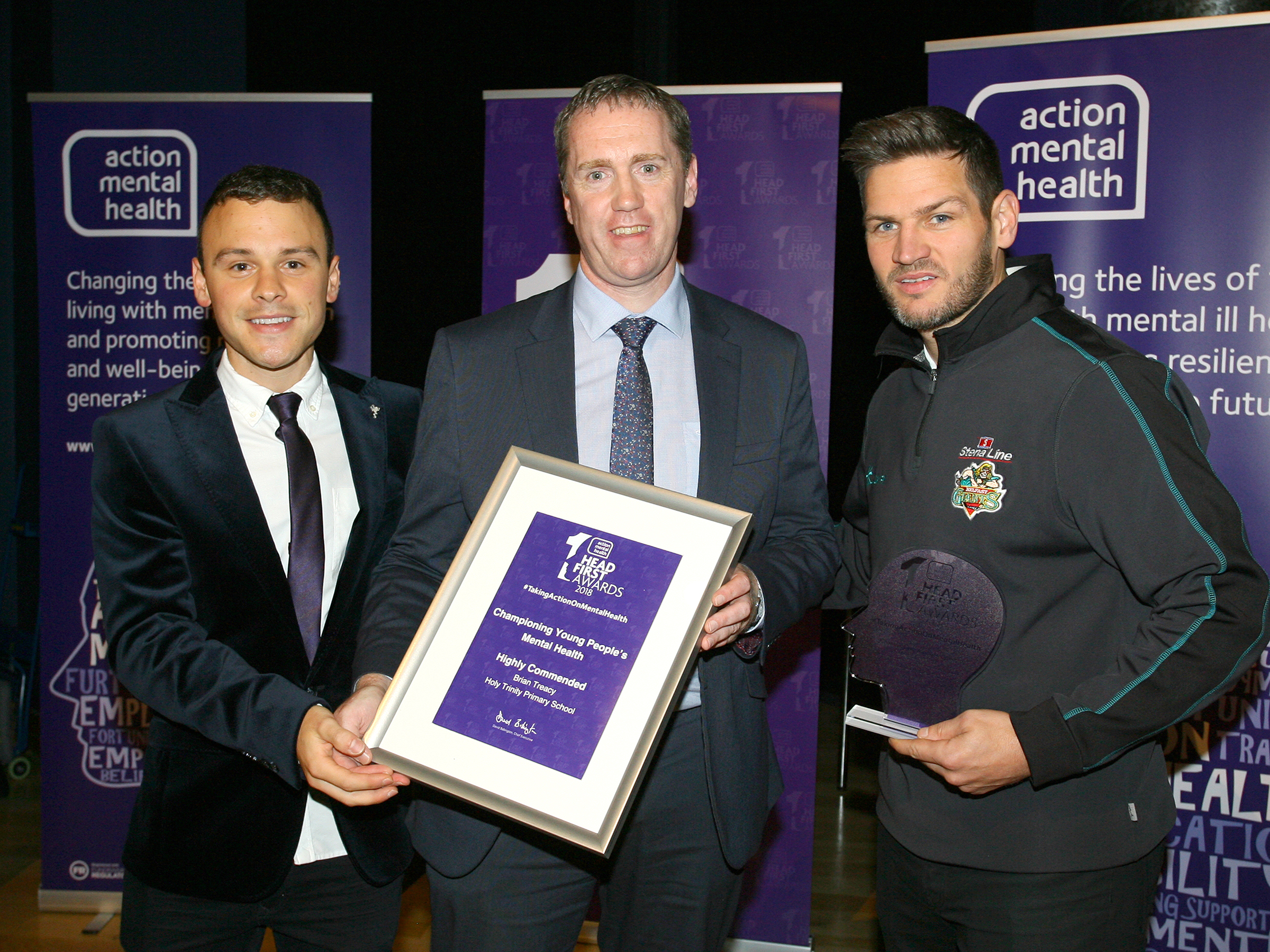 Highly Commended award : Brian Treacy, Principal of Holy Trinity Primary School, Enniskillen.
Brian has been proactive in promotion of mental health awareness amongst primary schools and parents in Enniskillen and throughout Fermanagh.
He took the initiative to attend the local Family Early Intervention hub meetings where he was made aware of AMH Mensana services.
From there he organised Healthy Me sessions for the children and teachers in his school and shared information out through the Enniskillen Cluster schools programme.
Brian has organised two health and wellbeing months for children and parents… and has encouraged involvement of teachers and children in promoting messages of positive mental health and wellbeing through the creation of a 'Healthy Me' wall in the school.
The panel felt Brian's actions demonstrated innovation and leadership and that he deserved recognition for the use of his position to positively influence others.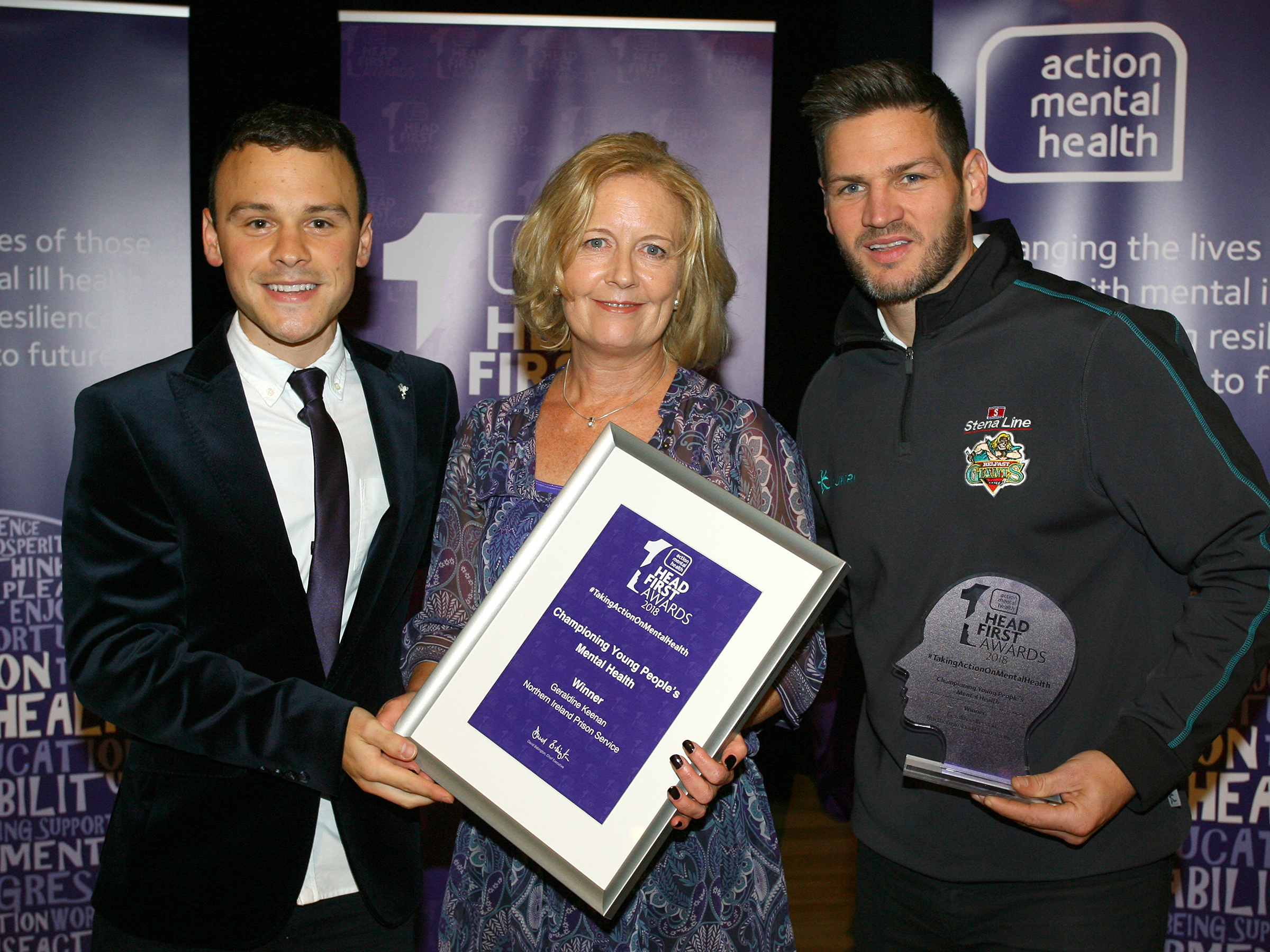 Winner : Geraldine Keenan from Hydebank College Learning and Skills department and the pastoral care team within the safer custody department.
Geraldine is a glowing example of what it takes to be a young person's mental health champion.
She works in a very challenging environment with young people who are marginalised and experience significant barriers to positive mental and emotional well-being.
The nomination noted the support Geraldine has offered to AMH Mensana to both reach and engage with young people who most need our services, but who are traditionally least likely to come forward.
Through her work in supporting young people they have directly encouraged engagement, and on a wider level within the work environment, they have promoted AMH Mensana programmes and contributed time and expertise to evaluations and funding bids, linking colleagues and young people with the project workers.
Over the last 5 years, Geraldine has been absolutely integral to the involvement of young people in Mensana services in Hydebank college.
The panel agreed Geraldine fits the brief for our 'Young Peoples Mental Health Champion' going above and beyond to promote and support young people's mental health and wellbeing.
Category 5 : Inspirational Young Person of the Year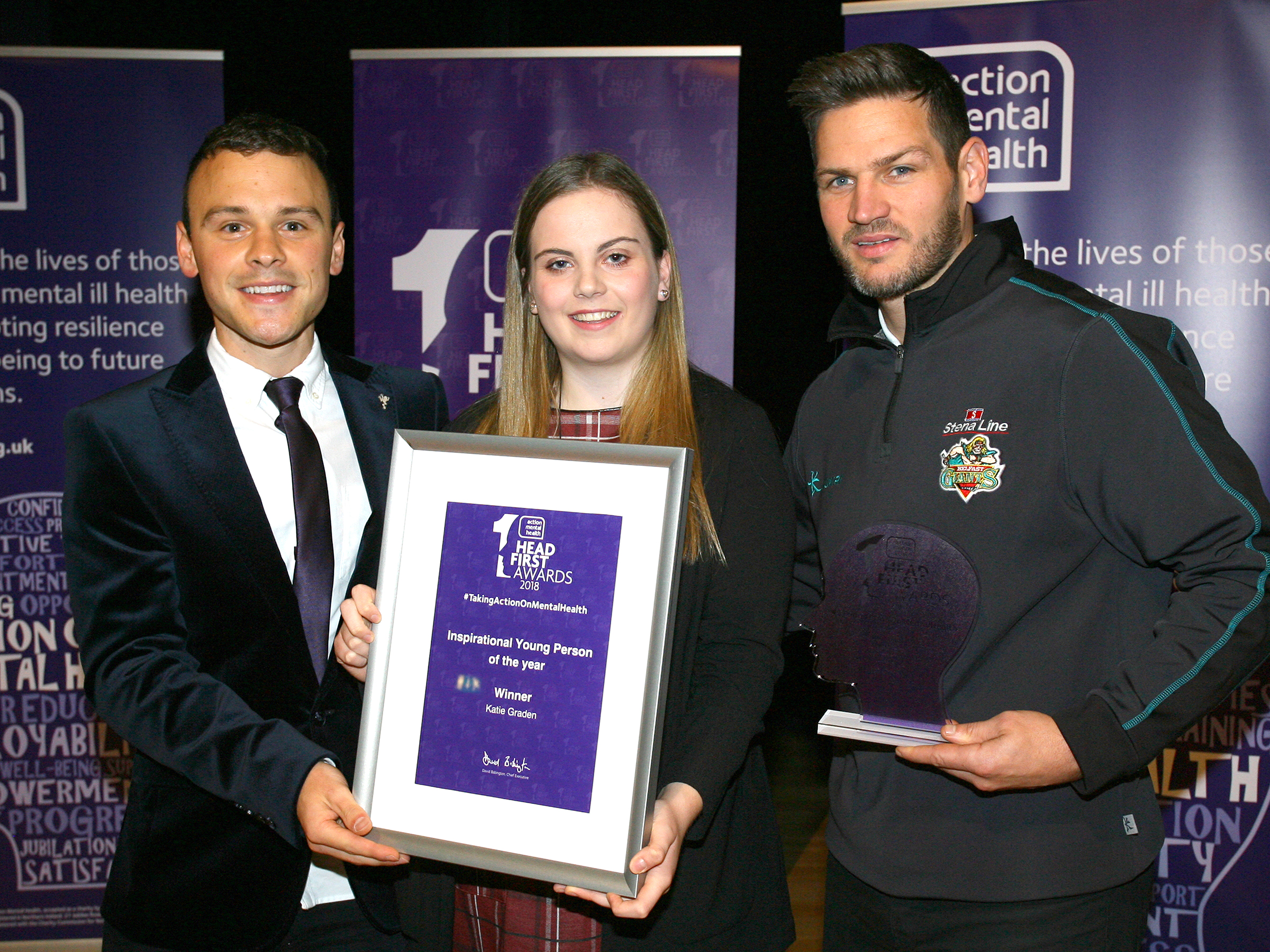 Winner – Katie Graden Spence
This award recognises the efforts of an individual young person who has gone above and beyond to raise awareness of mental health and draw greater public attention to the need for improved resilience and well-being within local communities.
Katie raised over £1,000 for Action Mental Health by walking 297 miles – a very significant distance as each mile represented one of the deaths by suicide in Northern Ireland in 2017.
A very impressive and heartfelt fundraising feat made even more remarkable by the fact that she was then able to obtain all-party political support for her efforts which is quite the achievement in Northern Ireland.
Beyond that, this year's winner has shown an incredible passion for developing mental health care for young people, not only in her own community but across the country.
This is being achieved through her ambition to establish a student led mental health and well-being committee for every school here, a proposal very close to the heart and work of AMH.
Her plans are already achieving success and she recently delivered her proposal to the Department of Education and the All Party Group on Mental Health with a number of potential one-year pilot schemes also receiving a lot of interest from local schools and universities.
Her drive to promote mental health, well-being and resilience in schools inspired the judges. However, her determination to make it a reality through direct political engagement completely blew them away.
Congratulations to all our nominees and winners!