Airport Charity Partnership Deemed A Flying Success
A two year partnership bet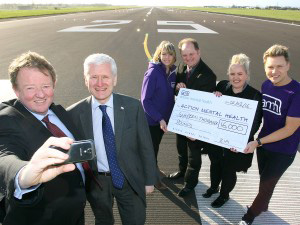 ween Belfast International Airport and Action Mental Health has concluded with over £16,000 raised to help increase awareness of mental ill-health in Northern Ireland.
Funds collected during the charity partnership, the first of its kind for Belfast International, will go towards helping people recover from mental illness in Northern Ireland and raise awareness of the symptoms.
Praising Belfast International Airport on its achievement, Chief Executive of AMH, David Babington said:
"We are extremely proud to have been selected as the very first charity partner of Belfast International Airport and are delighted with its unprecedented success.
"The money raised will further our efforts in reducing stigmatisation within the local community and transform the lives of those living with mental ill-health, as well as promoting resilience and well-being to future generations."
During the two year partnership, Belfast International Airport employees collectively organised a series of fun-filled fundraisers for both customers and staff, including a VIP discounted Christmas shopping event, coffee mornings, and pilates taster sessions. In addition, Belfast International Airport kicked of the partnership with a substantial donation of £10,000.
David Babington continued:
"It's hugely encouraging to know that such a prominent organisation such as Belfast International Airport has led the way in terms of raising awareness of mental ill-health both inside and outside of the workplace.
"It has been thoroughly enjoyable working with the entire team and we cannot thank them enough for their support."
Action Mental Health operates in nine locations across Northern Ireland and supports more than 2,000 clients each year by delivering a variety of life-changing courses to the local community.
Programmes are specifically designed to assist individuals with mental ill-health in the recovery process by encouraging them to adopt a healthier lifestyle and widen their social networks. AMH also provide clients with the skills to build a better future, set personal goals, develop coping skills, re-engage with society and become more employable.
Managing Director of Belfast International Airport, Graham Keddie said:
"Belfast International Airport is extremely passionate about giving back to the local community, which is why we have a number of charitable initiatives in place to help fund a catalogue of worthy causes such as Action Mental Health.
"The topic of mental health is something which has touched most people's lives in Northern Ireland, whether it's through a friend or loved one. So with that said, we endeavoured to raise as much funds as possible for AMH so they can carry out their fantastic work and support those in need."