Alex providing a 5 Star service at the Fitzwilliam Hotel!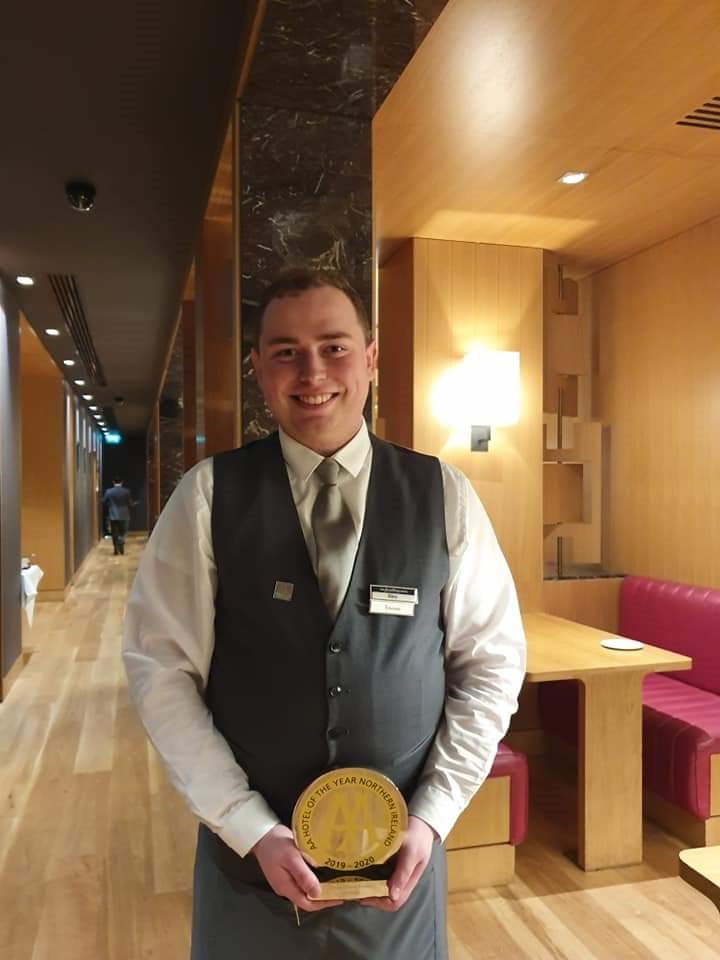 Alex started with AMH New Horizons in Antrim in 2017 participating in the EVOLVE project, which focuses on working with 18 – 25 year olds and developing their social and personal development.
At the beginning of 2018, Alex felt ready to move on to new challenges and focus on his employability. He completed several accredited courses – ECDL in IT, OCN Employability and began an NVQ in Business Administration.
Working on Reception in AMH New Horizons also helped boost his confidence as did a placement with the Initiative project based in AMH.
This year he enrolled and successfully completed a further education course at Belfast Met and with the support of the AMH Employment Officers, began a placement in the Fitzwilliam Hotel in Belfast.
The Fitzwilliam picks up the story –
Alex has been a delight to have working with us. This was something very new for the Fitzwilliam Hotel Belfast, and at the beginning of the process we were unsure if it would work for both us and the volunteer. With the assistance of AMH New Horizons, Alex was placed within our Beverage Department working alongside one of our Supervisors. Alex has put hard work and determination into his placement and has now successfully moved into paid work within our Food Services team. We are delighted with how far he has come and look forward to seeing what he can achieve in the future within the team here at the Fitzwilliam.
Congratulations to Alex – we wish him all the best! The Fitzwilliam is a 5 star luxury hotel in the heart of Belfast City Centre. It has recently been named Hotel of the Year (Northern Ireland) 2019-20. Alex took part in the Working It Out project at AMH NEw Horizons Antrim. The project is part-funded through the NI European Social Fund Programme 2014-2020 and the Department for the Economy.