AMH bowled over by marathon fundraising effort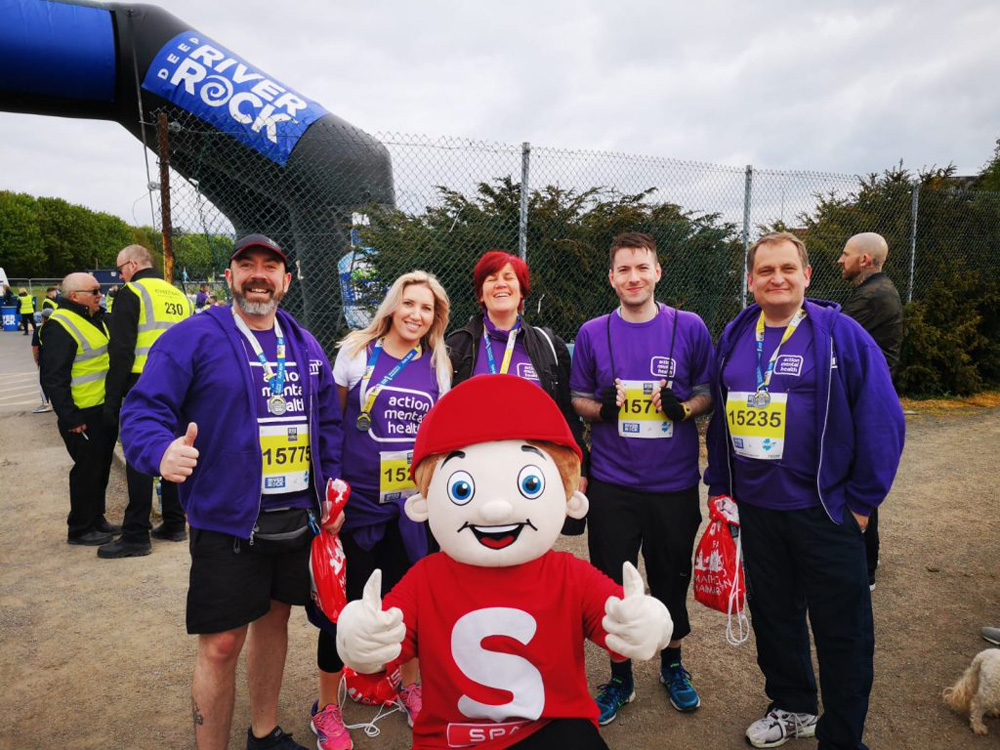 The good-hearted people of Northern Ireland – known the world over for their generosity – have lived up to their reputation, helping to raise nearly £50,000 to support Action Mental Health's services through the Deep RiverRock Belfast City Marathon. And we're still counting…
There was a carnival atmosphere at the popular event which attracted record numbers of participants in the first ever marathon to take place on a Sunday.
Thousands more people turned out to line the route to cheer on the participants of the 38th marathon event in the city with a route that started at Stormont and snaked its way through Belfast – from east to west, north and south.
Around 18,000 took part in the five different events of the day, including the full marathon, the wheelchair race, team relay, walk and fun run. Some 5,000 took part in the full marathon, marking record numbers for the event which began in Belfast in 1982.
Around 500 people took part in Sunday's event on behalf of Action Mental Health which was one of five designated charity partners – and the amount raised so far has the charity glowing with appreciation, knowing the impact that these vital funds will have.
Team AMH were out in force with a mix of participants braving the full marathon, the team relay, the 9 mile walk and the fun run.
Action Mental Health was delighted by the participation by its charity partners Danske Bank, Allstate, CTS Projects and Phillips Healthcare who were all represented. AMH was also fortunate to have the support of a number of other local firms and organisations including Queen's University, Ulster University, the Henderson Group, Clanmill Housing Association, City of Belfast Boxing, Donaldson Consulting, Wilson Salt, Doran Consulting, Framar Health, Murlands Solicitors and B Connected Media.
AMH was also lucky to have a number of high profile personalities on board for its 'Dream Relay Team' including Cecilia Daly, BBC weather presenter; Steve Thornton, manager of the Belfast Giants; and UTV broadcast journalist Deborah McAleese and her husband Jonathan McCambridge, former deputy editor of the Belfast Telegraph and author of popular blog 'What's A Daddy For?'
Action Mental Health Chief Executive David Babington was overjoyed by the support shown in its first marathon charity designation.
"Action Mental Health was lucky enough to clinch one of the five designated charity spots of the Deep RiverRock Belfast City Marathon 2019 and because of that opportunity, a staggering amount has been raised to help fund vital mental health services provided by Action Mental Health.
"Almost £50,000 has been raised so far by the generous people of Northern Ireland who have once again dug deep to support us – be they individuals, community groups, our faithful corporate partners and other businesses who selected Action Mental Health as the recipient of their marathon efforts in both physical and fundraising terms.
"We are indebted to each and every one of them, and we also want to place on record our deep appreciation to Deep RiverRock Belfast City Marathon which opened the door to such a great opportunity, not only to raise funds, but also to raise awareness of mental health in Northern Ireland."