AMH Helps People Manage the Challenge of Pain
People living with pain issues are bring given a vital helping hand through a programme specially designed to help them cope with their condition.
Action Mental Health, funded by the Western Health and Social Care Trust, offer self-management courses for those suffering a wide variety of pain conditions.
The Managing the Challenge (MTC) programme helps people manage their condition, including the pain they routinely suffer, more effectively.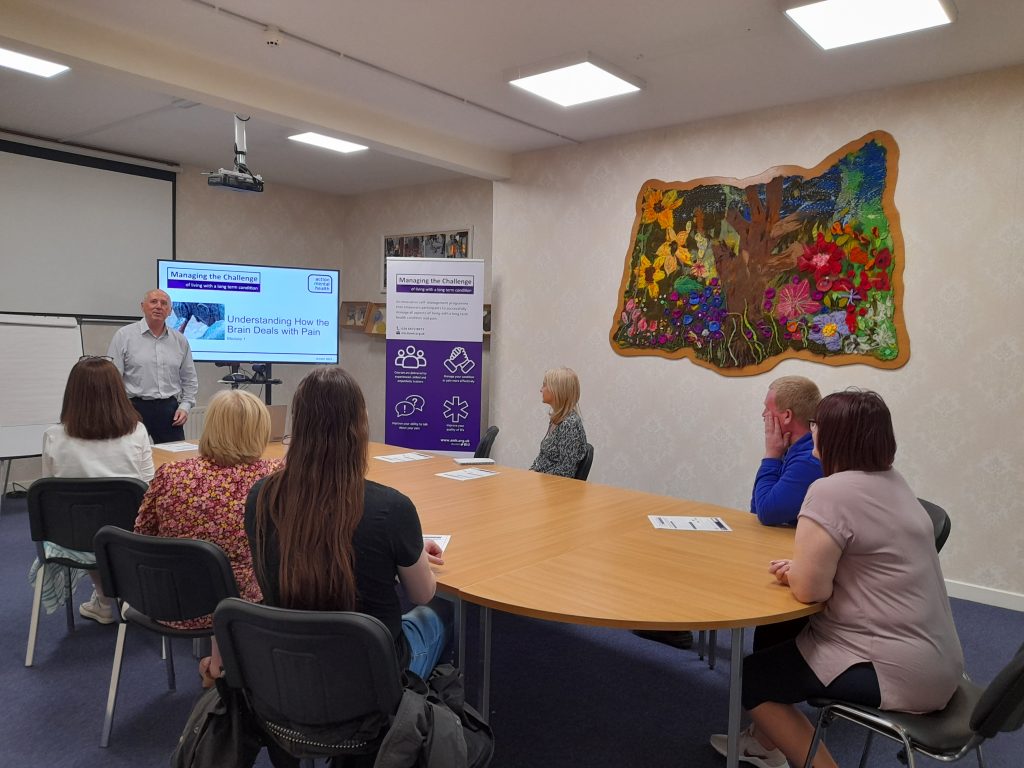 MTC teaches people the skills to enable them to deal with the pain and the associated fatigue, anxiety and stress that often accompanies their condition. The programme offers people helpful techniques to help them move more, relax more easily, set goals, problem solve and improve their ability to talk about their pain to friends, family and healthcare professionals.
AMH's MTC training is free to anyone over 18, in the Western Health and Social Care Trust area, who has a long term health condition or experiencing ongoing pain and is interested in learning new skills in self- managing their condition or pain.
The programme uses research-based techniques and strategies and has been designed with the help of healthcare professionals from the Trust with a wide range of knowledge and proven experience in providing support to those in pain.
Courses are delivered by experienced, skilled and empathetic trainers, many who have personal experience of long term health conditions.
David Tierney, Managing the Challenge trainer based at AMH New Horizons Fermanagh stated: "Learning to manage your condition, or pain significantly improves the quality of people's lives. Most people with a chronic pain condition see a healthcare professional for as little as five hours per year. Our self-management programme helps you, through evidence informed ways, to support yourself in the remaining 8755 hours a year.
"Perhaps more importantly many others with similar conditions have told us they have benefited greatly from it," he added. "We are confident that the programme could help sufferers to turn down the volume of their pain so that they live the best life they can in spite of having a pain condition."
The programme is delivered in six weekly, 2.5 hour sessions in Derry/Londonderry, Enniskillen, Strabane, Omagh, Limavady and other locations across County Fermanagh. These courses provide an opportunity for participants to share their ideas and experience in a friendly and supportive environment.
AMH also deliver a small number of courses remotely via Zoom for those individuals with travel issues or who consider themselves as vulnerable due to their health condition.
Clients have paid glowing tribute to the staff delivering the programme, as well as its content.
"The trainer was a ray of sunshine in a dark and stormy day,"
It was good to talk to people who are going through the same thing as you are going through."
For more information contact: MTC Programme Coordinator
c/o AMH New Horizons Fermanagh
7 Cherrymount Road,
Drumcoo,
Enniskillen,
BT74 4GN
E: [email protected]
T: 028 6672 0673