Action Mental Health marks Mental Health Awareness Week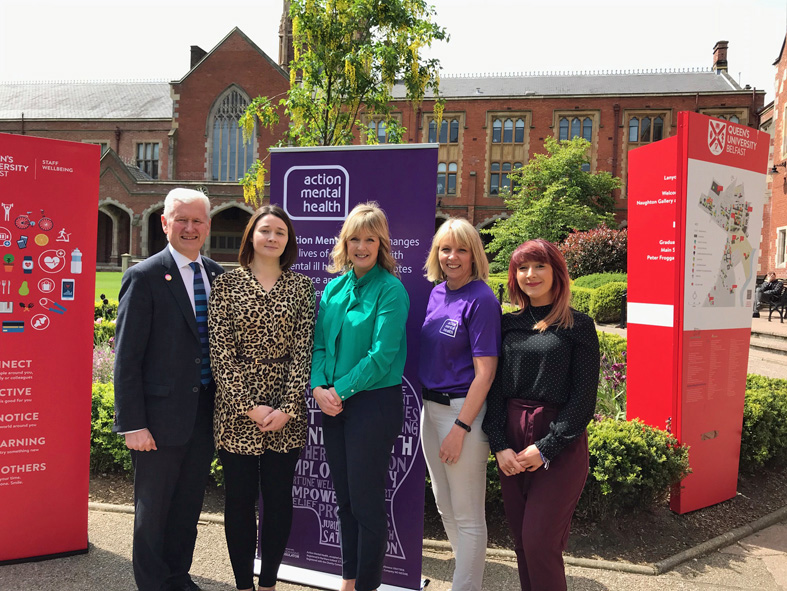 Mental Health Awareness Week 2019 came at a time when the issue of mental health and well-being has never been in sharper focus.
As Prince William opened up about his emotional fragility following the death of his mother Princess Diana, Great British Bake-Off winner Nadiya Hussein allowed the cameras in to capture her battle with anxiety, and former Homeland actor David Harewood revealed a bout of psychosis in his 20s.
These high profile personalities were among headline discussions conveyed by the media over the week, highlighting the prevalence of mental health issues in society. They helped to prove that mental ill health knows no boundaries, whether social, religious, class or ethnicity.
Closer to home Action Mental Health helped steer the public conversation towards mental health issues, fundraising for our services through the second ever Great Big Purple Picnic (GBBP). Local politicians and community representatives descended on Action Mental  Health's nine services across Northern Ireland to partake of the picnic which, this year, featured barbecues, pet therapy sessions, horticultural sales, yoga, music and a host of festive events.
Action Mental Health also supported a flagship initiative by Queen's University Belfast to support better well-being among staff and students at the institution. The pinnacle of QUB's week-long series of events was a panel discussion on mental health matters featuring the personal stories of local people like former GAA star Oisin McConville, who fought a gambling addiction and radio presenter Paulo Ross, who cares for his mother who suffers mental ill-health.
Action Mental Health supported the university's itinerary which included a pedometer challenge, holistic well-being sessions, workshops, talks on cyberbullying and sleep-improving sessions, lunchtime walks and its very own Great Big Purple Picnic in the university's historic quad.
Our corporate partners also got behind the week's events with gusto. Ardent supporter Danske Bank's Business Development Team walked a collective 500 miles across a number of its branches, raising funds and awareness with every step. Other staff embraced the Great Big Purple Picnic festivities as well as a host of other activities in branches across the country.
Staff members in our partners Allstate were also treading the pavement, raising funds and awareness with their 'Walk a Mile and Smile' event, while stands went up at its three branches to inform employees on the best ways towards mental health and well-being. Staff were encouraged to take part in a selfie- competition before a hair-raising zipline event brought the week to a finale.
All 53 branches of Gordons Chemists jumped on board the Mental Health Awareness Week bandwagon, raising awareness among customers through literature and selling wristbands while staff donned purple for the day.
Coca Cola too, participated, letting employees test their aim in an archery competition in a novel way of marking Mental Health Awareness Week.
Meanwhile WW (formerly Weight Watchers) turned purple with al fresco dining at venues across County Antrim, and Farrans Construction staff enjoyed a week of GBBP-related events.
SDC used the week to launch the new partnership between the truck and trailer parts firm and Action Mental Health, when staff got the opportunity to participate in stress tests and avail of the charity's breadth of knowledge on mental health issues with information stands and awareness raising efforts.
In Warrenpoint & Lisburn, our corporate partner, CTS, got into the spirit by hosting Great Big Purple Picnics for all their staff.
Financial Services Compliance (Fscom) had a purple dress-up day on Friday, a week after launching their new charity partnership with Action Mental Health, while Medicare Osborne Pharmacy on the Lisburn Road also got in the purple spirit.
Cranswick Country Foods in Ballymena held a GBPP  bake sale and have decided to continue their fundraising drive with a sponsored walk within the splendour of Glenariff Park on June 29.