AMH's ambassador Alex joins Belfast City Half Marathon Challenge 13.1 to raise vital funds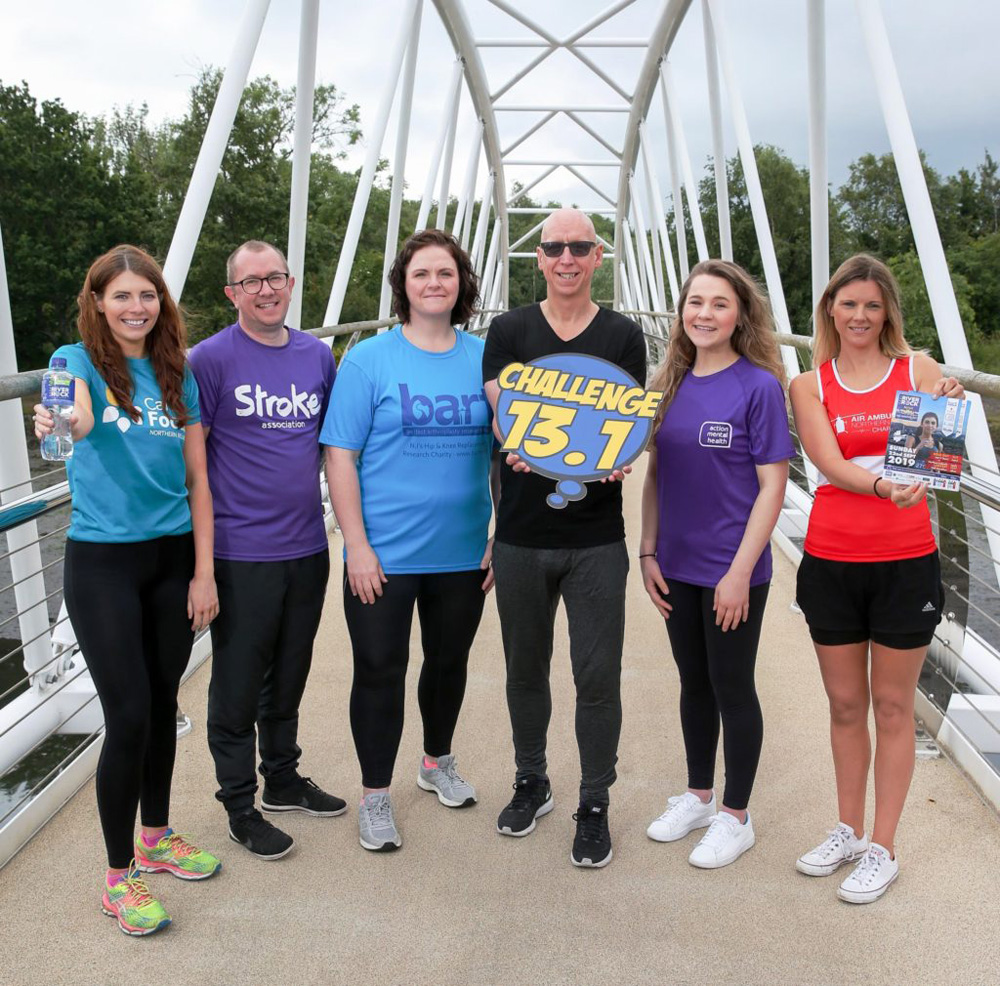 One of Action Mental Health's fundraising team is joining Belfast City Marathon's latest band of novice marathon runners to run and raise money at the same time through the Deep RiverRock 'Challenge 13.1'.
Fundraising and Engagement Co-ordinator Alex Murdock is taking part in the challenge which follows the Deep RiverRock Belfast City Marathon 'Experiment 26.2' programme when 17 people ran their first full marathon, on May 5.
The Experiment 26.2 programme supported and mentored runners throughout the whole of their training and it was such a success the organisers decided to mount a similar effort for the 7th Deep RiverRock Belfast City Half-Marathon which takes place on Sunday, September 22.
Each of the five participants in the Challenge 13.1 team represents one of the five Official Charity Partners for the 2019 Deep RiverRock Belfast City Half Marathon and had completed a leg of the team relay marathon in May.
During her training, Alex, like the other ambassadors of Belfast Arthroplasty Research Trust BART, Cancer Focus NI, Stroke Association and Air Ambulance NI, will also be focused on fundraising for their respective charities.
Alex will be joined by Eilish Simpson from Glenavy, running for BART; Karen McMinnis from Belfast, of Cancer Focus NI; Robert Biggerstaff from Belfast, representing Stroke Association and Caroline Smyth from Kilrea who will run for Air Ambulance NI.
Currently fundraising totals for the Five Official Charity Partners (all local charities) stands at a massive £220,000 and it's growing, with monies going to vital research and services across Northern Ireland.
With the help of Challenge 13.1 and this year's Half Marathon entrants, the organisers hope to see the total soar before the year is out.
With just over 12 weeks to go, Challenge 13.1 participants can expect a comprehensive half marathon training package from the event's Official Partners including a 12 week training plan and one to one coaching from Stuart Kennedy (official coach); a tailored nutritional plan and consultation with Sarah Trimble Nutrition and complimentary services / training products from Framar Health (official nutrition partner); Better (official gym partner) will provide bespoke core classes to help support the team as they train.
You can follow and support the Challenge 13.1 ambassadors' progress and fundraising online in the coming weeks at www.belfastcitymarathon.com/training-blogs.  A series of training, nutritional and motivational tips will also be shared on the event's social media sites Instagram, Facebook and Twitter to help all entrants prepare for the September race.
Perhaps YOU completed a leg of the Team Relay in May or have completed a series of 10K races and are ready to take on a Half Marathon challenge?
The Deep RiverRock Belfast City Half Marathon is renowned for its popular, mainly flat and fast course, which is perfect for a first time Half Marathon or personal best! The event is expected to sell out for the third year in a row with a record number of participants anticipated – around 5000.
SIGN UP for the 7th Deep RiverRock Belfast City Half Marathon NOW at https://register.primoevents.com/ps/event/DeepRiverRockBelfastCityHalfMarathon2019 and choose to #TakeActionOnMentalHealth by running for Action Mental Health.
More details can be found at www.belfastcitymarathon.com.  #ChooseBelfast
The Deep RiverRock Belfast City Marathon is sponsored by Athletics Northern Ireland, Daily Mirror, Belfast City Council, Better, Translink, Daily Mirror, Spar, Belfast Live and Framar Health. Sampling partners are Deep RiverRock, Tayto, White's Oats and Linwoods.  This year's official charities are Belfast Arthroplasty Research Trust (BART); Cancer Focus NI; Stroke Association; Air Ambulance NI and Action Mental Health.