AMH's Review of 2018
Anniversary year sees Action Mental Health score a number of firsts during year of flux
It's been an eventful year here at Action Mental Health, with the charity scoring a number of firsts during its 55th anniversary year.
It's been a year of campaigning, of celebrating significant new and existing partnerships, with a wide range of bodies, and a year of pioneering initiatives to promote the resilience of our younger generation's mental health, alongside a stream of improved and upgraded services. It's also been a stellar year of fundraising with Action Mental Health also being the first mental health charity to be nominated as one of the official charities of the Belfast City Marathon, offering us an unprecedented fundraising milestone to look forward to in 2019.
On the campaigning front, for the first time in our history, Action Mental Health brought the fight for parity of esteem for mental health in Northern Ireland to Westminster – firing the first salvo in February and following it up again, with a further call for action direct to the Northern Ireland Affairs Committee, as the year drew to a close in December.
When the collapse of Stormont left Northern Ireland in limbo, Action Mental Health led a delegation of mental health campaigners and practitioners to London to demand improvements to our local mental health services as agreed by the Assembly in 2016. We called for a mental health strategy, a Mental Health Champion, and for clarity on the allocation of the extra £50m for mental health services promised by the DUP/Tory confidence and supply agreement.
Action Mental Health returned to Westminster again in December to hammer home the need for greater funding for the health service's 'Cinderella service' before members of the Northern Ireland Affairs Committee.
Action Mental Health also launched pioneering new services, from the Northern Area Mental Health Initiative's Digital Hub to the newly launched eating disorder service AMH Everybody, offering better hope to those who require this specialist assistance.
In April, Action Mental Health was delighted to come together in a new partnership with New Life Counselling, laying the foundations for future growth of each other's much needed services.
Action Mental Health has also been honoured to work alongside several leading local businesses as their charity partner. Businesses including Danske Bank, Caffe Nero, Phoenix Natural Gas, Titanic Hotel Belfast, Victoria Square, CTS Projects, HMC Global, Automated Intelligence, Gordons Chemists, PowerNI and Fat Face have fundraised and volunteered throughout the year. We are also delighted to be establish new partnerships for 2019 with MKB Law and Coca Cola.
Integral to Action Mental Health are the nine AMH New Horizons services based around Northern Ireland. This year, the work of the charity's keystone service was featured in a ground-breaking short film, Of My Kin. Illustrating the real life journeys of people whose lives have been turned around by AMH New Horizons, Of My Kin, produced and directed by award-winning local man Joe McStravick, won plaudits at a host of film festivals and serves to show the difference AMH New Horizons makes to our clients.
Action Mental Health couldn't survive without its statutory funders, prime among them the European Social Fund, which funds the pivotal 'Working it Out' Project delivered by our New Horizons services across NI. This year we hosted Inspectors from the Educational Training Inspectorate (ETI) as part of the ESF Audit / Inspection process.
The Inspectors identified numerous examples of positive activity and good practice throughout our AMH New Horizons services. Their inspection reported that the charity demonstrated a "high level of capacity to identify and bring about improvement in the interests of all the participants."
They also reported that "learners cited numerous examples of how the project has impacted positively on their lives, including development of their self-esteem, confidence, motivation, and socialisation".
Young people who attend the BOOST service at AMH New Horizons Fermanagh received a brand new dedicated space thanks to the generous fundraising of the local Rotary Club. The space offers 18-25-year-olds experiencing mental health issues, a new kitchen and hang-out room featuring gaming and high-tech equipment.
AMH's varied services have also been supported by our range of annual events which not only helps keep the spotlight on mental health, but also gets the community involved on both the volunteering and fundraising fronts. Events like the newly launched Great Big Purple Picnic, which took place in spring during Mental Health Awareness Week, the Granite Challenge, and the Go Purple campaign marking World Mental Health Day in autumn were among the highlights. That global celebration of mental health and well-being was this year the focus of another first for Action Mental Health – the inaugural Head First Awards. Awards were conferred on schools, individuals and groups who go that extra mile to support the mental health and well-being of young people across Northern Ireland.
Supporting people with disabilities and health conditions in Northern Ireland and helping them get back into employment, AMH is one of seven partners within the SES – Supported Employment Solutions consortium. As its co-lead, AMH, along with the Cedar Foundation, has continued to effectively lead SES through a very challenging year for the delivery of the Workable (NI) Programme. Demand for places on programme exceeded capacity in 2018, prompting the capping of new start numbers. However, AMH and SES continue to deliver high quality support to over 350 programme participants across Northern Ireland.
The year also marked a raft of milestone anniversaries, including AMH New Horizons Newry which celebrated 30 years helping the local community through their mental health recovery journeys, alongside Foyle and Belfast which each marked their silver anniversaries – 25 years.
Bringing 2018 to a fitting and festive close, the clients at AMH Promote raised the roof with their imaginative and highly entertaining production of Jack and the Beanstalk. The Bangor based centre, which assists adults with learning disabilities, worked very hard to stage the show, with song, impressive theatrics and effervescent cheer and they succeeded on all fronts.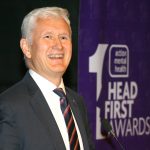 Chief Executive David Babington said
"2018 has seen some tremendous developments here at Action Mental Health and we are confident they will bring great benefits to our clients and the wider population in Northern Ireland. While the mental health sector faces significant challenges, we remain hopeful for the future. As the year draws to a close, we would like to wish everyone a merry Christmas and a new year that brings positive mental health and well-being to you all."