"Believe in yourself"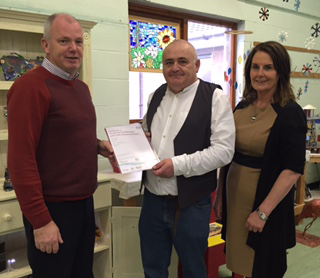 Former AMH Client, Aidan was invited back to AMH New Horizons in Foyle to share his experiences and journey of engaging with the service. Aidan talked openly to clients about how he came to need the service, his first day, his feelings, the thoughts that were running through his mind, the settling in process, building trust and undertaking accredited training. Aidan gave an insight to his previous career as a painter and decorator and then went on to explain how by attending Foyle and developing new skills, undertaking personal development courses and engaging with the employment officer he slowly began to turn his life around again.
He explained how Valerie the employment officer discussed several potential options before he finally settled on the self employment route. Aidan explained that the crafts area and skills he developed within Foyle got him hooked on the possibility of creating his own niche products.
In Aidan's words the rest is history –
 "I set up Mindcrafts, named in direct reference to the importance of keeping the mind occupied and acknowledging my time in New Horizons".
Aidan not only produces pieces of saleable art and crafts but has also become a tutor with "Time 2 Choose", a project that aims to address risk in the lives of young people, their families and the wider community through support, education, mediation, prevention and early intervention .
Aidan's message is,
"believe in yourself, the staff here are here to help, take it, take it all.  It was tough leaving here but I'm glad I did. Don't get me wrong, recovery won't just happen overnight, I, along with all the help, support and guidance, had to work hard to recover but believe me it's not impossible".