Celebrating Six Years of Health in Mind Success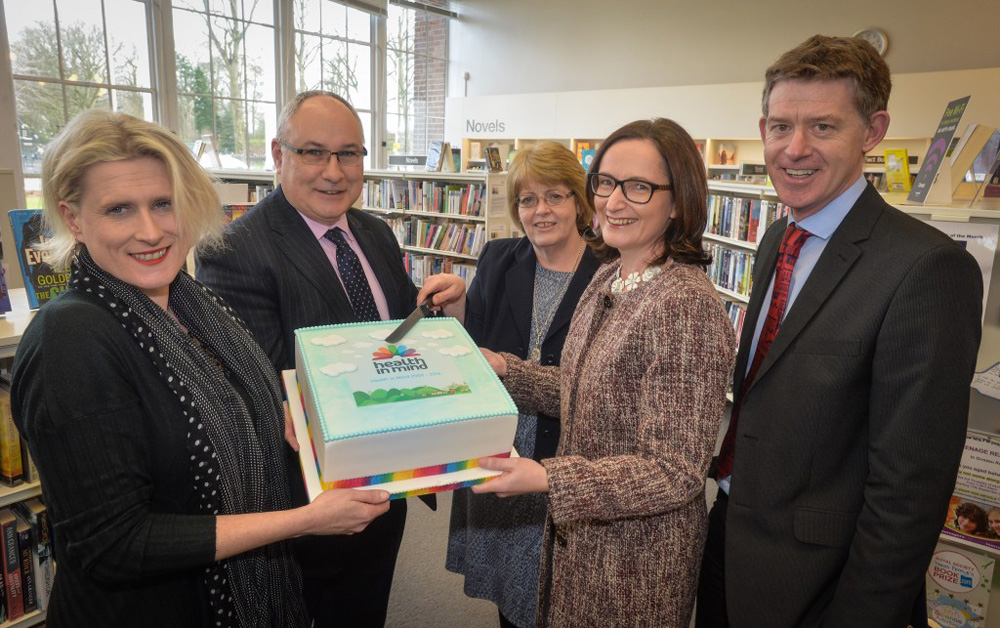 Nearly 200,000 people across Northern Ireland have been reached with positive mental health and wellbeing information through the Health in Mind project.
This statistic was one of the positive messages arising from the Celebration of Health in Mind event, held recently at Ormeau Road Library.
Libraries NI, working along with Action Mental Health, Aware, CAUSE and MindWise, was able to deliver a wide range of events and workshops in public libraries over a six year period. The celebration event marked the end of the project, with partners, key stakeholders and participants coming together to reflect on the achievements.
During the project, many people received valuable knowledge, advice and information, by attending events in libraries and in other community venues.
The Health in Mind Partnership was funded under the Big Lottery Fund's Live and Learn programme, working together to improve the understanding of mental health in the wider community and to provide opportunities to join in wellbeing activities and events.
Commenting on Health in Mind, Libraries NI Chief Executive Irene Knox said:
"The Health in Mind project has positively impacted and changed the lives of almost 200,000 people across Northern Ireland and was a leading example of effective, collaborative working with the four partner organisations involved.

 "Evidence from those who took part showed clearly that people valued the opportunity to avail of Health in Mind services and resources in their own local community, with like-minded people and in the safe and neutral environment of a library. The partner organisations' expertise and knowledge was supported by Libraries NI's increased investment in resources, including books, and information relevant to subject matters such as anxiety, wellbeing and depression."  
 Siobhan Doherty, Chief Executive of Aware said:
"Aware have been really overwhelmed by the success of this project.  Working in partnership with Libraries NI and the other mental health charities has been such a positive experience for us in delivering services in a non-stigmatised way to people in their own communities.  People felt empowered to access support through this project and it opened up a whole new way of working for us.  Those we supported through this project have been delighted to have programmes delivered to them this way and it has been of such huge benefit to their mental wellbeing."
Commenting on Health in Mind, Marie Grattan, Chief Executive of CAUSE added:
"Health in Mind has succeeded in raising awareness of mental health, caring for mental health and reducing stigma by offering a vibrant programme through local libraries at the heart of communities.  From accessing information on mental wellbeing in dedicated reading collections through to fun social activities, Libraries NI and the partnership of mental health charities has brought a real focus on mental health to a wider audience across all parts of Northern Ireland."
Gavin McConvey from Action Mental Health said:
 "Health in Mind unlocked the potential for libraries in Northern Ireland to be central to local communities not only for learning but for life. Health in Mind paved the way and demonstrated that healthy resilient communities are a result of challenging the barriers to participation and reducing the stigma of mental ill health. 
Edward Gorringe, Chief Executive of MindWise added:
"The Health in Mind project was a great opportunity to put mental health right in the centre of local communities across Northern Ireland via local libraries. Working in partnership we have raised awareness and promoted our message of mental health recovery. The project has encouraged people to take care of their mental health and wellbeing and build resilience. The benefits of the Health in Mind project will continue to be felt through the ongoing community involvement of participants."
As well as helping almost 200,000 people, strong working relationships have developed between the partners over the six years of the Health in Mind project and many other more local partnerships have also been developed which has proved to be successful in improving lives. This provides a sound foundation for any future initiatives in this area.
The appealing and user-friendly Health in Mind website www.yourhealthinmind.org will continue to provide an invaluable, freely available resource for members of the public and anyone interested in positive mental health and wellbeing information. Find out more about the project by having a look at these short films :-