CEO laments 'stubbornly high' suicide rates on BBC Radio 4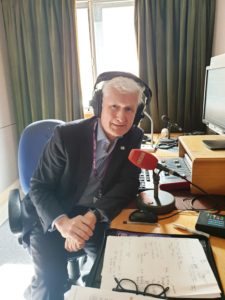 Action Mental Health Chief Executive David Babington has addressed UK audiences on Northern Ireland's 'stubbornly high' suicide rate BBC Radio 4's You and Yours Programme.
Mr Babington contributed to the show, presented by Winifred Robinson, following a taped interview with Belfast mum Patricia Ferrin who shared her tragic plight of losing her three sons to suicide.
Describing Northern Ireland's suicide rate as 'stubbornly high' Mr Babington referred to figures for last year which resulted in the deaths of 4.5 more people compared to road deaths.
Echoing Mrs Ferrin's call for greater resources he told the programme: "It's about resources and collective leadership to prioritise it in among everything else in the health sector.
"We get half the funding for mental health services in Northern Ireland as happens in England so it's only about 6 or 7 per cent of the budget were as it's 12 per cent in England so immediately there's a massive disparity there," he said.
Calling for parity between physical and mental health, Mr Babington said referred to a new Department of Health initiative unveiled on World Suicide Prevention Day on September 10 – aimed at cutting suicide rates by 10% in five years.
Offering a measured welcome to the new Protect Life 2 Strategy Mr Babington said resources fall short of its aims.
"It's great to see now we have out there but we would give a very measured welcome to it because at the end of the day, in terms of resources, we just do not see it."
He added: "Over 70% of those who die by suicide do not have contact with mental health services so they are out there in the community; maybe it's an impulsive act or it's just they don't know where to go.
Referring to AMH's resilience-building programmes for children and young people, including Healthy Me for primary school children, Mr Babington continued: "It's getting out there in the community, so that's in schools and with young people in the workplace – that's where the majority of these issues are starting.
"We need to be proactive rather than reactive and so that's where we believe we can really make a difference, working with our statutory colleagues in delivering that."
Hear the full interview on @BBCRadio4#YouandYourshttp://ow.ly/Jc8V50wbnAY from 36.20 to 38.55 and read more about AMH's resilience building initatives: https://www.amh.org.uk/services/menssana/