Covid, stress and returning to the workplace. Let's make it positive!
It's Mental Health Awareness Week and we are looking at ways of tackling the impact of loneliness on our mental health and wellbeing. Working patterns for many of us have changed, since the start of the pandemic and many people have found this has caused a multitude of issues including loneliness and isolation.
AMH Works has provided some great tips on how to adapt to new ways of working.
Being in work is important for everyone's general health and wellbeing: it gives us a purpose (and an income), promotes independence, allows us to develop social contacts, and is a factor in preventing both physical and mental health problems (WHO).
Many people found themselves in the position of having to work from home because of coronavirus (COVID-19). This brought with it a lot of stressful and new challenges such as a lack of structure, distractions, blurred boundaries and isolation; affecting mental health and your wellbeing. It was very natural to have feelings of frustration, loneliness, worry, or concern for yourself and those close to you. Now that the world is changing and workplaces are starting to return we might find ourselves worried about change again. The four A's is a helpful tool for proactive stress management and limiting the pressure you take on. Here is how you could use it to help you stress less and ease into the transition of hybrid working;
The four A's; Avoid, Alter, Adapt & Accept
Avoid
It's important to remember, that it's not healthy to avoid a stressful situation that needs to be addressed but you may be surprised by the number of pressures and stressors in your life you can reduce and take control of.
It's ok to say no: Know your own limits, ensure that you are not taking too much on, and it's important to practice self-care.
Avoid people who cause you stress: It's ok to avoid the people who cause you unnecessary stress, you might want to take some time apart from that person or even end the relationship.
Control your environment: Taking control of your environment can help alleviate pressure, we live on a notified and anxious planet, ration social media and the news. If the morning commute might cause you to worry, try listening to your favourite music or a podcast to create less stress and promote a greater sense of peace and control.
Alter
Sometimes you can't avoid a stressful situation but you can alter it.
Speak your mind: It's okay to voice how you are feeling in a respectful manner, practise becoming more assertive to ensure your worries and concerns are heard. Try to tackle the problem early to avoid the situation from escalating.
Finding the middle ground: Be willing to compromise and also change some things about yourself in order to find a happy outcome for all parties.
All work and no play?: The Five Ways to Wellbeing provide five key steps that you can take as your mental 'five-a-day' to contribute to your overall wellbeing. Strive to set time aside to practice the 'five-a-day' and invest in self-care.
Adapt
If you can't change the stressful situation you can learn to adapt. You can challenge unhelpful thinking patterns and gain perspective.
Reframe: viewing a stressful situation in the current situation positively might be tough, but it's important to take time to pause and reflect. Try to challenge negative thoughts and replace them with positive thoughts.
Perspective: Take time to reflect on perspective V reality. Ask yourself; will it matter next week? A month? A year?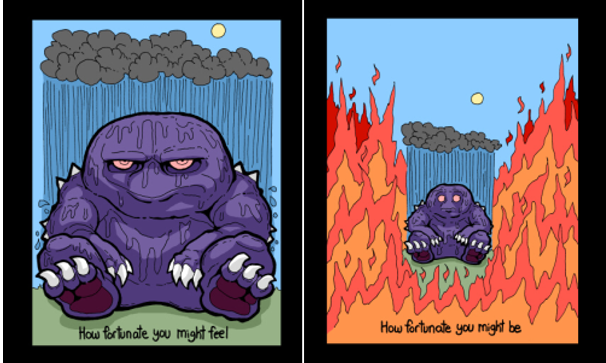 Self-Standard: are you setting yourself unreasonable goals? Do others expect this from you? Learn ways to be ok with not being perfect and being 'good enough'. Creating a 'good enough' mindset that isn't filled with unrealistic expectations will help you cultivate a sense of wellbeing.
Accept
Some situations maybe are unavoidable and out of our control. In such cases, it is important to remember we have to cope with stress by acceptance. It can be very difficult to do but it can present you with more time to focus your energy on taking care of yourself!
Keep talking: sharing your feelings and expressing your thoughts is more important than ever, talk to a colleague, a trusted friend, a councillor or your GP.
Stay positive: reflect on your thoughts, feelings and behaviours and challenge negative situations by practising the four A's. Take time to reflect and gain perspective.
AMH Works provide a range of programmes which support employers to improve mental and emotional wellbeing in the workplace and create Healthy, Resilient Workplaces, to find out more contact AMH Works Manager, Shelly Wilson on 07540124083 or [email protected].
There will be times when extra support is needed, if you're finding things really difficult you might want to speak to your line manager, a GP, Lifeline or Samaritans. Further information on sources of support is available on www.amh.org.uk.