Day 17 #ElfieAdvent Creativity keeps us together, while the pandemic keeps us apart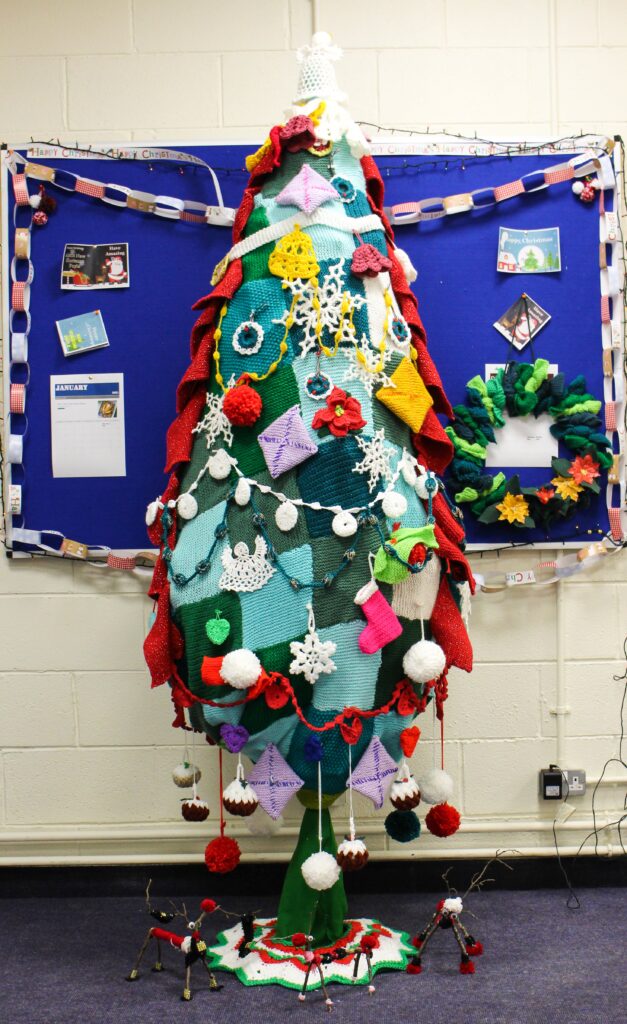 The city of Derry-Londonderry has been gifted an amazing Christmas tree with a difference – a fully knitted creation from the deft hands of clients at Action Mental Health New Horizons Foyle.
When the pandemic struck and thwarted the usual, busy programme of face-to-face activities at its Springtown Industrial Estate location, enterprising staff got to work to transfer much of the programmes online.
Clients were sent creativity packs, including knitting needles and wool and they swiftly got to work, creating squares that have been fashioned into the handcrafted symbol of Christmas.
The knitters' abundant creativity, fired by staff's encouragement while in isolation, has resulted in a unique, hand-knitted Christmas tree – a first for the City – that towers at eight feet tall. Each client contributed, knitting a square for each and every client supported by AMH New Horizons Foyle over the past 28 years.
AMH NH Foyle Service Manager, Pauline Flanagan commented: "Faced with lockdown and no longer able to provide a face-to-face service, the innovative AMH New Horizons Foyle team began to deliberate on how to foster connections between clients and staff, in order to reduce their feelings of isolation, to help them stay well and maintaining their mental health, while staying apart."
This unique challenge resulted in a comprehensive online training calendar launch, alongside a 'Stay At Home with Foyle Pack' delivered to each client, designed to promote creativity.
"Back at the start of the first lockdown, the pack included materials to enable clients to engage in myriad projects together while they were forced to stay apart, such as knitting needles and wool for a future knitted Christmas tree project," she said
"Now this breath-taking Christmas tree is a symbol of positive mental health and emotional well-being."
Staff's vision of keeping connected through creativity stems from evidence supporting the therapeutic power of the arts on those suffering mental ill health. The arts can imbue in people a sense of control, social connection, perspective-taking and increased sense of worth and the appreciation of beauty.
Nicky Grant, Key Skills Coach at New Horizons Foyle, provided key guidance to clients during the novel creative exercise.
"The handcrafted tree is one of the ways clients have used the arts and creativity to cope and flourish during the pandemic. Clients also engaged in twig art, creating unique reindeers, wreaths, gift cards and handmade decorations, which are all on display and for sale.
One of the client knitters, Sandra spoke of her enjoyment in taking part. "The project was a wonderful journey, and helped maintain my mental health."
Another client, Anne agreed, adding: "We are so proud of our creation; it kept me connected as I live alone in a rural area."
James, another client, was also very happy to participate. "I knitted! Squares are easy and I was glad to be included."
Gift cards have been created featuring Action Mental Health's fundraising friend – the special seasonal sprite, Elfie, who reminds us all to have a mentally Elfie Christmas in 2020 – with the public being asked to support the campaign by buying a card for their nearest and dearest this year.
Clients at AMH New Horizons Foyle take part in the ESF 'Working It Out' project which is part-funded by the Northern Ireland European Social Fund Programme 2014-2020, Department of Economy and Western Health & Social Care Trust.