Deborah reaps rewards for her unstinting efforts in her field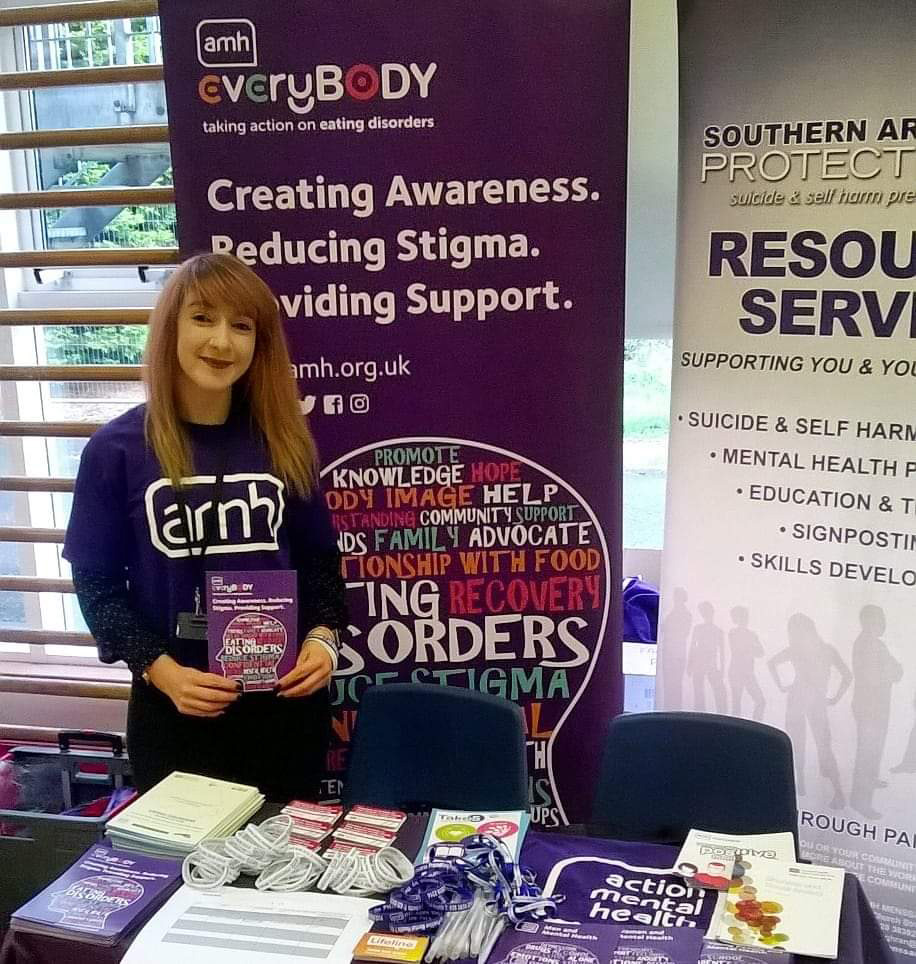 A project worker with AMH everyBODY has clinched this year's coveted ICE Award for the unstinting enthusiasm and sheer hard work she brings to her role every single day.
Deborah McCready only took up her role within Action Mental Health in 2018 but since her arrival she has been vital in helping to raise the profile of the specialist eating disorder service among the general public.
Receiving her award during a recent ceremony from Robert Mowbray, vice chair of the board of Action Mental Health, Deborah expressed shock and delight after being informed of her win by her manager, Colin Loughran.
Deborah, who is based in Portadown, had been nominated by AMH's Communications team which had called upon Deborah on numerous occasions within the past year to help drive and steer communications campaigns on eating disorders and related issues.
AMH everyBODY, which operates within the Southern Health and Social Care Trust (SHSCT) area, introduced a vital and effective new model of support for people experiencing eating disorders and their families and carers in partnership with the trust.
The Chairman's ICE award recognises individuals' contribution to Innovation, Creativity and Excellence within the organisation and are presented twice a year to celebrate individual achievement. Recipients are presented with an ICE award and also win an extra day's leave.
The awards were conceived in recognition that AMH's people are "the organisation's most important resource in achieving its mission and advancing its vision", according to chairman Peter Fitzsimmons.
Reacting to the news, Deborah said: "Oh my goodness, I was like a deer in headlights shocked. I thought I was meeting Colin for a catch-up but little did I know! I can think of so many people deserving of it though, especially the Comms team. So much of the work I've gotten to do has been a team effort with yourselves, so thank you all too!"
Her manager Colin Loughran, Service Manager for AMH Craigavon and Banbridge, paid tribute to Deborah's zeal for her job.
"Since taking up her post with AMH everyBODY Deborah has really owned and advanced all her duties, bringing vital support to greater and increasing numbers of individuals and families. Deborah has played a central role in elevating AMH everyBODY as the preferred provider status in the Southern Health and Social Care Trust area, being pivotal to the comprehensive rebranding process which led to its relaunch last September. That rebrand was critical in re-establishling AMH's eating disorder service as a competent option, nurturing confidence from AMH funders and the general public."
In the nomination, Deborah was highlighted for her expertise, warm and giving personal manner, and the empathy with which she deals with vulnerable clients and their loved ones.
In delivering the remit of her post, she was also noted for her skill in equipping people with better self-support skills, while informing and reinforcing healthy lifestyle behaviours to keep people safe and to allay their fears during times of distress.
In assisting the Communications team, Deborah has routinely gone well beyond the expectation of her job description on many occasions to ensure that the service provided is comprehensive and complete.
Key to her nomination was also Deborah's development of a monthly carers' support group which has been pivotal to clients and their families, and also, her key role in AMH's collaboration with Queen's University's Mental Health Week campaign. As a speaker in the high profile event, she shared her insight and expertise on her specialist subject before a host of academic panelists.
"In short, Deborah was singled out for the honour of the ICE award for consistently going above and beyond for her clients and for Action Mental Health," added Communications Manager, Tricia Browne.