Eating Disorder Awareness Week – AMH everyBODY – a model of best practice for NI
As Eating Disorder Awareness Week draws to a close, it's a fitting time to reflect on the incidence of the issue in Northern Ireland society.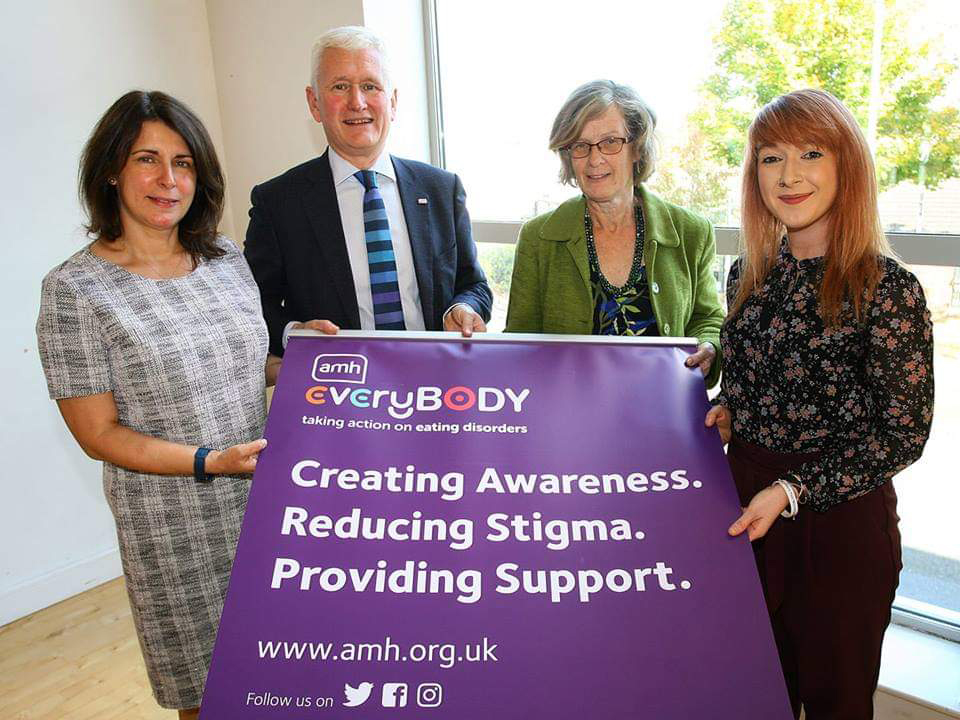 Each year in Northern Ireland some 50-120 people develop anorexia, while around 170 develop bulimia nervosa. There are around 100 admissions to acute hospitals for eating disorders every year, excluding patents requiring inpatient treatment outside Northern Ireland.
Between July 2012 and September 2015 the HSC Board revealed that 52 patients had to be sent to other hospitals or clinics in Great Britain or the Republic of Ireland because the necessary treatment wasn't available here for them at home. Two of those were under 18.
But there is hope – especially in the Southern Health and Social Care Trust area who collaborate with Action Mental Health to deliver AMH everyBODY.
Since its relaunch in September – having undergone a facelift from its former guise 'Adapt' – the new look eating disorder service has helped support 177 people, who have benefited from one to one support, alongside a recovery plan back to health.
Some 2167 people have benefited from 41 awareness-raising sessions, delivered by specially trained staff who take the message of hope AMH everyBODY offers into the community. During that time, another 436 have had the support they seek via telephone or email – and that's not an insignificant arm of support for people who feel afraid, desperate and alone in dealing with their eating disorder.
When Action Mental Health relaunched AMH everyBODY, it offered a model of best practice for the rest of Northern Ireland – but this potentially life-saving provision is available only within the Southern Health and Social Services Trust area.
During a special relaunch ceremony in September 2018 we shared the previous successes of the Adapt project, testament that was echoed by service users, some of whom readily declared that their lives have been saved by its intervention.
Statistics show that eating disorders claim more lives than any other mental illness, with one in five of the most seriously affected dying prematurely from the physical consequences or by suicide.
And as people with eating disorders face waiting lists in Northern Ireland AMH everyBODY provides the route map for other trust areas to emulate.
Action Mental Health Chief Executive David Babington comments:
"AMH everyBODY helps to promote a greater understanding and awareness of eating disorders and to break the stigmas attached to a condition, including unhelpful assumptions that it is attention-seeking behaviour or fad dieting – having an eating disorder is a serious mental health condition. The focus of everyBODY's approach is recovery and its emphasis is on the hope for those affected can and do recover.
"AMH everyBODY provides much needed support not only to the person affected but also to their families and friends and it is such a such a successful programme that we look forward to the day when it might be rolled out across other Trust areas across Northern Ireland."
Shauna Duggan, Eating Disorder Team Lead SHCT adds,
"The Adult Eating Disorder Service in The Southern Trust Treat people with eating disorders at all levels of severity. Anyone presenting with an eating disorder has the opportunity to link in with AMH everyBODY as a means of support while they await their first appointment. Acknowledging that you have an eating disorder and taking the first steps to seek help can be very daunting. AMH everyBODY can help to support suffers and their families to prepare for treatment and know what is expected from them and the Trust. Carers can continue to receive support through 1:1 sessions with AMH everyBODY or at a monthly support group which is co-facilitated by both everyBODY and the Adult eating disorder service. I would encourage anyone who is concerned about themselves or a loved one to speak with their GP or make initial contact with AMH everyBODY who can support you to be referred".
---
Click here to find out more about AMH everyBODY