Enniskillen Round Table supports Action Mental Health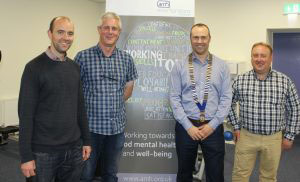 Ian Creighton, Chairman of Enniskillen Round Table has nominated Action Mental Health as his chosen charity for his year as Chair.
Ian said, "Mental health is a topic that is very close to my heart and so it was an easy decision to decide to fundraise for Action Mental Health. They do great work across Northern Ireland and here in Enniskillen through their New Horizons service. We already have lots of activities planned for the year ahead which we encourage the public to get involved with.
"I would like to recognise the massive effort of Mark Edwards, a Round Table member who organised his annual football match on 16 July, through Blakes of the Hollow Bar in Enniskillen, with a fantastic £1,665 raised.
"On 9 September, 11 members of the Round Table will be taking part in Bray Hell and Back, Ireland's toughest physical and mental endurance challenge. Over seven kilometres, challengers face man-made obstacles and the natural terrain to test their endurance.
"World Mental Health Day is on 10 October and we have several things planned for that week. A street collection is organised for 11 October, while a number of bands will be playing in Blakes of the Hollow on 13 October. The bands include Midnight Graffiti and The Hand Me Downs, with admission to the Live Lounge £5.00. I would like to thank the bands for volunteering their time on the night.
"We are also planning a bake sale and a table quiz at a later date. For details of the events go to www.facebook.com/EnniskillenRoundTable or to donate go to our Just Giving page.
Jonathan Smyth, Fundraising & Communications Manager, Action Mental Health said, "We are delighted that Ian and Enniskillen Round Table have chosen to support Action Mental Health. The funds they raise will go towards helping those who need it most. Support from organisations such as Round Table is vital in ensuring we can continue to change the lives of those living with mental ill-health as well as helping to build resilience in younger generations."