Firewalking and forays down memory lane for AMH Foyle's 25th birthday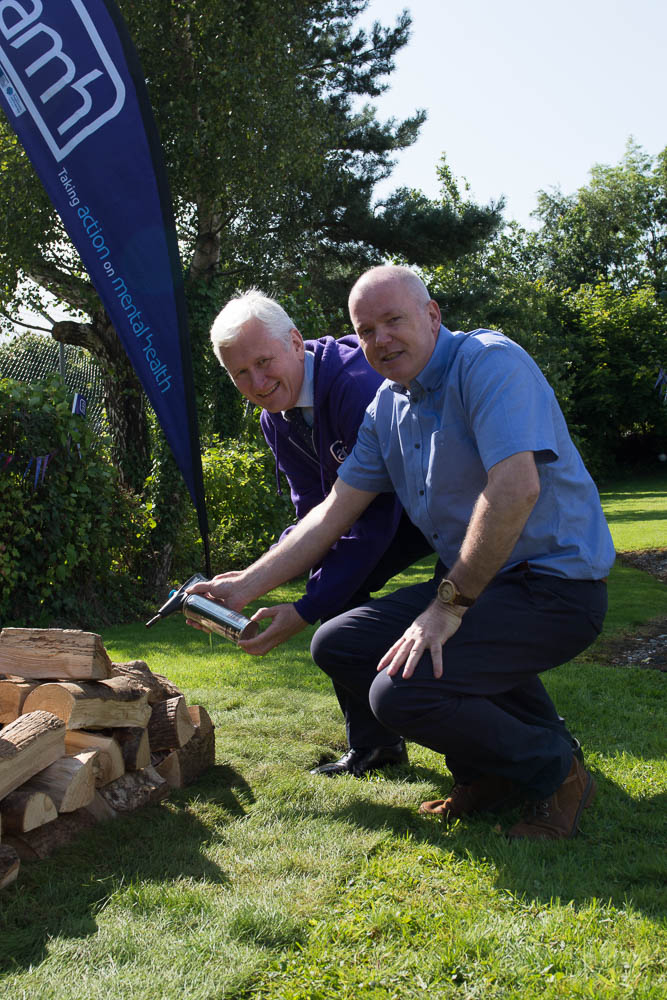 The silverware is being polished as Action Mental Health's Foyle New Horizons service prepares to mark 25 years of providing a lifeline for people experiencing mental ill-health.
Clients, past and present, will converge on AMH in Derry/Londonderry on August 29 for a celebration marking many milestones from a quarter century of providing support, camaraderie and practical help for local people.
The day's festivities will feature a BBQ and an array of events staged to cast an eye down memory lane. New Horizons clients will then join staff and local supporters, including councillors and Assembly members to brace themselves for firewalking and glasswalking!
The event will also showcase arts and crafts created at New Horizons Foyle, including a feature flower meadow, finely crafted from fused glass and ceramics with a centrepiece being a glass sword set in a glass cage – depicting AMH's overarching theme of cutting out the stigma surrounding mental ill-health.
New Horizons first opened up in the north western city in June 1993. Foyle Service Manager Mickie Harkin was one of those around as the charity started welcoming in people from the city and surrounding areas who commenced their journey to recovery and hope .
The past 25 years have witnessed numerous highlights, from anti-stigma campaigns, including the challenging 'Don't Lose Your Marbles' events, to the one-of-a-kind sofa made from books, to mark the 'What's Your Story?' initiative during the City of Culture.
The quarter century of activities also included the collaboration between AMH and artist Pat Ross, who brought his stunning 'Read Between the Lines' art, depicting his struggles with schizophrenia to New Horizons Foyle, as well as the creation of a fine, glass fiddle, by AMH client Billy Henderson, which had the honour of being displayed at Stormont.
Local dignitaries from district and borough councils, the Northern Ireland Assembly – even the Deputy First Minister, the late Martin McGuinness, visited in 2011.
The yearly World Mental Health Day celebrations, held every autumn, annually presented clients and staff with opportunities to mark the topic of recovery from mental ill-health, through informational and artistic outlets, while the QUEST programme – Foyle's specialist Alcohol Outreach Project, has been a pivotal stepping stone for people suffering from addiction.
Fundraisers have come forth in many guises, from the individuals who have walked, run or abseiled their way for sponsorship for AMH Foyle, similar efforts include the generous local companies and statutory bodies – all helping to sustain the future of the regional service.
AMH New Horizons Working it Out Project is part-funded through the Northern Ireland European Social Fund Programme 2014-2020 and the Department for the Economy.
Mickie Harkin stated: "This anniversary event is all about the countless clients we have helped, from their first tentative and nervous steps into New Horizons, until they moved on to the next phase of their lives, more positive and usually clutching certificates of achievement in various vocational courses.
"But it's also about the many individuals, organisations, employers, funders, partners, staff and our clients' families who have all contributed to help us build the service, and who continue, to this day, 25 years later, to make it what it is, and will continue to be in the future."