Five year mental health plan to go under public scrutiny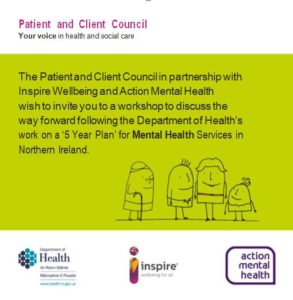 The Department of Health's proposed 5-year Mental Health Action Plan will come under the spotlight during a special series of consultation workshops.
The Patient and Client Council is hosting the workshops in partnership with Action Mental Health, Inspire and the Department of Health, giving the public the chance to discuss the shape of Northern Ireland's mental health services.
The workshops, taking place in Belfast, Derry-Londonderry and Dungannon, will offer service users, clients, carers and other stakeholders the opportunity to learn more about how the plan is developing and will give people the chance to have their say on the emerging themes and areas of focus.
The workshops take place on Monday 21st October 2019, from 10am-1pm at
City Hotel, Queen's Quay, Londonderry, BT48 7AS; on Thursday 24th October 2019, 10am-1pm at The Junction, 12 Beechvalley Way, Dunngannon, BT70 1BS; and on Friday 25th October 2019, from 1pm – 4pm at Inspire Wellbeing, Lombard House, 10-20 Lombard St, Belfast BT1 1QA..