Gear up for the 8th annual Granite Challenge and help fund the social network for men over 50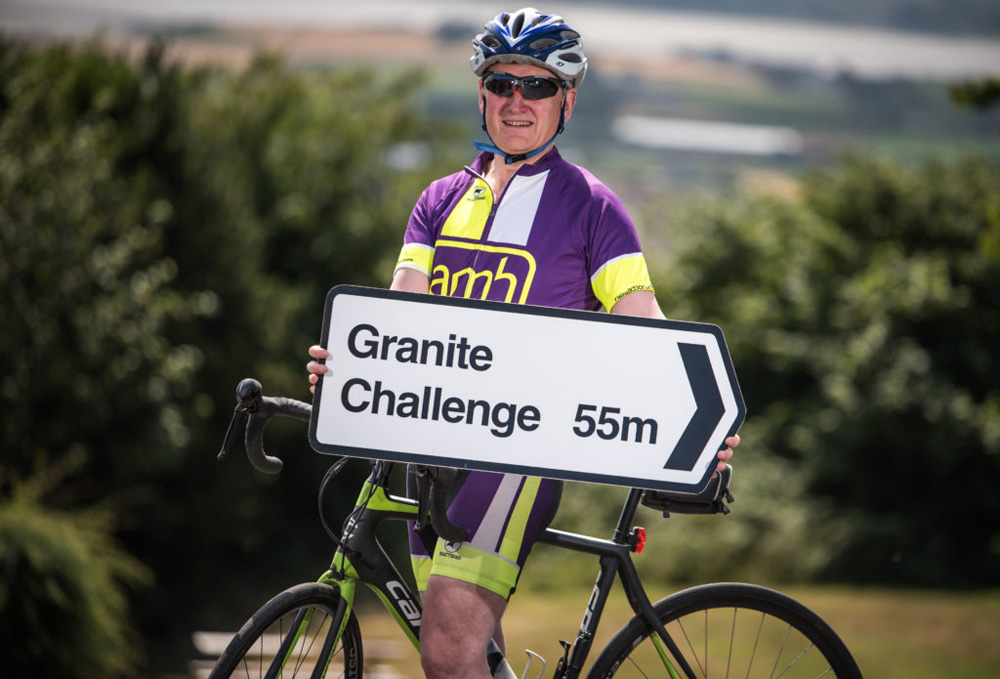 It's time once again for cyclists across Northern Ireland to sign up for the annual Granite Challenge, a 55-mile charity cycle through the beautiful Mourne Mountains, raising funds for Action Mental Health (AMH).
This year AMH is encouraging cyclists of all abilities, individuals and club members to don their lycra for the event on Sunday, October 6, to help support the charity's Men's Shed in Downpatrick, a social hub and support network for men over 50.
All the funds raised at the Granite Challenge will be used to support the Downpatrick branch of the Men's Shed, which provides a relaxed and friendly environment where men form new friendships, share skills and learn new ones. Importantly, the Shed offers members a positive way to look after their mental health. AMH also have Men's Sheds in Antrim and Fermanagh
By raising money you'll be assisting the Sheds to bring together men to work on practical activities of their choice, at their own pace, while having a laugh and a cup of tea. Activities include horticulture, joinery, photography, arts and crafts, IT and cooking – every Men's Shed is led by the needs and skills of its 'shedders'.
Every cyclist who takes part will make a difference, with the funds raised being used to help pay for the men to attend as well as for equipment, like saws and drills and whatever essential kit for the Shed's workshops.
As a local charity, Action Mental Health relies on the support of the local community to help provide its vital services. The Downpatrick Shed is annually supported by the Granite Challenge which begins in the cathedral town, following a route through Tyrella and Dundrum, along coastal roads through Newcastle, towards Annalong at the foot of the Mournes, before riders commence their ascent through the Mournes past Silent Valley, climbing to Spelga Dam. From there, it's downhill toward home, through the pretty village of Bryansford, then Maghera and Clough and finally back to Downpatrick.
It's a challenging route but the Granite Challenge benefits from the support of McConvey Cycles which will come to your aid if you've had a blow out or bicycle difficulties. First Aid will be on hand and you'll enjoy camaraderie and filling snacks and refreshments en route.
The event takes place just ahead of World Mental Health Day, on Thursday, October, 10, when Action Mental Health will host a variety of events across its services to mark the annual day when mental health issues come into sharp focus across the globe.
One member of the Men's Shed in Downpatrick, Terry Murphy, said: "I would encourage anyone our age to join the Men's Shed; it's very, very beneficial. You learn different skills and different crafts,  from wood-carving, and stained glass, to mosaic work.
"I enjoy my fellow shedders because without them there's no shed. We all benefit from each other and as a group, together we all benefit from the support of the Granite Challenge. It's an amazing community fundraising effort and we all really appreciate the people who come out to participate."
AMH Chief Executive David Babington – who annually is among the hundreds of participating cyclists – reminds us that like any exercise, cycle promotes mental well-being.
"Physical activity plays a huge role in keeping our minds healthy as well as our bodies. With as many as one in five people in Northern Ireland experiencing mental ill-health at some stage of their life, it's important to remember that simple things such as cycling to work or walking the dog can really help to reduce stress and clear the mind.
"As World Mental Health Day approaches we couldn't think of a more fitting tribute than hosting a large scale sporting event that unites the community in a show of support for those impacted by mental illness whilst also offering participants the chance to raise vital funds to support our work.
"We're always really excited to host our annual Granite Challenge, which over the years has proved hugely popular with local cycling clubs and individuals alike. Each year the number of cyclists continues to grow, so we are very much looking forward to participating and sharing in what is sure to be another highly motivating experience for all involved."
Early Bird entrance fees start at just £20 plus Eventbrite fees, which includes a tea stop at Spelga where delicious homemade tray bakes and sweet treats will be provided.
Spaces are limited so register your interest now by clicking on our website www.amh.org.uk and following the links. You can also enter by visiting https://www.eventbrite.co.uk/e/the-granite-challenge-tickets-47219728479