Get your green tokens from Asda and help AMH!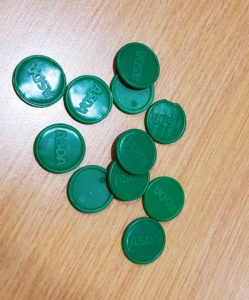 Action Mental Health New Horizons Downpatrick is currently benefitting from the Asda Foundation's Green Token Giving scheme. The service was nominated by a grateful client and it is now reaping the rewards of the community-based scheme which annually invests £1.4m in over 4000 good causes throughout the UK.
The Downpatrick service will receive donations from Asda Downpatrick shoppers all this month, right through to December 31. The scheme operates via a token system, and when Asda shoppers are at the till paying for items all they have to do is ask for a token and choose one of three causes to benefit.  From the start of this month Action Mental Health Downpatrick has been one of those lucky three causes.  The Men's Shed, Downpatrick (part of the AMH family) and Knockevin Special School, Downpatrick, are the other benefactors.
Service Manager at New Horizons Downpatrick, Joanne Stroud, commented: "We are very grateful to have been selected to receive a donation from Asda's Green Token Giving Scheme. Every pound raised will help to ensure the vital training programmes and activities provided at New Horizons Downpatrick which greatly benefit clients like the one who nominated us to receive the great fundraising opportunity.
"They are just one of the many hundreds who participate in the service's programmes which exist to help people recovering from periods of mental ill-health, who are interested in progressing towards further education, training or employment."
"We'd like to say a great big thank you to Asda from everyone here at AMH!"
The "Working it Out" project clients participate in is part funded through the Northern Ireland European Social Fund Programme 2014-2020, the Department for the Economy and the five NI Health & Social Care Trusts.