Gold medallist Rhys in a 'whirl' record attempt to raise mental health awareness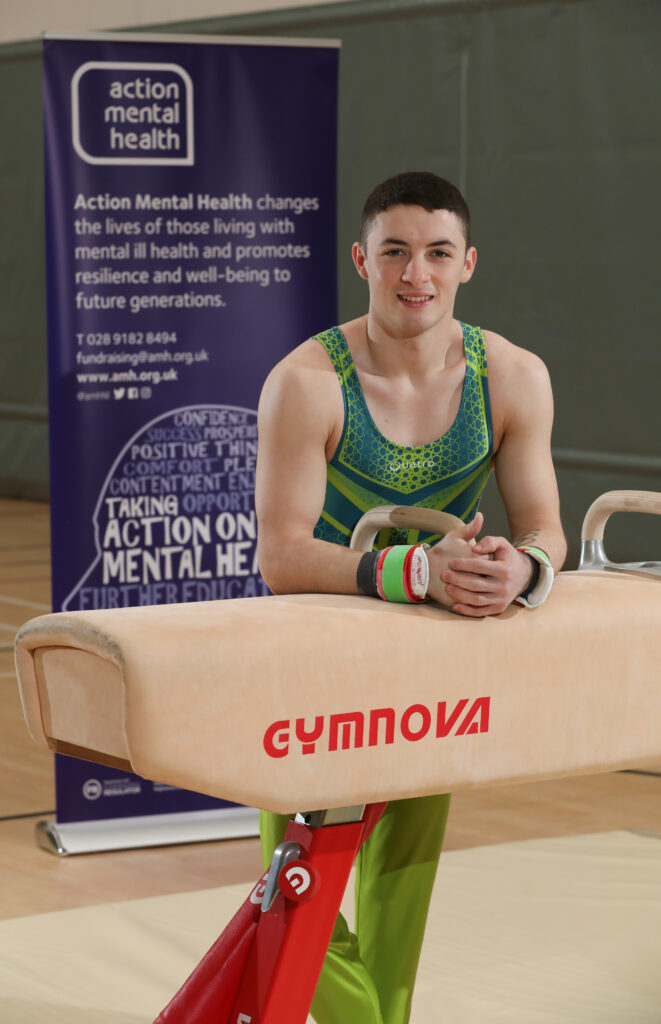 Action Mental Health's ambassador, Olympic gymnast Rhys McClenaghan is going to dizzying heights of effort in a Guinness world record attempt to raise awareness of mental health.
The Newtownards gymnast, a Commonwealth gold medallist and European champion, is making a staggering attempt at 40 Russian circles in one minute on the pommel horse on April 8. His effort is being staged to raise funds for Action Mental Health's activities which support the mental health of people of all ages across Northern Ireland, with the current world record standing at 35.
Rhys, 22, an ambassador for Action Mental Health, has spoken out about the challenges he has faced in his own mental health, particularly after his gold medal bid for gold on the pommel horse at last summer's Tokyo Olympics was thwarted.
Rhys has also offered words of support in the past to a fellow gymnast who withdrew from the USA Olympic team events in Tokyo last summer, citing mental health issues. Four-time gold medallist, American gymnast Simone Biles, bowed out of the 2020 Games and urged people to be mindful of the great stress athletes find themselves under.
From the Olympic village in Tokyo, in the delayed Games which took place in 2021, Rhys had said in a Tweet: "Mental blocks ain't no joke. I've experienced this first hand throughout my career and they are still the most challenging times I've faced. Only people who have experienced this can fully understand the stress that comes with it."
Rhys has been lending his support to Action Mental Health since 2018 when he became the charity's ambassador as part of the 2019 Deep RiverRock Belfast City Marathon. He has continued his support of AMH ever since, supporting our 2020 campaign to mark Children's Mental Health Week and other similar events.
In preparation for the Guinness World Record attempt this April, at his Dublin training centre, Rhys was back at home in Newtownards to show his spinny skills that will go into the effort.
"The record is 35 but I have been set a figure of 40 and although I am pretty confident I can do that, the arms really do start to get tired at around the 30 mark. It does make you pretty dizzy and some people can feel sick after it but it's the tired arms that's the challenge for me," he said.
Rhys also explained why he has chosen Action Mental Health to benefit from the money raised through his globally recognised record attempt.
'I'm going to make use of the platform I have and do something special to raise awareness for Action Mental Health, and mental health in general. Achieving a Guiness World Record has been a dream of mine since I got my first World record book in 2006. I'm very proud that I can not only achieve this dream for myself but hopefully bring some positivity to others' lives by doing so, too," he said.
"Action Mental Health has demonstrated to me their amazing efforts time and time again to help others, and it's still one of the most inspiring things I've seen to date. I'm honoured to be supporting such an incredible charity."
Head of Communications & Fundraising at Action Mental Health, Jonathan Smyth commented: "We are so delighted that our loyal ambassador Rhys is continuing to support Action Mental Health through this amazing Guinness World Book of Records attempt.
"With physical activity being a scientifically-proven benefit to people's mental health, we are always really pleased to see fundraising activity that embraces this ethos. We are confident that Rhys will achieve his global record attempt on his apparatus of choice that has won him such international acclaim, the pommel horse, whilst also raising vital funds to support our services, which are seeing such demand."
A Just Giving page has been set up to allow Rhys's fans and followers to support his objective. Rhys sponsor and Ireland's largest and most recognisable athleisure brand Gym+Coffee are donating a full athletic outfit to the winner, plus a water bottle, keepcups and socks.