Join in the 'Great Big Purple Picnic' and help raise funds for Action Mental Health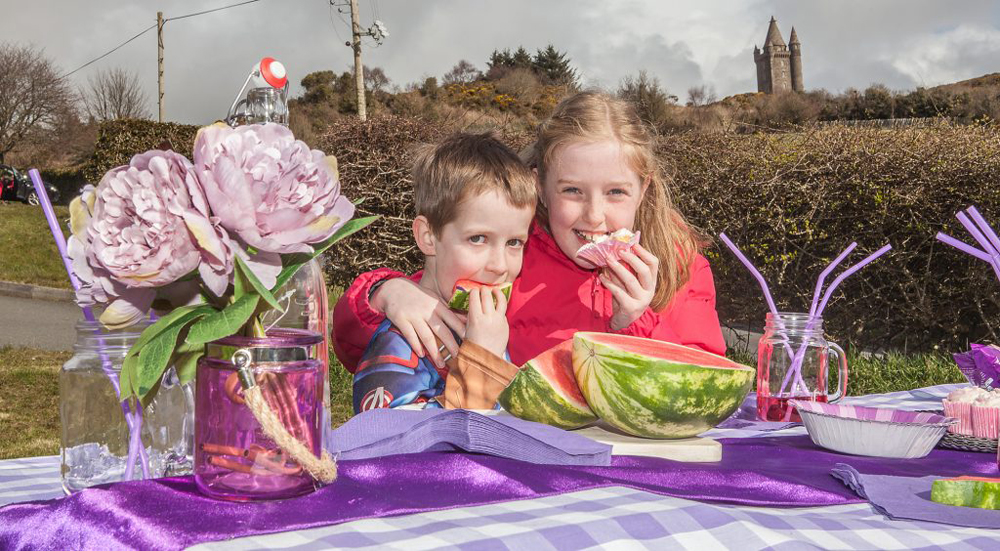 Northern Ireland's leading mental health charity is inviting everyone to join in its annual Northern Ireland-wide picnic event.
Action Mental Health is asking people to host a Great Big Purple Picnic to help mark Mental Health Awareness Week from 13th to 19th May and wants schools, businesses, community groups, families and friends to get their picnic hampers out and join in the fundraising fun.
The Great Big Purple Picnic is one of the many initiatives organised by AMH to help raise awareness of positive mental health and also raise vital funds to help support their work across Northern Ireland. Most of all AMH wants you to have a bit of fun while you're doing it.
In Belfast a Great Big Purple Picnic will be hosted at Queen's University of Belfast's quad as part a packed programme to mark the focus on mental health in collaboration with Action Mental Health.
Picnics and other activities are also being hosted in support of AMH by a host of our corporate partners and businesses, including Danske Bank, Gordon's Chemists, Farrans Construction, Medicare Osborne Pharmacy. In Derry-Londonderry the city's branch of the Bank of Ireland will also partake of a picnic.
Clients at AMH New Horizons Newry will be enjoying their Great Big Purple Picnic al fresco, tucking into a barbecue at Kilbroney Park, Rostrevor next Wednesday. Meanwhile a number of local businesses including the Employers Forum, Autoline and Newry Building Supplies are set to host their own Great Big Purple Picnics for staff.
AMH New Horizons Foyle is continuing the celebrations into the next week, hosting its Great Big Purple Picnic in Derry city's Guild Hall Square where people will have the opportunity to 'Take Five' – based on the Five Ways to Well-Being, as Service Manager Pauline Flanagan explains: "Pack your lunch and join us outside on our purple canvas; CONNECT and  meet the AMH team; LEARN how we provide mental health support and services; TAKE NOTICE of the opportunities you can avail of; BE ACTIVE and get involved in our impromptu entertainment; GIVE yourself a mindful lunch break support mental health.
Members of WW, formerly Weight Watchers, throughout County Antrim will be hosting picnics, in Glenarm, Larne, Cushendall and Carrickfergus.
The focus for the Great Big Purple Picnic is quite simply about giving people a way to improve their knowledge of positive mental health and also a way to improve their mental well-being.
By hosting your very own Great Big Purple Picnic you and your guests will be actively engaging in the Five Ways to Well-being: connecting with those around you; being active, by choosing one of Northern Ireland's picturesque settings to host your picnic and combining it was a nice walk; taking notice, by just taking time out to enjoy the moment; keep learning, by thinking of healthy food options for your picnic to help maintain a healthy body for a healthy mind; and by giving the funds you raise to AMH which aims to change the lives of those living with mental ill-health and promote resilience and wellbeing to future generations.
All you have to do is to choose a date, a venue – indoors or outdoors, in the garden, at home, school or work – and then invite your friends to your Great Big Purple Picnic. But don't forget to think purple: whether it's purple bunting, purple picnic blankets, purple wigs or purple drinks, it's up to you!
You can download a fundraising and information pack on www.amh.org.uk or request one by emailing [email protected] or by calling 028 9182 8494.