Katie walks a mile for every person lost to suicide in Northern Ireland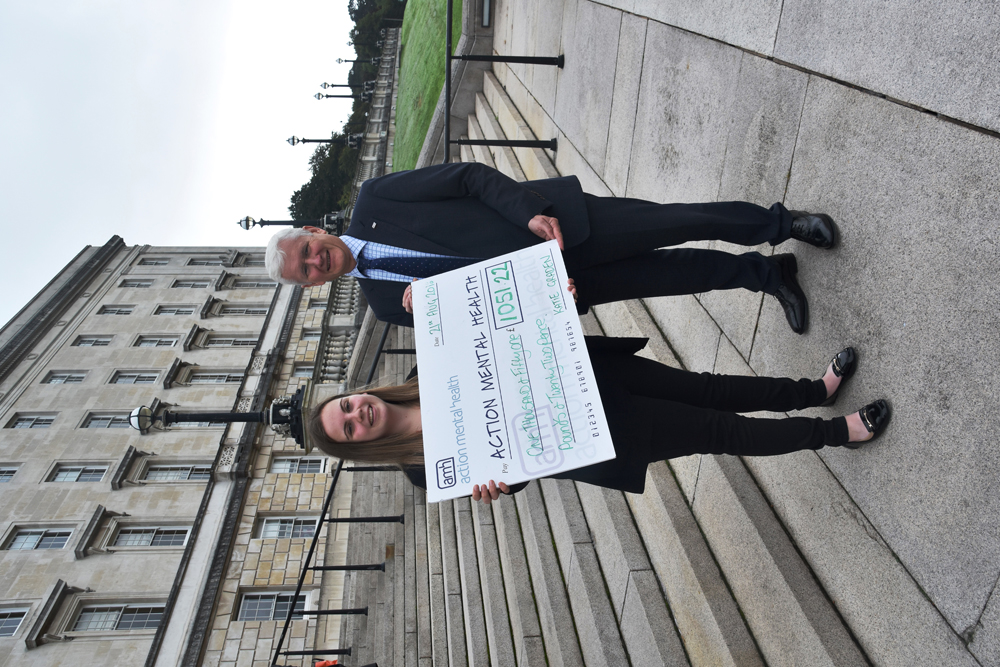 A YOUNG Newtownards woman has completed a 297 mile sponsored walk, in memory of the same number of people who took their own lives in Northern Ireland in 2017.
Katie Graden, a sixth form student at Glenlola Collegiate devoted two months to complete the milestone effort and yesterday (Tuesday, August 21) handed over a cheque for the £1051 raised by the feat of endurance to Action Mental Health Chief Executive David Babington.
The cheque was presented during a ceremony at Stormont's Parliament Buildings, supported by MLAs from across the political divide.
Katie explained her motivation for the mammoth achievement under her belt at just 17 years of age.
"I cherish my community and want to do everything I can to help anyone who is suffering an episode of poor mental health. Anxiety, depression, self-harm and suicidal thoughts are far too common these days and I wanted to play my part in supporting the fantastic work of Action Mental Health."
The fundraising initiative is an extension of Katie's proposal for a mental health pupil leadership team for every school in Northern Ireland.
Katie said: "My proposal is for a student mental health and well-being council in every school, where pupils are elected through an application and interview process. This team would hold regular meetings with the teacher-led pastoral care team to discuss recent issues, review processes and identify more effective solutions from a student perspective.
"The team should be trained in confidentiality to allow students to speak freely and any issues would only be passed on if necessary. Students should be shown how to deal with panic attacks, self-harm and students experiencing suicidal thoughts in particular, just like students are trained in first aid.
"I have delivered my proposal to the Department of Education and the All Party Group on Mental Health. We are currently waiting for the results from an international research report carried out by Stormont's research team and today, I am pleased so many politicians from so many parties were here to support me.
"I am hopeful of securing a one year pilot scheme and I have already had interest from Glenlola Collegiate, Lagan College and The School of Engineering at Queens University. If any other schools are interested, please contact me via email, [email protected].uk."
Action Mental Health's David Babington expressed his admiration for Katie's determination and endurance.
"Katie is a very determined young woman, with an incredible passion and commitment for her local community. We are delighted, here at Action Mental Health, to support a future leader and wish Katie every success in her bid to secure a student mental health and well-being council in schools in Northern Ireland.
"Her efforts compliment Action Mental Health's programmes in schools designed to support positive mental health and well-being and promote resilience among school children, including our Healthy Me and Provoking Thought, among others."