Local Charities Back the Mental Health Champion's Call for 34% Increase in Funding to Improve Mental Health in NI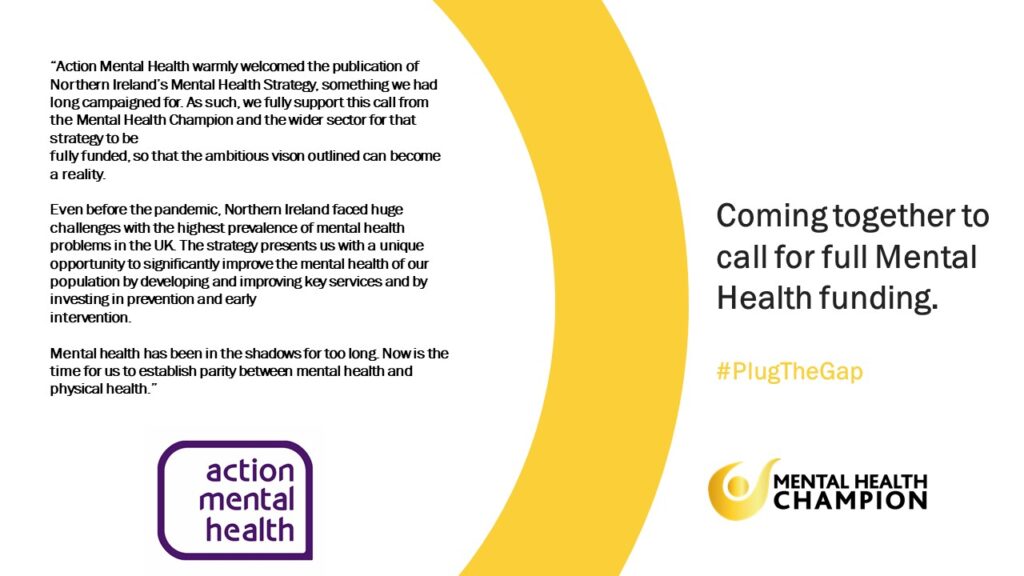 Northern Ireland's first Mental Health Champion, Professor Siobhan O'Neill is calling on all political parties to commit to the additional 34% increase in funding needed to fully implement the Mental Health Strategy.

This call is supported by several local mental health organisations including Action Mental Health, Aware, Beat, Eating Disorder Association NI, Inspire, Mental Health Foundation, Mindwise, National Children's Bureau, Nexus, PIPS Suicide Prevention Charity, Pure Mental NI, Relate NI, The Rainbow Project and Rural Support.

"Our expenditure on mental health services is currently significantly lower than neighbouring regions (31% lower than England and 20% lower than the Republic of Ireland). The additional funding required to remedy this (approximately 34% more than the current budget), should therefore be viewed as compensating for the ongoing shortfall," explains Professor Siobhan O'Neill.

Currently Northern Ireland has a high rate of mental ill health, linked to social and economic inequalities, the trauma of the Troubles and high rates of childhood adversities. This has been compounded recently by the COVID-19 pandemic that has led to unprecedented demand for mental health services, with staff under pressure, like never before.

In Northern Ireland prior to the pandemic, one in eight children had an emotional or mental health problem, which is higher than neighbouring regions. * There is worrying evidence that shows mental health has deteriorated because of the pandemic, and an increase in the proportions of people reporting suicidal thoughts. Mental illness is a preventable and treatable cause of death and suffering; and it is unacceptable that so many people in Northern Ireland are unable to access the treatments and services that they need and deserve.

The Department of Heath developed, in conjunction with people with lived experience, carers, campaigners and health care providers, a new 10-year Mental Health Strategy, which is the road map for reforming our mental health services. It sets out an ambitious, but achievable vision to improve services and provide the specialist treatments that we know is based on strong research evidence, can eliminate avoidable death, and transform and save lives. Importantly, the Strategy recognises the need to prioritise early intervention and the prevention of mental illness, particularly in high-risk groups.

Siobhan says: "Now is the time for action, if we can bridge the 34% funding gap it will pay dividends for current and future generations; and allow our population to thrive, bringing us in line with other regions.

"Therefore, along with the local charities and organisations working to support those in mental ill health, I ask for all local parties to pledge a clear commitment in your forthcoming manifestos, to provide the necessary funding to fully implement the Mental Health and Suicide Prevention Strategies. This is what people on the ground need and want; and the implementation of the Strategies will help secure a happier and healthier Northern Ireland, not only for those who suffer right now, but for future generations."

The Mental Health Strategy's funding plan indicates a need for an additional £1.2 billion over the next 10 years, and Government Departments need to work together to ensure that this is funding is made available. The Executive's draft budget includes a proposal to increase health spending by 10%, this increase is welcome and would include sufficient funds to cover the annual uplift required to implement the Mental Health Strategy for the proposed duration of the budget.

Supporting the call, David Babington, Chief Executive of Action Mental Health said: "Action Mental Health warmly welcomed the publication of Northern Ireland's Mental Health Strategy, something we had long campaigned for. As such, we fully support this call from the Mental Health Champion and the wider sector for that strategy to be
fully funded, so that the ambitious vison outlined can become a reality.

Even before the pandemic, Northern Ireland faced huge challenges with the highest prevalence of mental health problems in the UK. The strategy presents us with a unique opportunity to significantly improve the mental health of our population by developing and improving key services and by investing in prevention and early
intervention.

Mental health has been in the shadows for too long. Now is the time for us to establish parity between mental health and physical health."

Siobhan O'Neill is a Professor of Mental Health Sciences at Ulster University, and the Mental Health Champion for Northern Ireland. Her research programmes focus on trauma, mental illness and suicidal behaviour in Northern Ireland, and the transgenerational transmission of trauma. In her role, Professor O'Neill is focused on improving the mental health of the people here by promoting evidence-based services and care for those who suffer from mental illness and suicidal thoughts.
*Bunting et al. (2020). The mental health of children and parents in Northern Ireland.
http://www.hscboard.hscni.net/our-work/social-care-and-children/youth-wellbeing-prevalence-survey-2020/