Local civic buildings Go Purple as Action Mental Health marks World Mental Health Day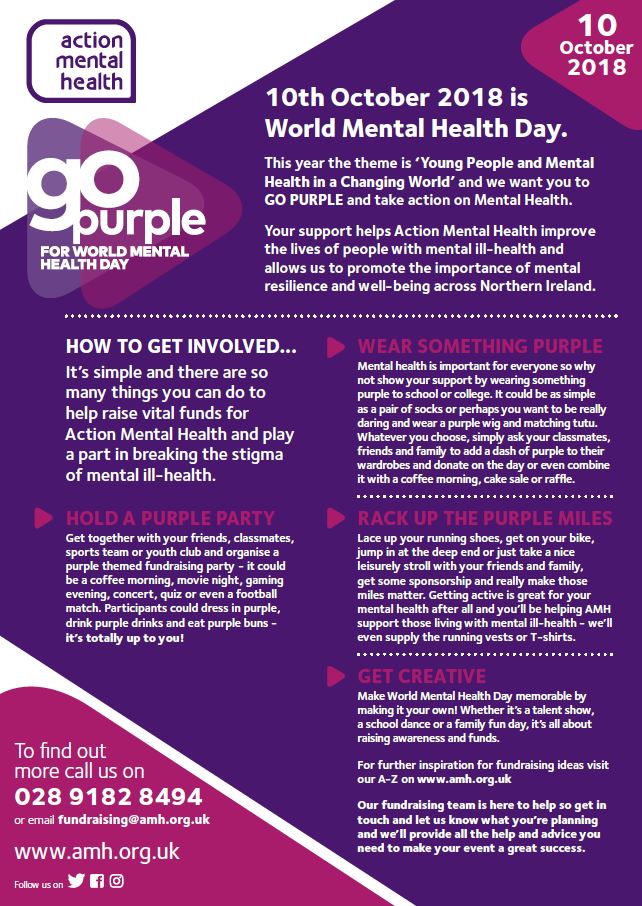 Northern Ireland will be ablaze in purple on World Mental Health Day as Action Mental Health leads the way in shining a light on mental health.
Iconic buildings, schools and leading businesses across Northern Ireland will be bathed in Action Mental Health's branded colour on Wednesday, October 10 as the global celebration of good mental health marks this year's special theme – young people and mental health in a changing world.
Action Mental Health officially kick-started the annual celebration of mental health with the annual Granite Challenge cycle, which saw hundreds of cyclists from all over the province, follow a picturesque 55 – mile path through the Mourne Mountains, raising money for AMH's Men's Shed in Downpatrick.
Businesses, schools and civic buildings across Northern Ireland will be marking the global awareness day by acting as 'shining' examples of efforts to break the enduring stigmas attached to mental ill-health, by illuminating their facades in purple.
In County Down, Bangor's historic McKee clock, will cast a purple glow over the town's seafront, as a similar light will shine over Newtownards when the Town Hall follows suit. Newtownards' YMCA will be hosting 'Creativity Explored' art exhibition featuring the amazing artistry of AMH clients at New Horizons North Down and Ards
In Downpatrick, the world-renowned St. Patrick's centre will join the purple effort. While in Newry the City Hall will be lit in purple along with several local businesses. The city will also play host to the annual Big Breakfast event at the Canal Court Hotel, when local HR expert Emma Marmion, from Prestige HR will share great advice and guidance on how to look after mental health in the workplace.
In Antrim, the town's Civic Centre will go purple, at the same time as Antrim and Newtownabbey Borough Council offices at Mossley Mill and Ballyclare's clock tower face. The 'Art of Recovery' exhibition will also showcase the talents of the AMH clients at the town's New Horizons. Lisburn's Island Arts Centre will also join the purple example for the day.
Armagh Banbridge and Craigavon Council will also be on board with the Craigavon Civic Centre, Palace Stables, Armagh and Banbridge Civic Building all going purple. In the north west, Derry City Council offices will also shine in the AMH branded colour.
A number of businesses around Northern Ireland will be hosting Go Purple fundraising events including Danske Bank, Caffe Nero, HMC Global, Prestige HR, Murdock Building Supplies and Pia Rossini.
Schools too, will be hosting events including Glengormley High School, Ballymoney High School, St. Mary's High School, Brollagh, Belleek, Ballysillan Primary School, Belfast Girls Model High School and New-Bridge Integrated College.
David Babington, chief executive of Action Mental Health said: "This year's theme of World Mental Health Day is focused on the mental health of our young people.
"We are delighted that so many councils are joining in the celebrations of World Mental Health Day by turning some of Northern Ireland's most iconic buildings purple to show support for local people experiencing mental ill-health and also raising a positive message encouraging people to look after their mental health.
"It is very apt that we focus on the mental health of our young people. According to recent figures, some 10% of 5-16 year olds have a clinically diagnosable mental health problem, but only 70% of them receive adequate intervention, early enough. This must be seen against a backdrop in which only 7.8% of Northern Ireland's mental health budget is allocated to CAMHS (Child and Adolescent Mental Health Services), leaving a large gap in funding to cope with rising need.
"This shortfall exists in a climate in which the actual need of children and young people in NI is likely to be much higher, considering estimates which put mental health need in Northern Ireland as 25% greater than England."
To find out more information on Action Mental Health and the services it offers, please visit www.amh.org.uk.
Action Mental Health is part-funded through the Northern Ireland European Social Fund Programme 2014 – 2020 and the Department for the Economy.