Local Student Takes Action on Mental Health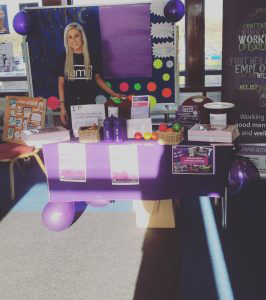 Aine McCaughey, a student at the University of Ulster, Jordanstown, hosted a health fair to promote Action Mental Health, as part of her studies. Here is her story…
Each year, final year students studying BSc Hons Environmental Health at Ulster University Jordanstown organise and participate in a health promotion event. The aim of this event is to create an awareness of a public or environmental health issue. Students are required to show collaborative working either in a team or individually with an organisation from the public, private or voluntary sector to promote awareness of a public health issue which affects the local community.
Starting college can be difficult for some people, moving away from home, starting to live independently, and with the pressures of assignments and exams, it can all be quite overwhelming and difficult.
I chose to promote the issue of mental health for two reasons. Firstly, I felt mental health is a topic that is very relevant in today's society, as more than half of undergraduate students will experience and present with signs of a mental illness. Also, one in three state they have had suicidal thoughts.
I wanted to create awareness and show the students of Ulster University Jordanstown that if anyone is struggling to cope with daily pressures, there is help available. I wanted to provide them with information about where they can seek support and advice in confidence, and not suffer in silence.
Secondly, I had more of a personal reason to promote mental health as a close family member was diagnosed with an eating disorder about five years ago. Through seeking help from mental health advisors, this illness is now well under control.
I am very pleased and grateful to have partnered up with Action Mental Health' Callum Clark (AMH Fundraising Officer) and his team have been brilliant in providing me with leaflets, posters and pop-up stands, and I am very grateful and honoured to have raised awareness of this wonderful charity.
The outcome of having this health fair was to promote awareness of different public health issues and to make people aware of problems that affect society, and that help is always available.