McCartan Turkington Breen Solicitors raised over £6,600 for Action Mental Health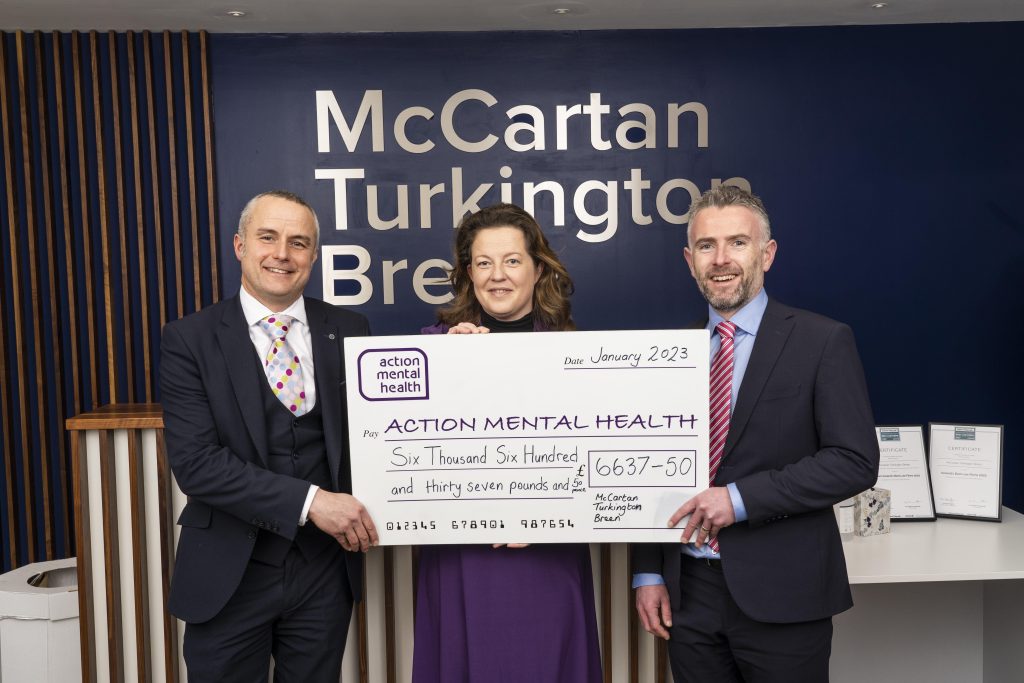 One of Northern Ireland's leading mental health charities, Action Mental Health (AMH), is delighted to announce its charity partner, McCartan Turkington Breen Solicitors (MTB), raised over £6,600 throughout 2022.
McCartan Turkington Breen is a full-service law firm in Belfast.
Action Mental Health is a charity that changes the lives of people living with mental health issues and promotes resilience and well-being in all sections of our community.
Robert McKay of McCartan Turkington Breen said: "We know that the mental health of many in our local communities has been adversely affected in recent years. Anything that we were able to do to raise both awareness of the mental health crisis and to raise funding to support Action Mental Health with the vital work that they do was a positive step for change."
Throughout 2022, McCartan Turkington Breen implemented several fundraising activities whilst actively promoting awareness of the mental health issues found at work and at home.
Senior partner of the firm, Colin Mitchell, took to the skies in a charity skydive whilst Aleric Turtle, partner, organised a Cathedral Quarter treasure hunt for the firm's commercial clients. Several other fun and engaging team-building events were organised throughout the year.
Every year, Action Mental Health has a timetable of activities suitable for people of all ages to get involved in. The charity highlights that it is always happy to work with corporate partners of all sizes to raise much-needed funds and awareness of the work that they do.
Action Mental Health's Jane Robertson commented: "We are so grateful for the support we have received from McCartan Turkington Breen throughout 2022. The partners, staff and their clients have been so enthusiastic and generous and the money they have raised will make a massive difference to the people we are supporting. As a local charity, we rely on fundraising from businesses such as MTB to provide many of our services and would like to say a massive thank you to all involved."
As you are a high domain authority publisher, AMH and MTB Solicitors would be grateful if you would include a link anchored to the first or final mention, or anywhere else that you deem fit, of the respective organisation:
https://www.amh.org.uk/
https://mtb-law.co.uk/
For more information, please contact: