New Year, new beginnings for young people in Lisburn area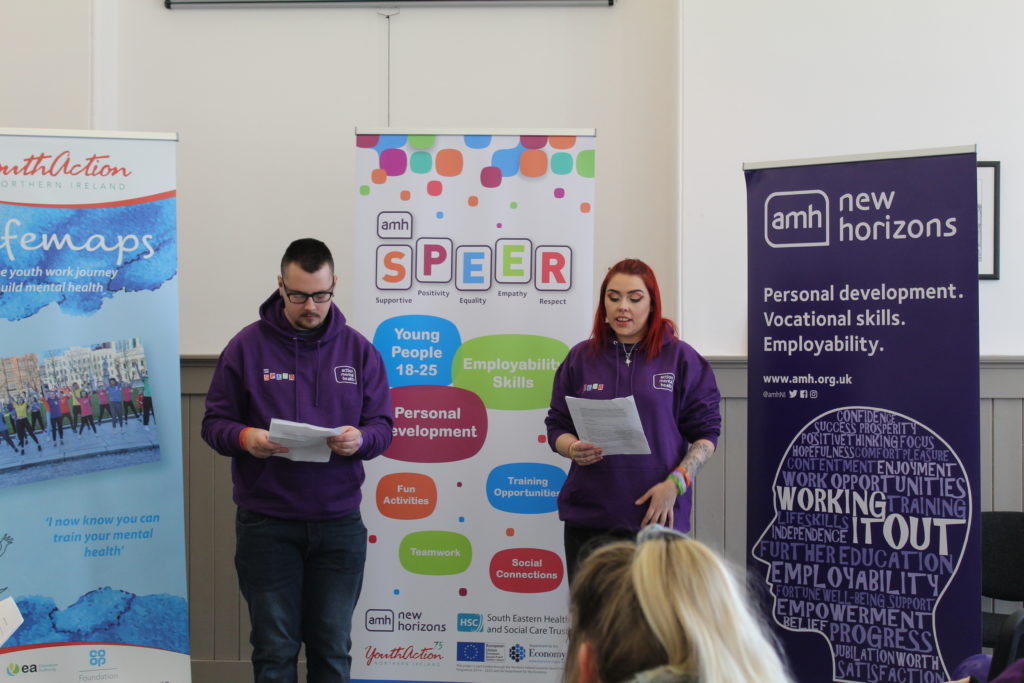 Action Mental Health is kicking off 2020 with the launch of a new programme dedicated to young people aged 18 to 25.
AMH will today launch its new SPEER service, established in conjunction with Youth Action, offering young people the chance to develop personally and enhance their life choices.
SPEER, a name chosen by the young people themselves, stands for Supportive, Positivity, Equality, Empathy and Respect, ideals they believed should be used to describe the programme.
The main aim of the SPEER programme is to bring together young people aged 18-25 to help enhance and develop their confidence, self-esteem and social interaction through fun activities and accredited training.
Clients of SPEER will be given the opportunity to also undertake courses such as OCN level 2 in Teamwork Skills and OCN level 2 Employability.
Similar to Action Mental Health's young people's programmes, Evolve at New Horizons Antrim and Boost, based at New Horizons Fermanagh and Foyle, SPEER will be linked to New Horizons Derriaghy but will be based at the Bridge Community Centre in Lisburn.
Sessions will take place every Wednesday from 11am to 3.30pm, when young people will get the chance to make new friendships with their contemporaries who understand what it is like to live with mental health issues like anxiety or depression.
This projects is offered through AMH New Horizons which are part-funded through the Northern Ireland European Social Fund Programme 2014-2020, the Department for the Economy and the five NI Health & Social Care Trusts.
One young woman who attends Evolve said that as a young person with mental health issues it was hard for her to make friends and to socialise.
"I have met people who have had similar life experiences and have made new friends. Evolve is not all about completing training, but we also go on trips out and do fun activities. We visited Coke-a Cola factory, had a day out at Belfast Christmas Market, cannoed on Lough Neagh and had trips to the cinema.
"Overall, Action Mental Health is a great support to me. The staff are very understanding and show interest in all clients' well-being."
Another young woman who attends Evolve agreed, stating it has been a great lifeline to her when she felt very isolated.
"We do things to build confidence and it's kind of like team-building and there's a great atmosphere. The other people in the group understand, because we have all been through similar situations.
"We recently went to an escape room and it was great fun. I would never have done anything like this myself – I would've ended up freaking out or something but doing something like this with Evolve really helps you challenge yourself and I'm sure the rest of the group must feel the same," she said.
"You are never judged if you have a bit of a melt down and you might have to leave for a bit. You can just come back when you are ready and there's no walk of shame back in, like if it happened at school or work or something."
Chief Executive of Action Mental Health, David Babington said: "We are delighted to be offering a new branch of our growing services dedicated especially for young people experiencing mental health issues.
"Research has shown that approximately 20% of young people in Northern Ireland are suffering significant mental health problems by the time they are 18 and rates of mental ill-health are estimated to be 25% higher than in other parts of the UK.
"Good mental health is all about feeling positive about yourself, being able to cope with life and the challenges it brings and being able to form and keep relationships, and places like SPEER – like AMH's Evolve and Boost – are hubs where these ideals are promoted and supported by specialist staff."