NI school children to benefit from £70,000 boost for mental health promotion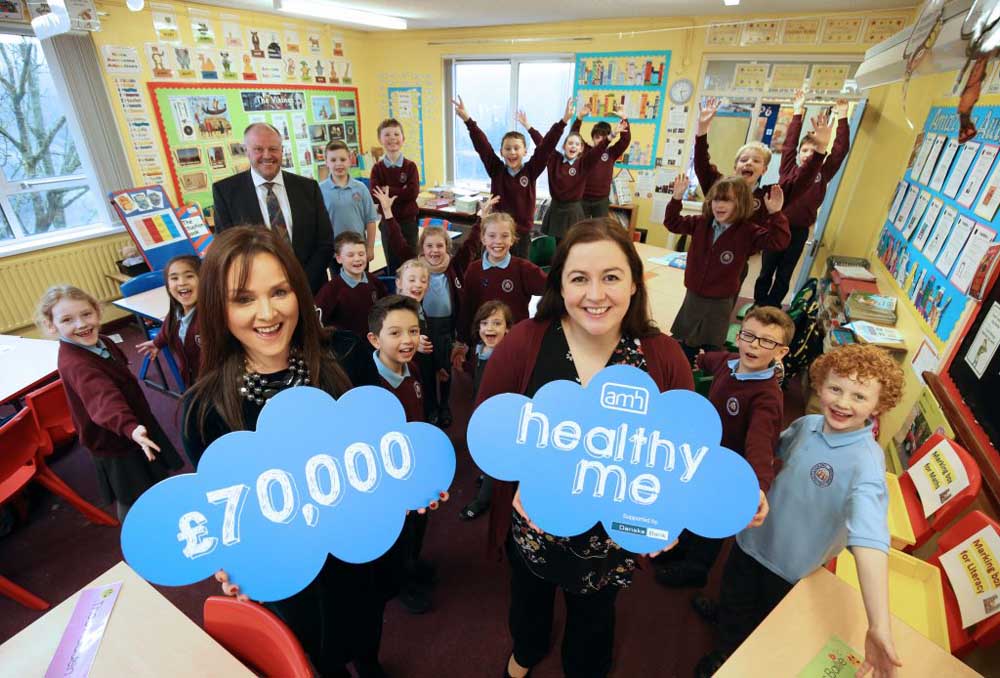 Children in schools across Northern Ireland will benefit from a mental health promotion programme thanks to a £70,000 funding boost from Danske Bank.
Danske Bank selected Action Mental Health as its charity partner for 2017 with the aim of raising money for its 'Healthy Me' programme. In one year, Danske's employees raised £50,000 for the charity, and the bank matched £20,000 of this.
'Healthy Me' is a health promotion programme for 8-11 year olds that aims to positively promote mental health and social and emotional wellbeing in children. The money from Danske Bank has allowed Action Mental Health to increase the size of its team of specially trained project workers who provide mental health programmes like 'Healthy Me' in local schools.
An additional 1,450 children across Northern Ireland will benefit from AMH's 'Healthy Me' programme and 450 teachers and parents will receive mental health resilience and awareness training.
In addition to fundraising, Danske employees volunteered over 270 hours with Action Mental Health during the year, from providing practical help at their New Horizons services to offering advice on budgeting and fraud awareness to the charity's clients.
Aisling Press, Head of Branch Banking at Danske Bank said:
"One in five adults in Northern Ireland are affected by mental ill-health at some stage in their lives. It's a fundamental challenge for our society but we believe we can help address the issue for future generations by supporting and investing in the mental health of our children and young people. That's why supporting Action Mental Health is so important to us. 'Healthy Me' is a fantastic initiative that has a strong focus on prevention; helping children to build their resilience and learn how to cope with setbacks in life.

"We are looking forward to continuing our partnership with Action Mental Health in 2018, building on the success of last year, not only in terms of fundraising but also through the contribution that our employees make as volunteers, sharing their time, skills and professional expertise to support AMH and its clients."
Action Mental Health's Chief Executive, David Babington added:
"Having worked with Danske Bank in 2017, we were really pleased to see how committed Danske Bank is to supporting its employees and our team have been delighted to deliver our Mindful Manager training to over 80 managers in the last six months with more sessions planned for 2018.

"I would like to thank Danske Bank employees and customers for their incredible support of Action Mental Health in 2017. It is thanks to their fundraising efforts that we will now be able to deliver 'Healthy me' to an additional 1,450 children in 2018, not to mention the 450 teachers and parents who will also benefit from training."